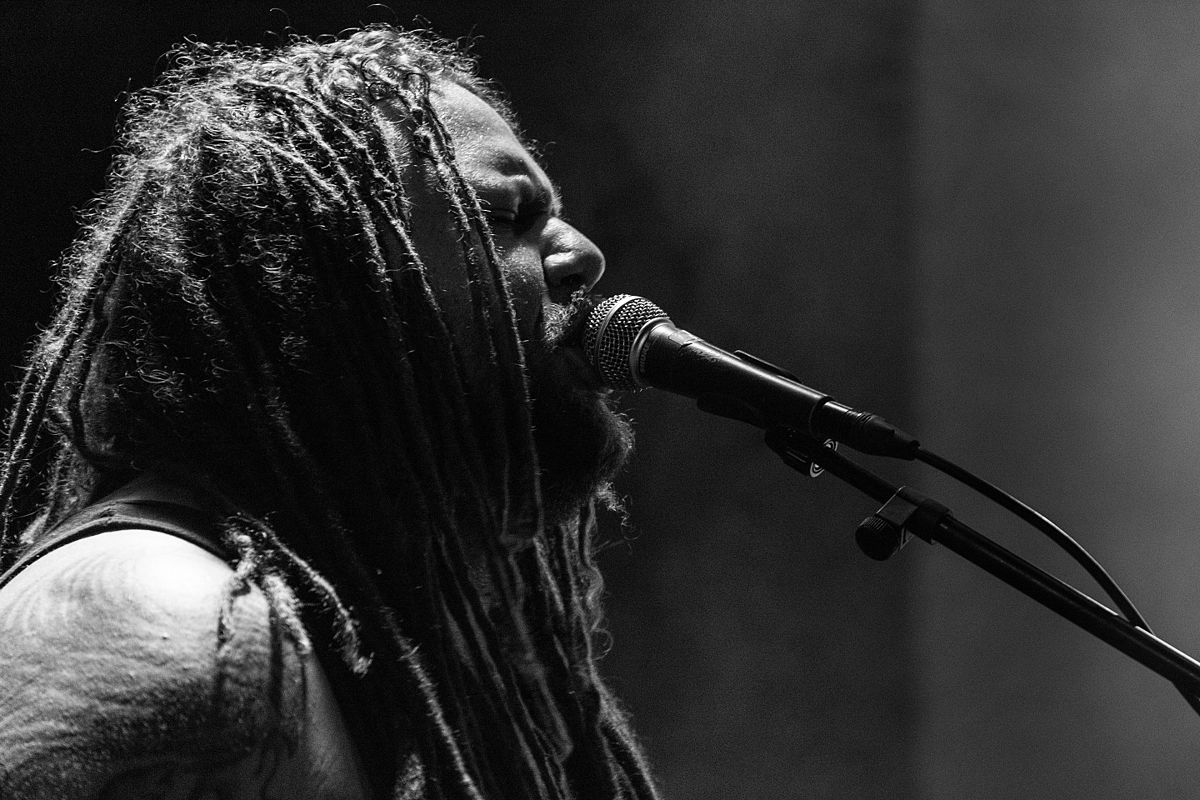 A heavy, brooding, and terrifying album, Primitive Man have managed to progress their sound while remaining as brutal as any metal band in the business on their new album, Music Critic Benjamin Forsdick reviews
For even the most masochistic of heavy music lovers, the nihilistic destruction of Primitive Man will likely penetrate the upper echelons of your pain threshold. These guys make the kind of music suitable to soundtrack the villain's appearance in the most terrifying of horror films; and they do this with the most violent of vocals, the most distorted of guitars and the weightiest of drums, all set to the absolute slowest of tempos. If Primitive Man performed their music any slower, it may as well play in reverse. The band released their debut record in 2013, but it was 2017's Caustic that cemented the group as one of the most exciting within the doom metal genre. Caustic did not entertain subtlety. Instead, it saw the trio openly mock the concept of light and shade. Standing at well over an hour in length and heralded as one of the most brutal albums in recent years, it is a record so compositionally forceful and with such a grisly demeanor that it still makes most other loud rock releases sound subdued. While the sheer length of the album does at times feel like a chore, the relenting weight of the production comfortably carries the record through. 
Three years on and we are presented with Immersion, an album that to a degree, is an important one for the band. They couldn't merely keep attempting to make each release more belligerent than the last. A significant proportion of Caustic's success can be attributed to the album's brutality, so much so that the band are unlikely to succeed in ever going harder than they did on that record. So, something had to change if Primitive Man were to prevent subjecting listeners to fatigue. The good news is that Immersion is not 'Caustic part II' in disguise. While Immersion does maintain the intensity of its predecessor, on the majority of fronts, this record is an improvement.     
Immersion runs for a more accessible 35 minutes and six tracks, seeing the band release some of their shortest material to date. That being said, a short run-time leaves the trio with little margin for error. The drone infused songwriting is trimmed down and substituted for a meticulously focused approach. For such an aggressive album, the flow is exceptional, and the result is a holistic set of tracks. No song exceeds 10 minutes and only 'Menacing' exceeds eight. This cut is typical Primitive Man. The heavy blast beats, disgusting vocals and long, winding instrumental passages are an expectation at this stage. But it is the closing passage where the track comes into its own, with intermittent guitar and drum stabs that sound deadly and almost poisonous in character. However, Primitive Man cover a lot of new ground with this record. 'Entity' begins with overwhelmingly distorted guitar drones panned hard left and the drums forebodingly sounding like a funeral march. It is such an edge-of-your-seat moment, and when the music finally settles, it is malevolently heavy. At only five minutes in length, there is a degree to which the band come across as selling themselves short at this stage of the album. It is true that Immersion is a less epic release for the trio, 'Entity' especially sounding as if it could have comfortably extended beyond the eight-minute mark, if not longer. 
The song '∞' performs essentially as a two-minute interlude, composed entirely of the variety of static noise that artists like The Rita punish listeners with. It is the spiritual breather in the track-listing, if loud and intentionally uncomfortable static is what you relax to. This leads into the track 'Foul,' a song that sees the dissonance cranked up high, during which the band shoot for the closest to a conventional riff that anyone would reasonably expect. It is one of the safer tracks on the record, yet somehow even a by-the-numbers Primitive Man song sounds like it is capable of tearing down houses. Album opener and lead single 'The Lifer' is the kind of multi-phased introduction to the album that one would expect, with absolutely crushing vocals from guitarist Ethan Lee McCarthy. McCarthy's screams are unrelenting, with each moment potently stinging the listener; and McCarthy's ability to deliver lyrics fueled with such a high level of nihilism brings the gruesome nature of the instrumentals to life. There is so much despair in every moment, it is as if McCarthy wants us to feel trapped within some sort of inescapable bout of anxiety.
The lyrics on this album are of pure hatred and pure fear. 'The Lifer' details the emotional paranoia that surrounds the lives of touring artists and this topic consistently features on many of the tracks on this album. These themes of anxiety, fear and hatred intersect during the album's closing track 'Consumption'. 'You can't trust/A f***ing thing/That you read/That you see' is a lyric that quintessentially represents this record. The track itself is the album's most thematically volatile, constantly changing, never settled and held together with a horrifyingly foreboding drum pattern, similar to that heard on the track 'Entity.' Moments like this are inherently tribal. This track could be played over the opening scene to Kubrick's 2001: A Space Odyssey and the result would seamlessly replace the grandeur of the scene with the primal animalistic nature of the apes. While there is a definitive sense of hatred of humanity that is accentuated by Primitive Man's lack of hope that humanity's woes are reversible, it is anxiety that underpins every single moment. 
The album art's most notable feature is the eye, wide open, afraid of what's to come. Primitive Man are not only telling us that the world is a hideous place, but that it will only get worse and you do not know how or when that will happen, which naturally returns us to the track 'Entity'. During that opening drone, every listener will be waiting for some kind of opening into the core of the track. Yet you can never say for certain when this will be or what it will be. The horror of this album will be more than many listeners would ever want to subject themselves too. However, if you don't mind this variety of brute force, this album is fantastically enjoyable, if not in the traditional sense.
Moving away from the depressing elements of Immersion and onto some more standard territory, this record is fantastic. It is heavy, brooding and above all terrifying. The band do occasionally play it safe and deliver a shorter and more conventional style of composition, although to call this album conventional would be downright laughable. The more dedicated followers of metal music may well prefer their Primitive Man to be longer and more winding as we have heard from the trio before, but do not sleep on this record (it is too loud for that anyway). Enjoy the heaviness and nastiness and give the band credit for progressing their sound while remaining as brutal as any metal band in the business today.           
Rating: 8/10
---
Looking For More New Music? 
Album Review: Glass Animals – Dreamland
Single Review: YUNGBLUD – Lemonade
Album Review: Aminé – Limbo
Album Review: The Microphones – The Microphones in 2020