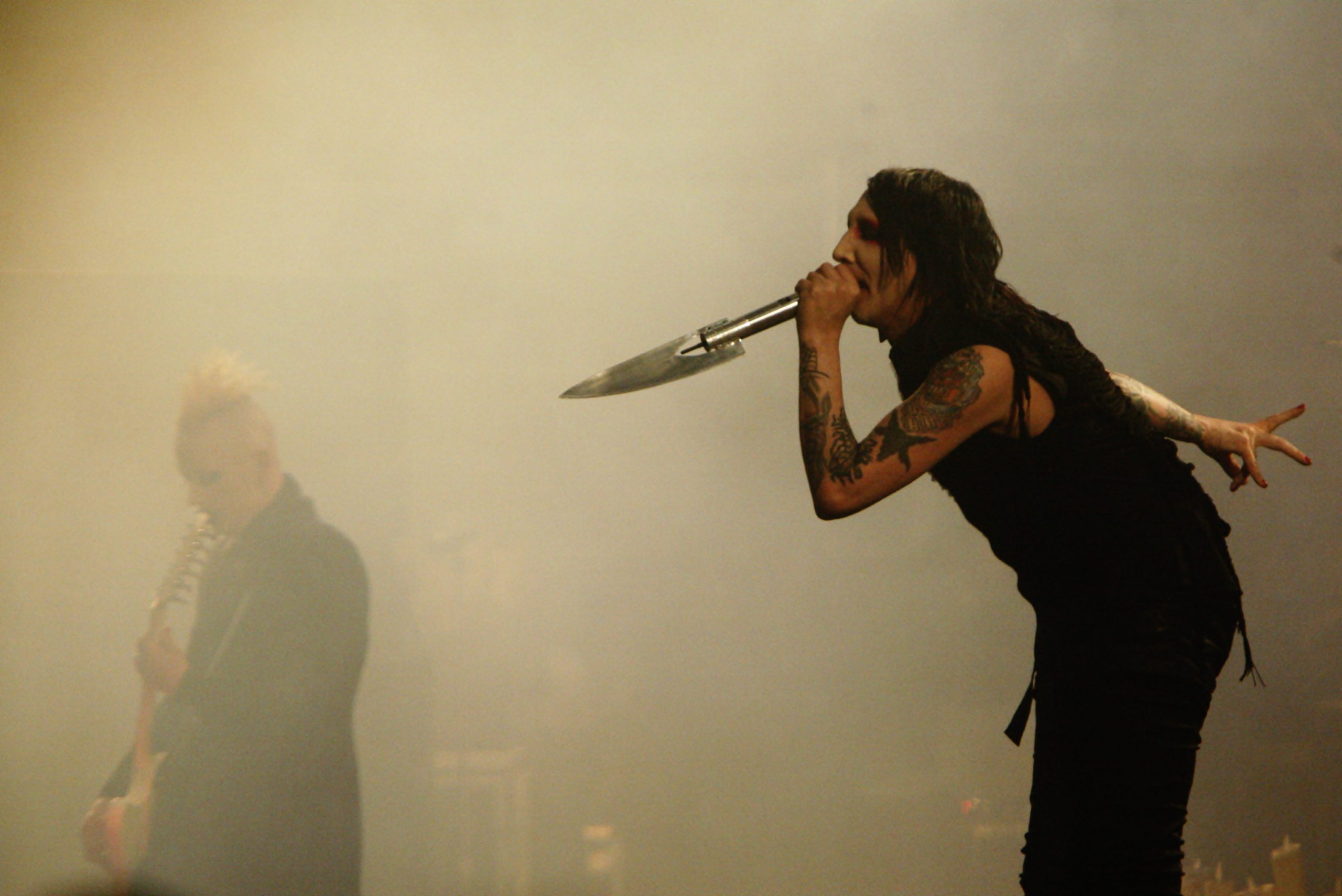 Following the success of 2015's The Pale Emperor, Music Critic Cameron Milner takes a look at Marilyn Manson's new gloom-filled record, straddling a line between tradition and innovation
There was a time, not too long ago, when Marilyn Manson's relevancy and longevity as are recording artist were under question. The period following 2003's The Golden Age of Grotesque saw the shock-rocker fail to impress with a trilogy of below average LPs which seemed to suggest as though Manson had very little left to offer the world following his ascension to Rock God status at the end of the 90s. Manson's largely dismal 2000s catalogue was then followed by 2012's Born Villian, an album often found at the very bottom of fans and critics discography rankings. Yet three years later Marilyn Manson triggered the beginning of a career second wind with the release of The Pale Emperor that not only seemed to inject a new lease of life into Manson, but more importantly, proved that he still had something to offer both musically and aesthetically. Manson's 11th Studio LP, We Are Chaos, is an album that successfully continues this second wind. Furthermore, whilst We Are Chaos is full of characteristic Manson gloom and satanic cliché, the album treads new and refreshing sonic ground that presents Manson in a way we have never heard him before.
Social commentary often lies at the heart of We Are Chaos. Given the current state of the world in 2020, to describe the new LP as well timed would be something of an understatement. Manson snarls in the opening cut 'RED BLACK AND BLUE' that he is 'Sick of you and all your attitudes' in a track that is mid paced for a typical Manson opener (Just compare it to the likes of 'Irresponsible Hate Anthem') yet it seethes with an undeniable sense of urgency that is conjured by chugging rhythm guitar and fraught backing vocals. 'RED BLACK AND BLUE' feels like a mission statement: the first grievance Manson wishes to get off his chest and his initial rally cry to the disillusioned. This call to the disillusioned, which echoes across the track list, is at its most resounding roar on the LPs title track and lead single 'WE ARE CHAOS'. In combining an irrefutable splash of Bowie and one of the most grandiose and anthemic choruses of Manson's entire career with a call to the 'Sick, f**ked up and complicated', the self-proclaimed God of F**k ushers in a new era of Glam-Gloom-Goth rock that makes for one of the most unique listening experiences of his entire studio output. Gone are the franticly thrashing guitars and the maniacal shrieks of Manson's early days, and gone too are the latter-day cliché infested attempts at holding onto a throne that had long since passed beyond his grip. Instead, We Are Chaos is often mid-tempo, brooding and fiendishly slick. Where unclean vocals are rarely used, they are tailor made to the song rather than serving as a quick fix, and whilst at points I found myself wishing for an ounce more ferocity, We Are Chaos sticks to its artistic and musical guns, and for the most part, comes out victorious.
Manson himself explained that We Are Chaos is very much a record of two halves, with separate narratives and distinct sounds separating Side A from B. Tracks 1-5 are often driven by anthemic hooks and piano/acoustic guitar couplings that hark back to Ziggy Stardust era Bowie, such as the title track, the slow building first half of 'PAINT YOU WITH MY LOVE', and the final song of Side A: 'HALF-WAY AND ONE STEP FORWARD', in which the eerie piano guides the entire track forward. Yet immediately following this we are introduced to the heavier, sinister sounds of 'INFINITE DARKNESS' which ushers in Side B with a tinge of Nine Inch Nails, reverb drenched guitar and a more traditional Manson vocal delivery. Despite the overly edgy 'You're dead longer than you're alive' hook, the track is a testament to the excellence of Manson's and Scooter Jenning's production work, as the transition between different sounds feels effortless and the record always retains an inherent sense of darkness no matter which style is being tackled. 'PERFUME' is another record highlight, with its memorable 'Get behind me Satan' refrain and upbeat tempo making it one of the record's most infectious tracks, yet Side B's true peak comes in the form of the closing track 'BROKEN NEEDLE'. In a closer reminiscent of career highlight 'Coma White', Manson combines mournful acoustic guitar with a heartfelt vocal performance to create a truly memorable track that feels like the perfect culmination of all the sounds and ideas that make up We Are Chaos' expansive tracklist.
Admittedly, We Are Chaos has its issues. 'KEEP YOUR HEAD TOGETHER' is largely forgettable and hardly worthy of a revisit, and there are moments, particularly in the first half of the record, that would have really benefitted from a glimpse of classic Manson aggression, such as the disappointing payoff following the building bridge of 'DONT CHASE THE DEAD'. Yet on the whole, We Are Chaos sees Manson expand his sound without sacrificing his aesthetic, and whilst I have a hard time imagining the record being placed amongst his all-time greatest works, more importantly, We Are Chaos shows Manson is unafraid to take on a new sound far removed from his 'Classic' era. There are bound to be some whimpers from the old-school fans, but if We Are Chaos has taught us anything, it's that Marilyn Manson will keep on doing what he does best: not giving a f**k.
Rating: 7/10
We Are Chaos is available now via Loma Vista
---
You Might Also Like:
Album Review: OSEES – Protean Threat
Album Review: Declan Mckenna – Zeros