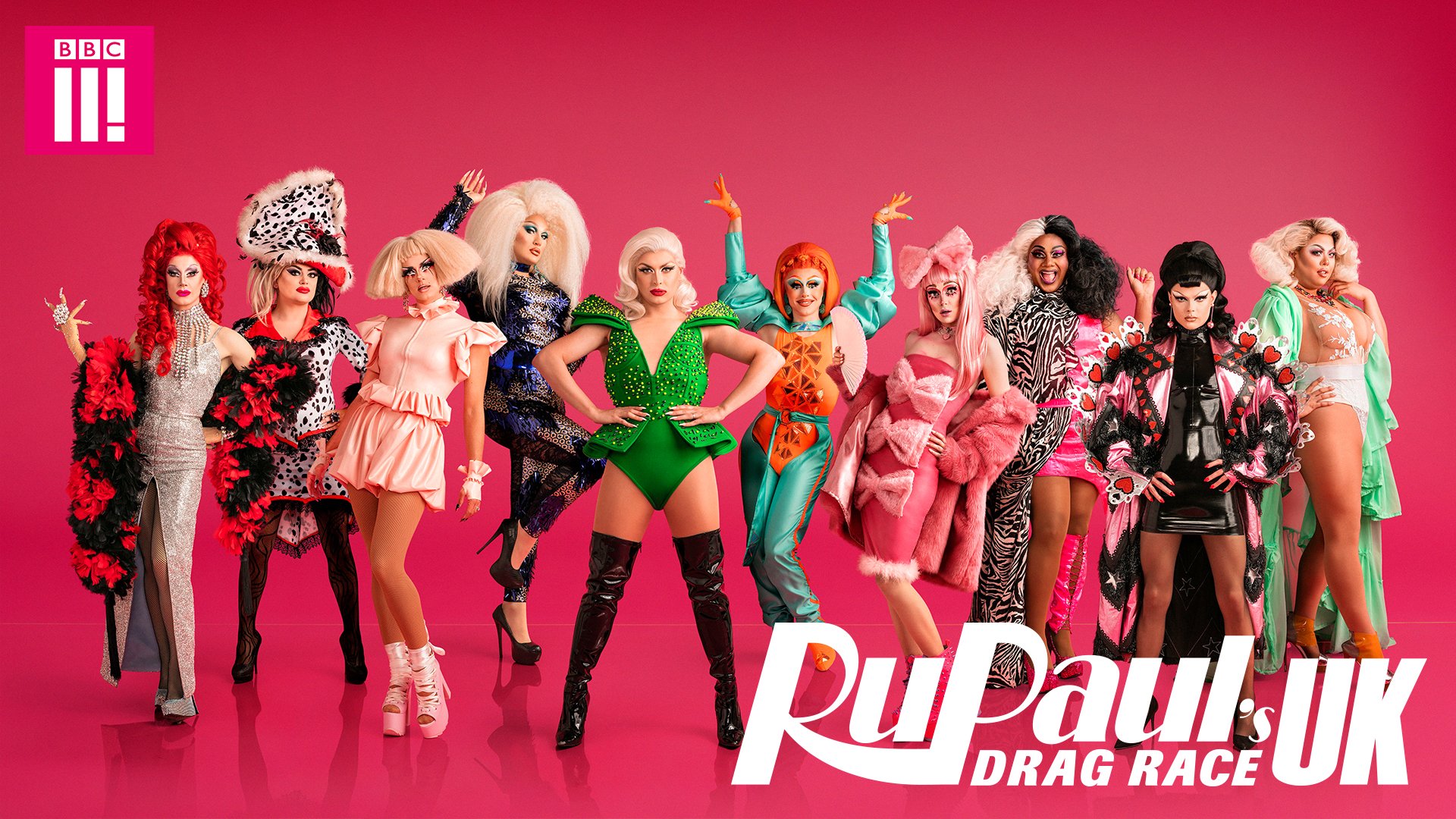 TV Critic Sian Allen celebrates the British iteration of the popular American TV
Start your engines – the RuPaul's Drag Race phenomenon has finally arrived in the UK, with Ru promising in the series premiere to explore the 'rich past and bright future of drag in the United Kingdom.' But does the first series of RuPaul's Drag Race UK fulfil this promise so far?
The core format of the show remains comfortingly familiar – an Emmy winning combination of filthy, funny and genuinely heart-warming. The hour-long episodes give the queens plenty of time to win your heart whether through seriously stunning runway looks, hilarious acting performances or emotional moments in the Werkroom such as Scaredy Cat openly talking about her bisexuality or Sum Ting Wong not telling her parents she is a drag queen. Heartfelt, honest conversations about drag and identity are as integral to Drag Race as a death drop and it's reassuring to see all branches of the show continue to give the spotlight to LGBTQ+ experiences especially as its audience becomes more and more mainstream.
Many of Drag Race UK's differences, however, actually serve to make it stronger – the inclusion of Untucked in the show itself rather than as a separate production is a refreshing and welcome change that allows more viewers to see the queens at their most vulnerable and human while enjoying plenty of (fundamental) reading along the way. Starting with ten contestants rather than the American equivalent of fifteen in its eleventh season gives everyone a fighting chance to be memorable. Moreover, Alan Carr and Graham Norton are the perfect British counterparts to Ross Mathews and Carson Kressley as regulars on the judging panel, offering a healthy abundance of shade, terrible puns and dirty jokes.
Somewhat predictably, Drag Race UK is almost every single British stereotype thrown into one show, whether the category is 'Bond Girl Glamorama' or the queens are acting in 'Downton Draggy'. You can guarantee there will be at least five references to the Queen before the episode is over. While this makes the show more accessible to global viewers, for UK audiences it does border on excessive or tiresome at some points, feeling less of a celebration of British culture and more of a parody.
The same stereotypes are thankfully not reflected in the ten contestants, who have a wonderfully diverse range of accents and dialects that American audiences are going to struggle to understand even with subtitles. A large proportion of the queens are Southerners and it is easy to feel the absence of Scotland and Wales – the show can feel more like "Drag Race London" especially with all the references to royalty. On the other hand, it's a relief to see queens representing more obscure places like Wiltshire and Leicester in the "Queen of Your Hometown" category, and Redbrick readers may particularly feel represented by Sum Ting Wong's celebration of Birmingham with her Bullring inspired look.
While the queens themselves certainly represent the 'bright future' of UK drag, it would be interesting to see more references to drag history within the challenges. For example, an homage to drag really beginning in the UK with men playing the female roles in Shakespeare's plays (although we'd forgive Ru for not wanting a repeat of the infamous Shakesqueer acting challenge of Season 7) or a tribute to John Cooper (better known as Princess Seraphina), often considered the UK's first drag queen. For now, though, I'm just excited to be able to recognise more than two of the celebrity impersonations in Snatch Game, which is sure to pay tribute to past and present British icons.
Ultimately, Drag Race UK is a refreshing break from the seemingly endless cycle of both regular seasons and All Stars in the US. A lower budget and strict BBC regulation over sponsorship may mean that these queens won't win huge cash prizes or all-expense-paid holidays, but in essence, this successfully takes Drag Race back to its roots – unpolished, subversive and revolutionary. Even little things like adverts for the show playing right before Strictly Come Dancing (confusing nans across the nation in the process) feel like triumphs for LGBTQ+ representation. While it remains unclear whether the show will represent the UK's rich drag history to the fullest extent quite yet, it certainly has a bright future.