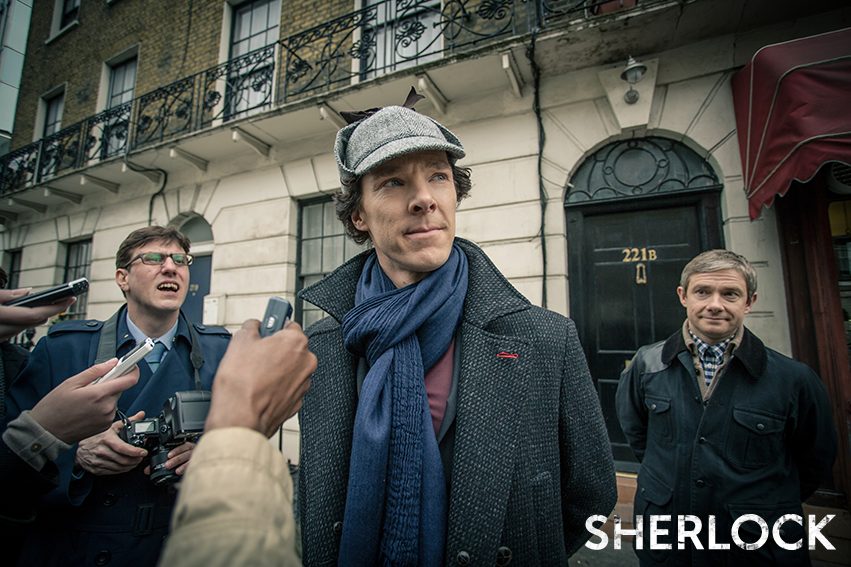 Redbrick's writers and editors let you know how to cure the boredom of lockdown by binge-watching these realist dramas
Kit Shepard – Sherlock
If the monotony of self-isolation has left you longing for a few thrills, cleverly-crafted storylines and a cast full of familiar faces, then look no further than Sherlock. With all four series available on BBC iPlayer, this modern-day adaptation of the Victorian classic will have first-time viewers hooked from start to finish, as Holmes and Watson battle ruthless villains and the most complex puzzles.
Even for those who have seen the show before, there are several themes that make it worth another watch, but a personal favourite is Sherlock's development as a character. Each series has an underlying message that defines his destiny and be it the first (Sherlock is a genius), second (Sherlock is going to die), third (Sherlock has a heart) or fourth (Sherlock has a forgotten past), they all offer something a little different. However, the gripping drama and genius writing is consistent throughout, providing some much-needed escapism during challenging times.
---
Tom Leaman – Designated Survivor
Designated Survivor deserved better. Kiefer Sutherland stars as Thomas Kirkman, a U.S. government official who suddenly finds himself as President when an explosion at the State of the Union address kills everyone ahead of him in the line of succession. Kirkman is challenged with rebuilding the US government and stabilising the nation after the devastating attack, faced with his own inexperience and deception from within the White House.
The show skillfully balances action with intrigue as Kirkman's government, supported by FBI agent Hannah Wells (Maggie Q), try to find the truth behind the bombing and ensure the administration's survival. The introduction of new characters, such as the brilliant but blunt Lyor Boone (Paulo Costanzo) keeps the show fresh over its three series. Sadly, after saving the show after its second series, Netflix cancelled Designated Survivor last year. With 53 episodes, however, there's still plenty to pass the time.
---
Cerys Gardner – The Stranger
The Stranger is a new Netflix crime thriller produced by Harlan Coben and based on his book of the same name. It is not the most revolutionary crime thriller but with so many twists and turns, it is hard not to binge. Each episode also ends on a cliffhanger and leads straight into the next episode. My parents and I found, more than once, that the next episode had started without us realising. 
The show centres on the Price family, a middle-class suburban family in the north of England. A mysterious stranger (Hannah John-Kamen) reveals a secret to Adam Price (Richard Armitage) about his wife, Corrinne (Dervla Kirwan), which sets off a tragic chain of events revolving around the family and the stranger. Although there is probably one too many plot threads, stretching the series a little, it is an engrossing and addictive thriller perfect for a day-long quarantine binge.
---
Sarah Mawson – The West Wing
I figure at a time like this it is all about escapism, and while The West Wing does not immerse you in something completely and distractingly alien as sci-fi or fantasy, it does involve you in a world almost identical to ours but better, at least in my opinion. In 156 episodes, The West Wing tackles everything from deaths and broken hearts to economic recessions and literal nuclear meltdowns – but not a single fictional pandemic so there is no risk of an accidental reminder.
Instead, there are plenty of new, separate disasters to take your mind off our own. The fully-fleshed out characters are a key aspect of its ability to engross, being occasionally idiotic and humorous while retaining that classic Sorkin-written intellect. When they debate it is better (and wittier) than real politics will ever be and this time you never ever doubt that they are doing the right thing.
---
Shania Devi – Line of Duty
Drawing in an average viewing audience of nine million in its 2019 series, it's fair to say that if you have not yet succumbed to the hype around Line of Duty, now is the time to do so. Jed Mercurio, the mastermind behind police-thriller Bodyguard (and more notably, an alumnus of Birmingham Medical School), successfully subverts the British cop-drama trope.
The show follows the operations of a fictional anti-corruption police squad (AC-12), with each series focussing on a new investigation of a suspected 'bent copper.' Enthralling, entertaining and laden with complex characters, gripping interrogation scenes and a plethora of police-jargon, each episode demands your undivided attention. So, switch off your phone, escape the constant news notifications and engross yourself in a drama like no other.
---
Aaminah Saleem – How to Get Away with Murder
Professor Annelise Keating (Viola Davis) teaches criminal defence at Middleton Law School alongside running a legal practice and is assisted by five students amongst the new intake handpicked by her to work on real-life cases. As Keating and the 'Keating Five' take on cases, the lengths they go to for their professional and personal lives is revealed, because the cases require creative and illegal solutions.  
After taking on a  murder case of a Middleton University student, Keating's life and the Keating five become entangled with a twisted murder plot, where they soon realise everything is not what it appears to be. How to Get Away with Murder delivers with a diverse and star-studded cast, a well – written storyline and plenty of suspense and murder.
---
Joseph Meakin – House of Cards
The original Netflix Original and easily one of the best, House of Cards is thrilling, must-see television. Based on the British television series of the same name (and before that, a series of books written by Lord Michael Dobbs), the series follows Congressman Frank Underwood's (Kevin Spacey) despicable rise to the most powerful office in the world – the U.S. presidency. Aided and abetted by wife Claire (Robin Wright), a Lady Macbeth-like character who harbours political ambitions of her own, Frank stops at nothing to achieve his aims and preserve his power. 
A deeply cynical portrayal of American politics (compared to so many other films and television shows which portray U.S. presidents as heroes and morally upstanding individuals), it has however been described as 99% 'real' by Bill Clinton (one would hope jokingly). Whether you binge-watch it or make it last, House of Cards makes for perfect lockdown viewing. I should point out that at a rate of watching one episode a day, its 73 episodes will conveniently last you until June, when it is speculated that the lockdown measures will be eased.
---
Read the rest of this series here:
Redbrick's Picks: The Best Comedies to Watch During Lockdown
Redbrick's Picks: The Best Teen Shows to Watch During Lockdown
Redbrick's Picks: The Best Alternate Reality Shows to Watch During Lockdown