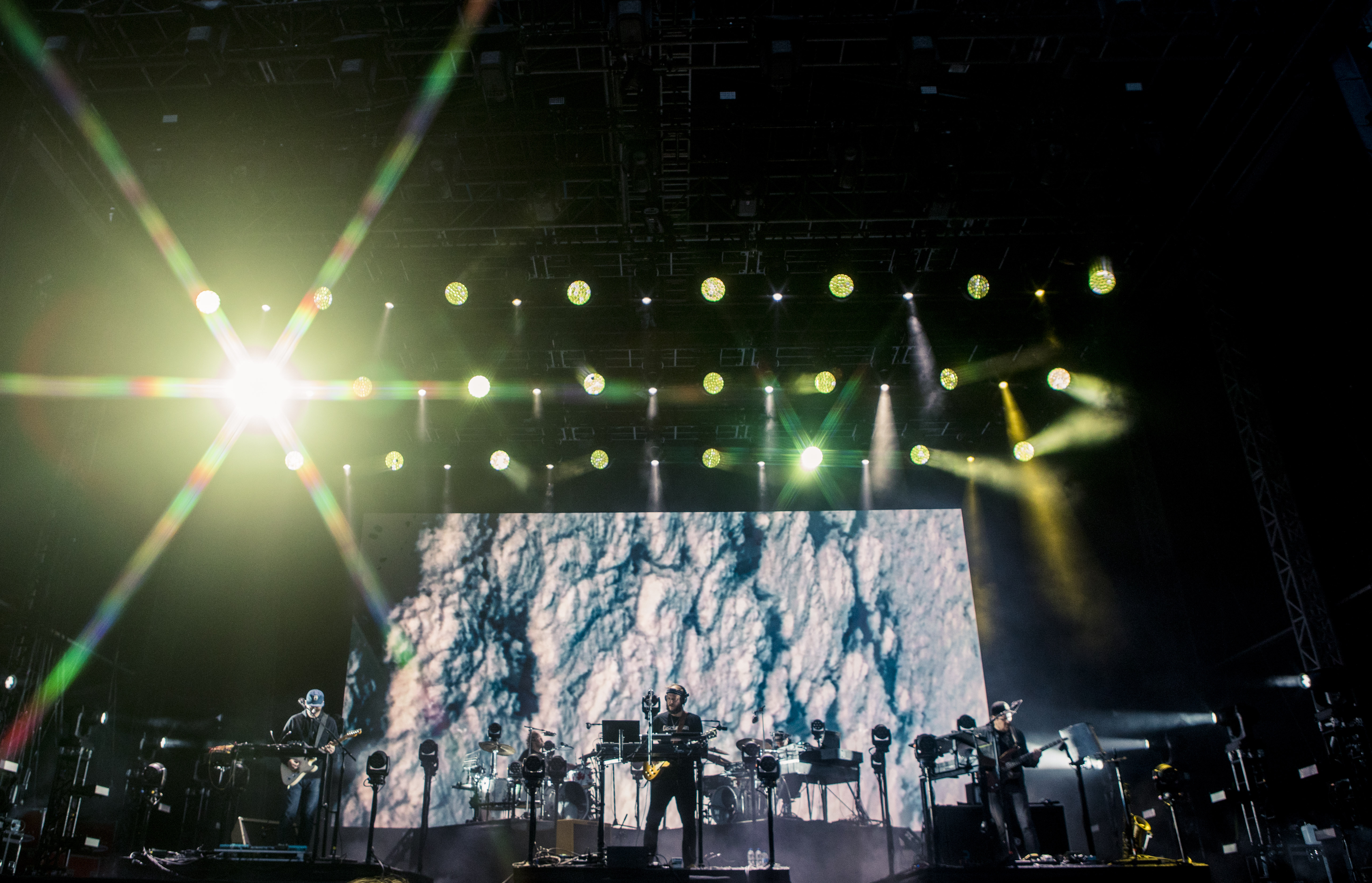 Music writer Kieran Read reviews the highlights of All Points East festival surrounding Bon Iver's headline performance.
Sunday 2nd, the sixth and final date of All Points East, felt like a special occasion. Not only were two weeks of proceedings brought to a close, but headliner Bon Iver took the opportunity to make the occasion particularly significant with a performance equal measures incredible and peculiar, intimate yet otherworldly. The day that preceded it, performances from a collective of musicians that all loosely fall under the indie-folk moniker, was also fantastic. Unlike other days, it seemed that the headliner had a hand in assembling the line-up themselves, a few acts thanking Justin Vernon (Bon Iver front man) personally. It gave the day a loose and relaxed feel that perfectly accompanied the summer weather and, unlike other festivals I have attended, lent a building anticipation for the headline performance.
Sets from Julien Baker and Phosphorescent proved predictably laid back and musically impressive, though the day's highlights instead came from early acts such as London five-piece Los Bitchos. Performing on the intimate JägerHaus stage, Los Bitchos offered up a number of predominantly instrumental yet restlessly animated tracks that merged Latin influences into prog-like mini rock odysseys. The members displayed great on-stage chemistry with little audience engagement, the focus instead on the ways which they played off one another. The early-doors audience were all feeling it and, after a half-hour set, were left wanting more from a band brimming with character and vitality.
Another highlight came from Maryland native Snail Mail's set on the outdoors North Stage. Despite some sound issues (a problem that seemingly recurred across the two weekends though never outright ruined a performance), Lindsey Jordan and her band ran through a number of tracks from her stunningly emotive debut Lush, as well as a handful of earlier cuts from EP Habit to a great response. Jordan's excellent song writing and yearning, indie-tinged guitar work shone through in a festival setting, the youthful heartbreaks detailed in 'Pristine' and 'Heat Wave' digging into a sense of nostalgia that we all seemed to share. Much like Lush, the performance had little extraneous theatricality, instead resting upon the undeniably wonderful sound that Snail Mail has crafted, proving her as a true front-runner for the recent bedroom-pop wave and a musician whose future is extremely promising.
With expected sub headliner First Aid Kit dropping out, most instead caught renowned Montreal goofball Mac Demarco instead. He has always been fascinating; an individual consistently riding the line of musicianship and parody, albeit with feet planted firmly in a tried-and-tested sound. His latest record Here Comes the Cowboy showcased this to a painful extent, with tracks like the titular cut and 'Choo Choo' resembling poorly told jokes without punchlines. Unsurprisingly, when fresh material was played the set would notably dip, with even hardcore fans talking during them. Older cuts 'Salad Days' and 'Freaking Out the Neighbourhood' incited bouncy sing-a-longs, but it is perhaps testament to Demarco that the set peaked when he wasn't contributing at all. As his backing band (with a guest appearance from Snail Mail's Lindsey Jordan) idled through 'The Cattleman's Prayer', the now-shirtless Mac would continually swing the mic above his head and incited a call-and-response of 'TURKEY'. Later, during 'Chamber of Reflection', he would scream and unsuccessfully attempt to handstand. Entertaining to watch? Sure. Seeing Mac remain stubbornly on the same set-path for almost a decade now is no less uninspiring and underwhelming, though. It has long been said that the cult of personality surrounding Mac Demarco was greater than his music, though it would seem now that it is slowly wearing away at his creative quality also.
Aptly, the ensuing day all pointed towards the East Stage, specifically Bon Iver's aforementioned headlining performance. There was a palpable excitement across Victoria Park as the band entered with crushingly heavy yet emotionally charged opener 'Perth', which bled seamlessly into a synth-led reconstruction of meditative 'Minnesota, WI'. Despite only a handful of LPs, Justin Vernon has garnered universal acclaim by consistently expanding both his own sound and folk music at-large. It requires true craftsmanship to hold the adoration of a festival audience with a sound that is greatly hushed and understated, though Bon Iver are not just any band. Three years from their last release 22, A Million, Vernon and co. clearly understood the majesty of their own live set and weren't quite yet ready to move forward from it. Yet.
Unlike others on the line up, Justin is a musician in constant evolution, from the yearning, acoustic sketches of For Emma, Forever Ago, to the panoramic geography of Bon Iver, Bon Iver, to 22, A Million, a record that's not so much skeletal as For Emma, instead solitary in the way that it fragments and glitches, as if it were a faulty transmission. Seeing these very different styles coalesce on stage was entrancing and exciting, Vernon's mastery of both live and electronic instruments was something to behold. Wholly acapella numbers '715 – CRƩƩKS' and 'Woods', in which he manipulates his already-freaky voice through a vocoder, were some of the set's highlights. '____45_____', a musical experiment in which a saxophone is fed through a Messina, also stunned, as did slowed renditions of '8 (circle)' and '22 (OVER S∞∞N). Awe inspiring feats of musicianship came aplenty.
Although it was often these experimental aspects that made the show unique (the deranged, toppling drums of '10 d E A T h b R E a s T ⚄ ⚄', the patchwork vocal synths of gorgeous 'Heavenly Father'), the band would often rely on the sheer force of the guitar to great effect. Beefed-up and fuzzed-out renditions of older cuts 'Blood Bank' and 'Creature Fear' thrillingly broke the set apart, whereas a sparse, solo performance of 'Skinny Love' left few dry eyes (people were really, really bawling). Vernon, an endearingly devoted, bandana and headphones donning front man, brewed a near-perfect quiet storm of a headline set, conjuring a duel warmth and sadness in every track.
As the final, shimmering notes of 'Holocene' dissipated into uproarious applause, the band would leave the stage. Casually, Vernon would announce that their new album was out soon and that they were to play two new videos there and then. Inadvertently, All Points East would become a landmark situated within the musician's dense and mythical legacy, the exact moment in which the era of 22, A Million came to an end. The first of these tracks, 'Hey, Ma', wasn't too far removed from this prior album, the bulk of the track consistent of a steady, synthetic pulse and pitch-shifted samples, though comparatively clear-headed and anthemic, refreshingly simple almost. It's as if that faulty transmission of 22 had finally cleared. The second track, 'U (Man Like)', instead fused gospel with pastoral textures, and had Bruce Hornsby and Moses Sumney for a backing choir. Why Vernon chose to play the videos of these tracks, as opposed to actually performing them, remains a mystery. For many it could seem anti-climactic, even. Though, as someone wrapped up within a performance that beautifully abridged their career thus far, to witness their next steps into the unknown felt a true privilege. If this was the final hoorah for both 22, A Million and All Points East, then Bon Iver took it out in a style only they could pull off.