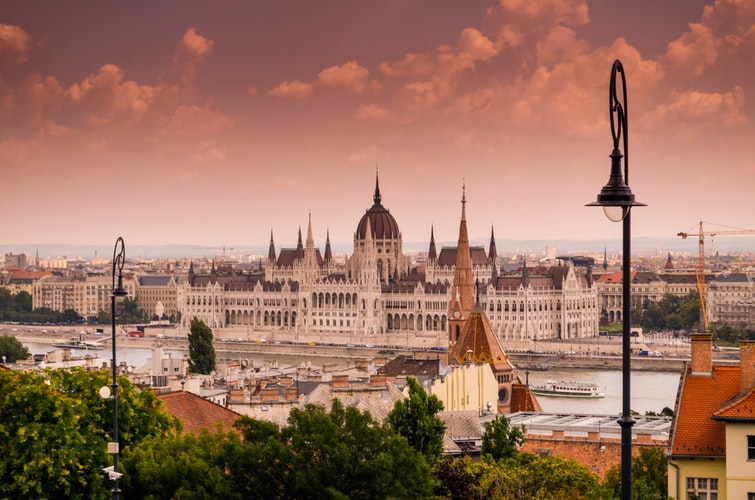 Travel Writer and foodie Molly Elliott describes her favourite places to eat out when travelling around Budapest, with suggestions for everyone!
Budapest is a city where anything goes. Whether you're into partying late or chilling in thermal baths, it really is a city with something for everyone. If you're not jetting off with the Politics Society to Budapest this year, grab some mates and head for a long weekend of culture and exploration. But in between the clubs and museums, you'll have the most fun and difficulty!) when choosing what to eat. I've listed four of my favourite eats in Budapest.
Karaván: a small street food courtyard close to the famous ruin bar Szimpla. Head here for a large range of choice (perfect for big groups) and a wonderful atmosphere. Among the vegan wraps, hot wings, and pasta dishes too big to finish, the best dish to try here is the lángos. This deep-fried bread dough is known to locals as 'communist pizza', and is traditionally eaten with sour cream and grated cheese. It is delicious as is, but in Karaván you could really twist the classics and opt for a lángos burger for a more meaty option.
Mazel Tov: a highly instagrammable restaurant known best for its beautiful array of hanging plants, is next on my list. Make sure to book this one, and prepare for a more touristy price range. Aside from the interior design, the food isn't bad either. I went for a hummus plate with falafel which was creamy and fresh – another stunning example of Budapest's vegetarian options!
Lidl: For something truly budget friendly, head to one of the many Lidl's, and pick up the cheapest picnic ever. Károlyi-kert is the perfect spot for watching the world go by over some brie and fresh bread – complete with nearby coffee shop Csendes. Alternatively, catch the commuter boat to Margaret Island and picnic near the dancing musical fountain for a livelier experience.
Dobrumba is a restaurant you might not find on other Budapest food lists. A hole in the wall on the corner of Dob street, Dobrumba is a dreamy Middle Eastern fusion restaurant that you'll never want to leave. The chicken shawarma is a giant plate of pitta with a mountain of spicy chicken, perfectly complemented by the freshly grilled vegetables, harissa, and tahini dressing. Since eating this dish I have tried to recreate it at home – it's just not the same! For only 2800 Hungarian Forint (around £7) Dobrumba was the perfect end to a food-filled trip in Budapest.