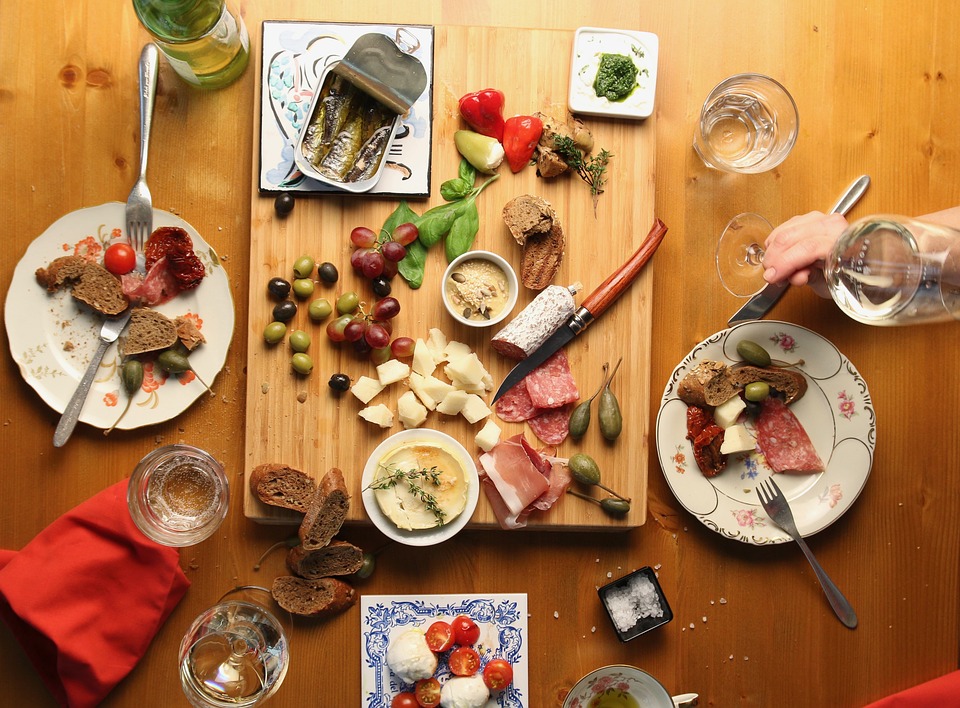 Food&Drink's Toby Fenton provides two recipes for his Food of the Fortnight, homemade tapas
The concept of tapas, with a great number of sharing dishes, has become popular in the UK in recent years. For many years, I have wanted to have a go myself, but I never knew what traditional Spanish tapas really was and how to go about cooking it. Having visited Tapas Revolution restaurant, set up by Spanish chef Omar Allibhoy, in the Bullring just before Christmas, I was inspired to give cooking Spanish food a go.
Since then, I mentioned to a friend how I had made tapas, and they suggested that we host a tapas evening during this term. We then worked out a plan for which dishes we were going to make. We ended up deciding on eight dishes: Tortilla de Patatas (or Spanish omelette), Albondigas, Calamari con Aioli, Pan con tomate and Serrano ham (toasted bread with ham and grated tomato spread on), Patatas Bravas, Espincas con garbanzos (chickpeas and spinach), a Tomato and red onion salad with a herby almond dressing, and finally Alitas de pollo a la miel y limon (chicken wings glazed in honey and lemon).
If you want to host your own tapas evening, I would suggest that you make 4-5 dishes, so that you don't give yourself too much to do. Here are two of my favourite tapas recipes I've made for you to try out at home!
Albondigas
Ingredients:
For the meatballs
4 slices of white bread, crusts removed and torn into small pieces
6 tbsp milk
400g beef mince
400g pork mince
1 clove garlic, crushed
A small bunch of parsley, chopped
1 egg
½ tsp smoked paprika
Olive oil
For the tomato sauce
2 cloves garlic sliced
200ml red wine
2x 400g tins of chopped tomatoes
A good pinch of smoked paprika
Method:
1.Put the bread in a large bowl, pour over the milk and mix together until all the milk has soaked in.
2.Add the mince, garlic, parsley, egg, smoked paprika, as well as salt and pepper, and mix well using clean hands, then roll into small meatballs (this recipe should make approximately 32 meatballs.
3.Heat some of the oil in a wide frying pan and brown the meatballs in batches. When browned, put aside on a plate. When the meatballs are all browned, add a bit more oil, and add the sliced garlic, allowing to sizzle for a couple of minutes.
4.Add the red wine and boil until reduced to almost nothing. Then add the tomatoes and smoked paprika, bring up to a simmer and cook for 10 minutes, before adding the meatballs back.
5.Cook for another 20 minutes until the sauce has thickened and the meatballs are cooked through.
Espincas con garbanzos
Ingredients:
1 tbsp olive oil
4 cloves garlic, minced
½ onion, diced
300g spinach
1x 400g tin chickpeas, drained
½ tsp cumin
½ tsp salt
Method:
1.Heat the olive oil in a frying pan over a medium low heat, then add the garlic and onion until translucent for about 5 minutes.
2.Stir in the remaining ingredients and allow to cook until heated through and the spinach is wilted, then serve.
3.Enjoy!