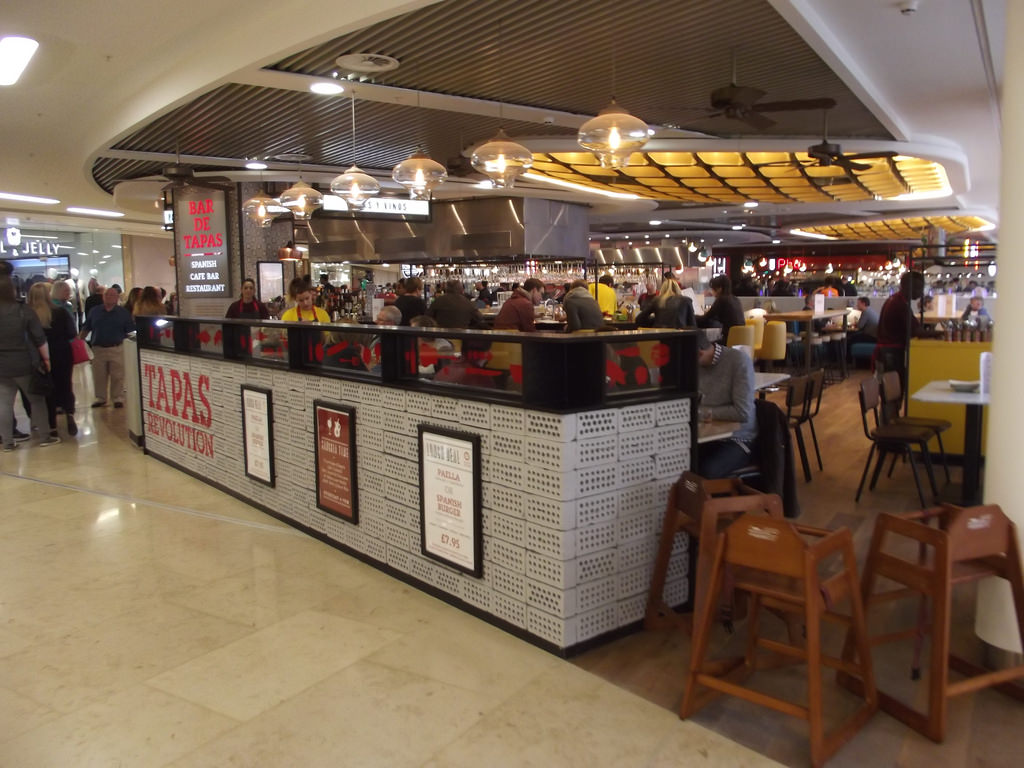 Food&Drink's Emma Stephenson reviews Grand Central's tapas bar, Tapas Revolution
Tapas is not always your first port of call if you are looking for a quick bite to eat when in town, but Tapas Revolution in Grand Central offers a wide range of dishes to suit every fancy and more importantly, they offer a 50% student discount on a Monday and Tuesday! Offering meat, seafood, and veggie plates to mix and match makes for a fun experience of amounting a plethora of flavours. Both their tapas menu and wine menu presented an extensive range for choice, advertising their pride in using predominantly Spanish ingredients. Plates average around £5.95 but they also offer set menus for 2 which work out much cheaper. 
Judging this restaurant on the most basic tapas dish, their patatas bravas were excellent – well-marinated in a tomato and paprika base sauce and smothered in aioli. Aioli generously accompanied many of the dishes including their calamari which was only lightly battered and so not greasy as it can sometimes be, as well as their tortilla which was presented as a thick slice. Spanish flavours and spices ran throughout their menu as we tried marinated beef skewers in a spicy dipping sauce and crispy pork belly with a sweet and spicy sauce. These meats were cooked and presented beautifully, the beef was tender and slightly pink inside and the belly pork was crispy yet came apart like pulled pork. However, it is true my spice threshold is a little higher than most and the amalgamation of spanish spices worked to create a more subtle spicy flavour and heat, in my opinion.
Although the meal was definitely more than satisfactory, one thing I would advise people to avoid is the croquettes. These deep-fried treats filled with ham and béchamel sauce were quite bland and of the portion of 6, there were half which had no obvious trace of ham in at all, and the ham we came across was clumpy with gristle. 
In true tapas style the food came out as it was ready so all the food was hot and the service was attentive throughout the meal, but slowed down entirely once the plates were cleared. A final critique I would highlight is the menu's recommendation of 3 to 4 dishes per person. My group of 3 ordered 6 tapas dishes and 1 nibbles bowl of olives and this was plenty of food for us. Therefore, I would recommend deciding on the amount of food you order for yourselves and hey you can always order more.
Overall Tapas Revolution was an enjoyable experience with a good atmosphere complimented by good company and a sample of nice, affordable food. Next time you're in town I would recommend considering this quick, deliciously Spanish restaurant, as a way to spice up a quick bite on a busy weekend!