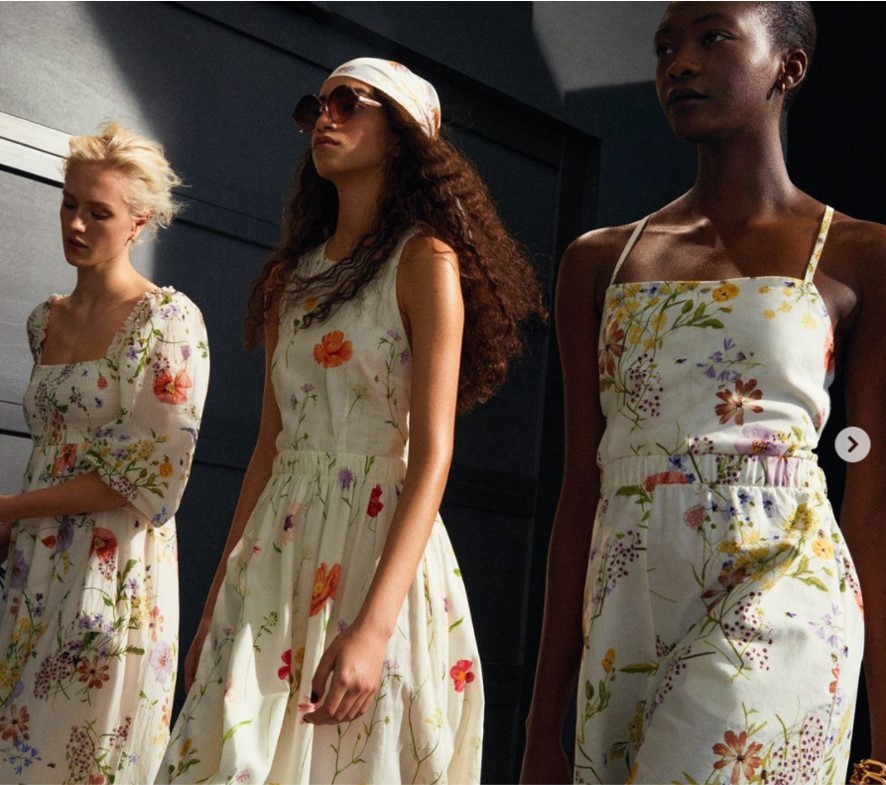 Life&Style's Tash Farwell gives us the low down on this summer's biggest trends and how to recreate them
The news of the recreational industry opening right in time for summer presents an exciting opportunity for individuals to express themselves through fashion. With places to actually go, evidently prominent fashion trends have surfaced through the likes of Pinterest and TikTok. Here are the top trends that I have found and loved:
Long, Flowy Skirts and Dresses.
There is a huge demand for Midi skirts for the summer, especially floral Hawaiian patterns and sheer material. The likes of Kendall Jenner revolutionised this style with her House of Sunny Hockney Dress which has now surged the demand for long skirts and dresses.
These long skirts are perfect for a light wear and a staple piece for a summers picnic or beach day. This piece can be paired with a crop or cami top and matched with layered jewellery. I would recommend looking on Depop for sustainable, vintage midi skirts from brands such as Morgan De Toi to vintage New Look or Topshop.
Hibiscus flower patterns
Hawaiian flower patterns, especially the hibiscus flower encapsulates the fluorescent tropical essence of summer. While many of us will not get the opportunity to go on a hot vacation, the vibrant pattern captures the vibes of a nice tan and coconut smelling body lotion. This trend came about after Versace and Gucci delivered their take on Hawaiian floral prints on skirts and shirts. Yet it seems that the hibiscus flower has usurped the hype, with the increase of hibiscus dresses (OMighty), crop tops (Amazon) and 3-piece bikinis with sarong (Shein). These brands are quick purchases however I would advise researching on Ebay and Depop for a sustainable option. Depop sellers such as @OliveSimpson and @KikiHolmes sell the print for affordable prices whilst providing vintage on trend pieces.
Crotchet
I would arguably say crotchet will be everywhere this summer. The influence of Tiktok users providing simple tutorials of crotchet will result in many home-made crotchet pieces such as crotchet bikinis, as well as many affordable pieces from small businesses. The versatility of crotchet is endless, with countless colours and patterns. The block dress from TikTok is already very popular and due to its simplicity, I will be attempting my own crotchet dress this summer!
70s Fashion:
Upcoming prints from the 70s radiates the care-free, expressive times of the era that Gen Z loves. Swirly, colourful patterns range from pastel sorbet colours to vibrant block colours such as yellow and orange tones. This trend is perfect for a statement piece, I would recommend 70s style flowy trousers and button up shirts which are perfect for cover ups for the beach or for when night approaches. Zara's new Spring 2020 collection is a dreamy 70s mood board and a perfect starting store for this style.
Satin and lace Camis
Although this trend has been around for 2020, lace and satin camis will never go out of date. This means they are a great, timeless investment and a cute staple that goes with any outfit. The sheerness from the lace and satin material is perfect for the rise of not wearing a bra with the likes of fashion sensations Devon Lee Carlson and Kendall Jenner channelling the no-bra Cami movement. You can find surplus amounts of this style on Depop with a simple search of 'camis,'. I have been loving sheer lace floral camis, especially colours such as bright pink, and @lovevie and @oliviagraceherring on insta are incredible influencers who often wear this style whilst supplying sustainable small businesses to buy these tops from.
---
Enjoyed this article? Check out more on fashion from Life&Style:
2021 Golden Globes: Our Top 5 Best Dressed