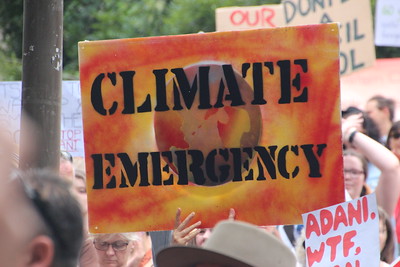 The Guild of Students have declared a climate emergency to tackle the current ecological crisis
On Tuesday 4 February, the Guild of Students declared a climate and ecological emergency to tackle 'unimaginable damage is being inflicted upon the world's ecosystems.'
In a statement signed by Joshua Williams President Guild of Students; Josh Dooler, Sports Officer and Chair of the Ethical and Environmental Committee and Nickie Williams, Ethical and Environmental Officer, it was stated that 'It would be an abject failure to the students the Guild of Students represents to ignore the [climate] crisis.'
The statement has outlined five key points of action including increased Guild pressure on the University to tackle Climate Change and divest from fossil fuels and increased involvement with the NUS.
Asked about why the Guild called this climate emergency, Williams told Redbrick, 'In calling the climate emergency, it's about taking a stand.
'With the Australian wildfires and floods in Indonesia, it's more visible than ever that we are running out of time. It's our duty to commit to fighting the crisis that is already well on the way and pushing the university to stand alongside us in doing so.'
'It's about what we can do on campus to rive local action to contribute to a global change.'
The Guild state that the university 'has a responsibility to commit to tackling the climate emergency.'
'It is imperative that our institutions use their positions and power within the sector to actively fight the suffocating onset of climate change.'
The climate emergency was called by Joshua Williams in a Full Time Officer meeting before Josh Dooler and Nickie Williams then worked through the idea.
A draft of the statement was given to members of the Guild Policy Development Group and the statement was passed last week.
When asked why students should support the Guild in their decision to declare this climate emergency, Josh Williams told Redbrick, 'As student representatives, we have a duty to do all in our power to represent, uplift and protect students.
'Time is running out to tackle the climate emergency and we would be failing in our duties not to do all we can to fight this. In declaring, it was so important not to make a symbolic gesture without key things to fight and stand for!
'Going forwards, it is more important than ever that we as students come together, stand together and plan together about how best to tackle the crisis on our campus, in our community's and in our world. We will be releasing more information on how to get involved and shape the direction of our environmental strategy very soon!'
Lucy, a second year Anthropology and Political Science student, told Redbrick that 'it's about time' that the Guild took action and declared this climate emergency given the current ecological crisis.
Another second year student who asked to remain anonymous told Redbrick, 'I feel like just pushing the uni isn't going to do enough. While this decision by the Guild was a good step in the right direction, more needs to be done as people are constantly pressuring universities to do more but nothing changes. 'Obviously it is a good step, however more should be done to tackle the ecological crisis.'