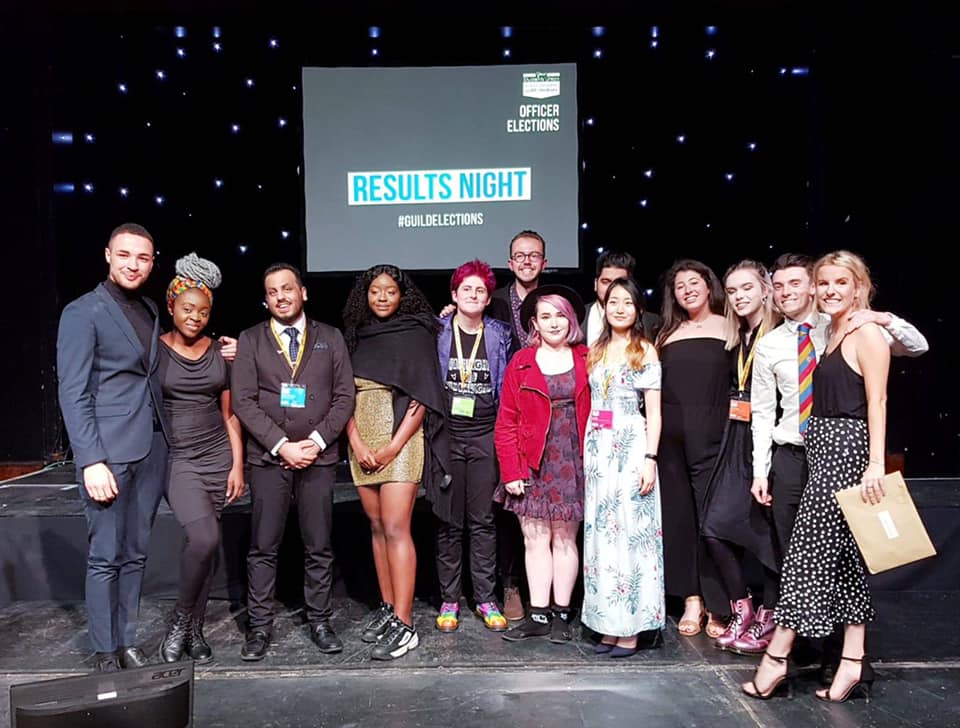 Elections Editor Tom Leaman brings the results and reactions from this year's Guild Elections results night, held on Saturday 2nd March
On Saturday 2nd March, this year's Guild Elections drew to a conclusion with the announcement of the 2019-20 officer team. After months of preparation and a week of campaigning, the sixteen successful candidates were announced (nine part-time officers and seven full-time officers).
A new record total number of votes were recorded this year, with 8,980 students taking part in the elections. To fund their campaigns, every candidate was given a budget of £50 by the Guild of Students. Unlike last year, where the UK was hit by the 'Beast From the East,' the campaigners in this election were blessed with warm weather. In the build-up to the results announcement, the current President, Reece Patrick Roberts, joked that 'one of our candidates managed to get sunburnt!'
After the results were announced, the Guild's media groups caught up with this year's winning candidates to get their reactions.
FULL-TIME OFFICER TEAM
President: Joshua 'Just-Josh' Williams
After six rounds of voting, Joshua Williams was announced as the next President of the Guild of Students with 3,443 votes. Le'Shaé Woodstock was the runner-up with 2,506 votes.
Some of Williams' main aims for his presidency are to review the University's mental health policies and lobby for more funding, to introduce a Care Leaver Officer as a part-time role and to create a comprehensive guide on letting agents.
In his speech immediately after being elected, Williams said 'I really didn't expect this. Last year, when I ran to be Welfare and Community Officer I believed in my policies, but I didn't believe in myself.'
In an interview with GuildTV, Williams said: 'I don't want to wait until I'm in office to begin my work, I want to make sure I'm keeping a close relationship with Reece and make sure I'm being as proactive as I can to lay down the foundations of what I want to achieve.'
Activities and Employability Officer: Ryan 'Gingerbread Man' Ginger
After gaining 3,836 votes, Ryan Ginger will serve on next year's full-time officer team as AEO. His competitor, 'Eighties Amy' Hodgkiss, received 3,291 votes.
Ginger aims to create a media group forum to collaborate with societies and take suggestions for improvements, to improve the publicity and promotion of Societies Night and to introduce industry-specific careers fairs. He congratulated Hodgkiss on what he called 'a nice, fair and lovely race.'
In an interview shortly after being elected, Ginger said described a very tense atmosphere in the Debating Hall. Summarising his decision to run and his election, he said his main aim is to 'improve the Guild and most importantly, improve student life.'
Education Officer: Amanda 'Sefton's On It' Sefton

Amanda Sefton won 5,838 votes to become the 2019-20 Education Officer. In her acceptance speech, Sefton thanked all of the candidates who 'made it such a lovely election,' continuing by saying 'it was really fun and just a great, great week.'
The three key policies on Sefton's manifesto are educational welfare, academic enhancement opportunities and taking control of your course, for both undergraduate and postgraduate students.
In an interview with Redbrick before campaign week commenced, Sefton made it clear that she will try to ensure that students receive 'the full academic experience that they paid for' now she has been elected.
International Officer: Joanne 'Old JoJo' Park

After one round of voting, Joanne Park was duly re-elected as the Guild of Students' International Officer. This means she will remain the only person to have ever served in the role, which was only introduced as a full time position in 2018. Alongside re-open nominations, there were four other candidates who ran for the position.
Speaking to GuildTV, Park said the first policy she will start work on for next year will be IKEA trips to help international students with welcome week planning, something she says she has already started working with the University on. This will form part of her 'living the Brum life!' manifesto point.
Alongside this, Park is hoping to improve mental health support with a culturally-sensitive approach, reduce fees for students going on a year abroad or a year in industry and introduce an International Alumni Network mentoring scheme.
Postgraduate Officer: Tobiloba Adeyemi
After receiving 5,174 votes, Tobiloba Adeyemi will be the 2019-20 Postgraduate Officer. Her main policy points are to ensure postgraduate voices are heard, to facilitate more social events for postgraduate students, to implement a skills acquisition programme and to introduce a well-equipped study space.
In an interview with GuildTV shortly after being elected, Adeyemi commented on her landslide win by saying: 'I want people to know that I actually worked for this.' She said that she feels she was helped by being the only postgraduate officer candidate to have had a photo taken and attend media day. 'I think it did help, but I would not say that was the only reason (she was elected) because I worked really hard and was out every single day.'
Sports Officer: Josh 'JD Sports' Dooler 
Josh Dooler gained 3,678 votes to become the Sports Officer-elect, and he will replace the current officer, Simon Price, in June. Price was re-running for the position, and he fell short by just 127 votes.
Dooler's manifesto has six main points: introducing further welfare provisions, bigger crowds at sports events, improving the UB Sports app, celebrating success, helping students get involved, and ensuring sports at the University remain student-focused.
After being elected, Dooler said: 'I feel over the moon. I came here today and I was really nervous – I hadn't really been nervous all day – and now I've finally got it. It was so close, Simon's run an amazing race.'
Welfare and Community Officer: 'Mermaid' Millie Gibbins 
'Mermaid' Mille Gibbins was duly elected as the 2019-20 Welfare and Community Officer after gaining 4,519 votes.
'I was so, so nervous and it was very, very overwhelming, but I'm just so happy now,' said Gibbins after the event ended. Asked how she was going to celebrate, she told GuildTV that 'it's going to be a big Fab!'
When Gibbins starts her new role later in the year, she'll be commencing work on her four main policies. One key point in her manifesto is to improve mental health services at the University by decreasing waiting times for appointments and guaranteeing follow-ups. Gibbins also aims to tackle the issues of crime around the University's campus, to improve students' wellbeing and to improve the student househunting experience.
PART-TIME OFFICER TEAM
Anti-Racism; Anti-Fascism Officer: Manisha Dhaliwal
Dhaliwal gained 2,880 votes.
Three rounds of voting were required to achieve this result.
Commuter Students' Officer: Jules 'Return of the' Singh
Singh gained 2948 votes.
Two rounds of voting were required to achieve this result.
Disabled Students' Officer: Alice Fowle
Fowle gained 251 votes.
One round of voting was required to achieve this result.
Ethical and Environmental Officer: Nicola Williams
Williams gained 4,427 votes.
One round of voting was required to achieve this result.
Ethnic Minority Students' Officer: Tukeer Hussain
Hussain gained 354 votes.
One round of voting was required to achieve this result.
LGBTQ Students' Officer: Amber Culley
Culley gained 371 votes.
One round of voting was required to achieve this result.
Mature Students' Officer: Alex Sinclair
Sinclair gained 4,499 votes.
One round of voting was required to achieve this result.
Trans Students' Officer: Em Andress
Andress gained 62 votes.
One round of voting was required to achieve this result.
Women's Officer: Shirley Ibegbulam
Ibegbulam gained 905 votes.
One round of voting was required to achieve this result.