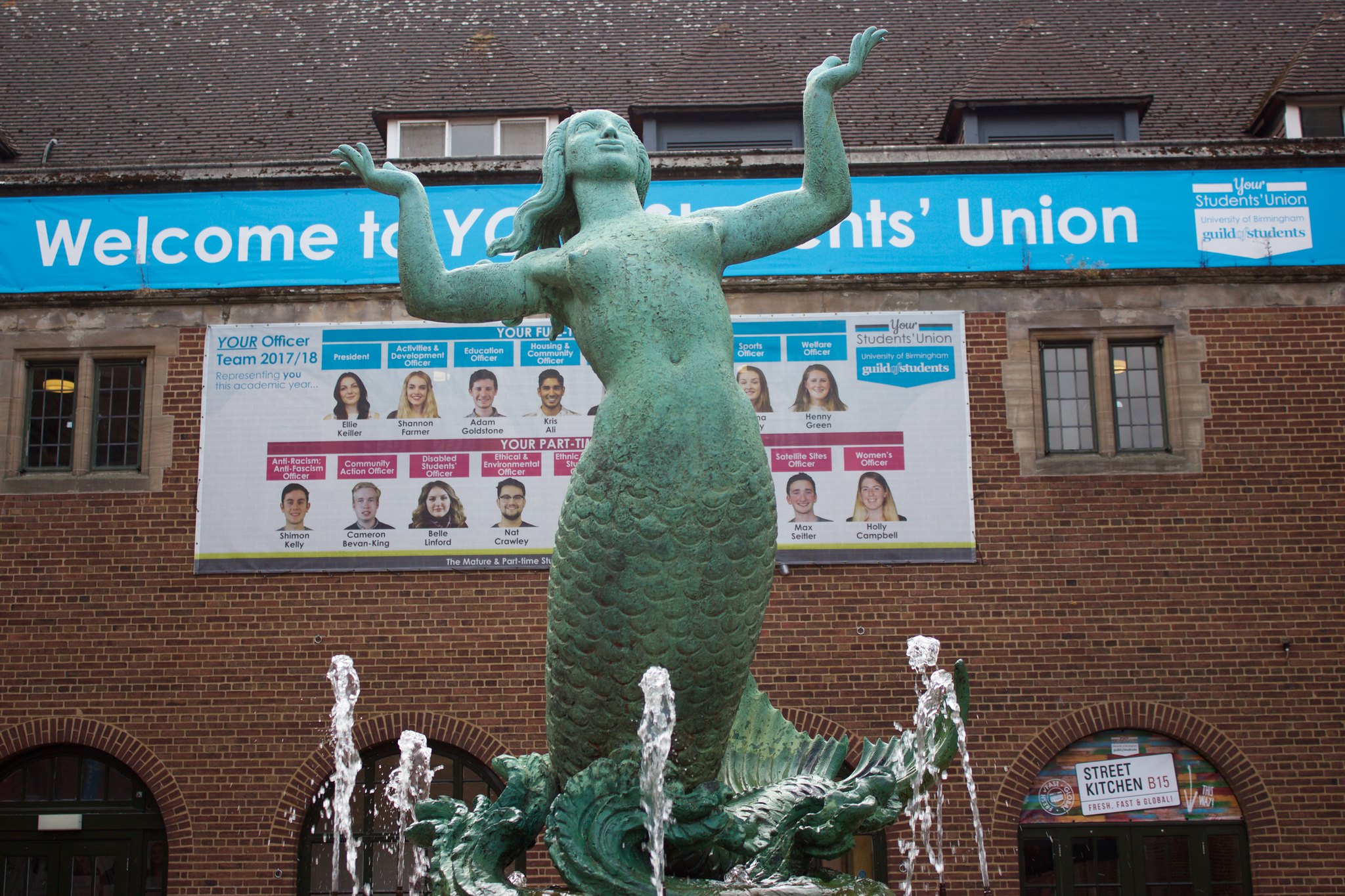 Ahead of the 2020 Guild Elections, Elections Editor Aneesa Ahmed interviews the candidates running to be the next Guild President
Four of the six candidates for the Guild presidency were interviewed on Saturday 8th February. The other two candidates running to be President of the Guild of Students, Divine Etiaba and Zhuoxin Luo, did not respond when contacted by Redbrick for an interview.
The President leads the Officer Team and represents the students here at Birmingham. They are responsible for leading the Guild's democratic and governance processes including elections and Your Ideas.
Voting opens on Monday 24th February and closes on Friday 28th February. You can vote on the Guild of Students website.
Each candidate is listed alphabetically by surname.
Tobi Adeyemi
Current Postgraduate Officer, Tobi Adeyemi, told Redbrick that her vibrancy and resilience makes her the best candidate to be the next Guild President.
Adeyemi said that it 'takes a lot to bring her down' and that she has some transformative plans she wants to put in place if she gets elected.
'What you see is what you get. I believe that there are a lot of voices that need representing at this University. I want to make everyone's university experience better.'
Adeyemi's campaign is heavily focussed around diversity and inclusivity as she said that 'there are around 39,000 students at this university, each one completely different.'
One of the points on her manifesto is to 'make sure welfare services are inclusive.' This is an important issue to Adeyemi because she believes that to truly make the student experience as she believes that the current welfare system lacks the intersectionality needed to cater to the diverse needs of students.
Another point on her manifesto is making sure that students have confidence in Guild processes, and that its transparent to drive student engagement. To her, transparency is key because otherwise there would be no trust in the system.
'It's one thing to represent 39,000 students with one voice but it's another thing to allow decision making to be open and transparent. It's important for people to know that things are happening like this. Transparency is very important, making sure that processes are straight forward to understand is key. As I am a politics student, I understand the importance of simplifying things.'
Adeyemi also emphasised on the importance of the President's role in listening to the ideas of the other officers and being a good team player. She outlined how her experience as the Guild's postgraduate officer this year has shown her the importance of opening conversations. She told Redbrick: 'every officer is doing their best. Everything that they set out to do is being done, it would be up to me to take those bits and pieces and expand on them as it's about picking up previous conversations.'
Inclusivity within the university and Guild matters a lot to Adeyemi due to her own personal experiences with the Guild. Prior to becoming a UoB postgraduate student, she did her undergraduate degree in Nigeria. When coming to UoB, she highlighted how it was the events and functions that were put on at the Guild that made her feel most welcome to the UoB and UK student community. She said that this experience during her postgraduate year at UoB has made her determined to improve the student experience of other students within the University.
'I remember coming to UoB and feeling very alone, I had a big culture shock as everything is different, even the people are different. I heard from a friend that there was an event at the Guild, so I went along, and at that event I found a community that finally made me feel like I belong here.'
Adeyemi told Redbrick that people should vote for her because she is about words and actions.
'I'm not just about words, I'm also, about action. Every project I have and every project I handle, I always make sure an action comes out of it. I am prepared to be held accountable for everything stated on my manifesto.
'I want students to make the most of student life. I paid a lot to be here, so I should get value for my money, and so should everyone else.'
Sahar Anwar
Sahar Anwar, a final year Anthropology and Political Science student who believes that she is the best candidate to be the next Guild President. She highlighted that a lot of people have promised representation, but there needs to be someone who identifies as a minority to make these changes. 
She believes that her unique experiences as a Muslim woman of colour make her the best candidate as she can offer perspectives that have previously not been spoken about. She is branding her campaign with the hashtag #ImWithHer. 
Representation of diversity is crucial to Anwar. She told Redbrick that 'much of the student body is female and there are a significant number of minorities on campus. On a campus of 39,000, as women, our voices are being heard but there is more work to be done.'
One of her key manifesto points is to make the University more careers oriented. She thinks that there should more company linked education so that students who don't want to go into academia are more aware of their options after university. She believes that there is currently too much focus on academic career options and not enough focus on industry career options.
'I think that more internship schemes and extending the careers network would be highly beneficial to students.'
Another key point on her manifesto is to increase cohesion between the Medical School campus and the main campus. She highlighted how there is a current separation between students on each campus, and by having more integration it would better the student experience for students on both campuses.  
She also says that more environmental policies within the Guild is something that she wants to push for. She said that declaring a climate emergency was one of her plans originally, but since the Guild have recently announced that they are doing that she wants to expand on this.
Access to resources is another key issue that she wants to tackle if she were to be elected. She highlights that while the library has a fantastic array of resources, sometimes the number of copies available or a lack of online resources makes some key readings inaccessible to a lot of people.
'Not everyone can afford to buy all the mandatory texts themselves. I think the Guild should be working more closely with the university and library services to convey the needs of students and the resources that they need access to.'
Anwar referenced previous Guild President Ellie Keiller as someone who she admired.
'Ellie was a friendly face; I want to be like that. I want to be someone that everyone can feel like they can go to. Reece [Patrick Roberts] was very good with his online presence, that is something that I want to be able to continue.'
She finished by telling Redbrick that she would be a good fresh face and a valuable addition to the Guild officer team. She outlined how she was part of equality and diversity committee for POLSIS department in her second year where she worked with lecturers to deconstruct the curriculum. She has also been involved with the Islamic Society and was a member of the committee. She explained how these roles from her university life so far would make her the best candidate.
'I'm so passionate about education, representation and remote access. My active engagement with student activities so far means I know a lot about the Guild and how it works. I would argue that it doesn't matter how much guild experience you have, but about your mindset.'
Emperor Palpatine (Louis Cooper)
Louis Cooper, who is running for president under his character name 'Emperor Palpatine,' urges students to give him his vote because he wants to 'make the empire great again.' He told Redbrick that students will be able to relate to him as he 'loves Roosters' and that his favourite order is number four.
Emperor Palpatine believes that he is the strongest candidate as he has spent '30 years running a galactic empire' which has given him strong leadership experience.
He told Redbrick: 'a student union is easier to manage than a galaxy. I think I'd be able to successfully run as a Guild president.'
'I am the best candidate for this job. I have survived being killed once, and I keep on going. I believe in persistence.'
His campaign is based heavily around security as he outlined that he believes that security around campus and Selly Oak is one of the biggest issues that students face as there is currently a 'disharmony in the force' between students and residents in the area.
He proposes to make some radical changes to how safety around the area is handled, including using 50% of Guild funds to build a new death stars 'for protection,' using stormtroopers to patrol Selly Oak at night time to ensure safety and introducing a mandatory curfew of 11pm in Selly Oak.
Emperor Palpatine also proposes to make changes to the University and how it is run, firstly by proposing to rename the university to 'Imperial Academy' and introducing mandatory lightsabre ban. Palpatine also proposes that the university offers a new dark side of the force studies program.
He also claimed that he will 'use the dark force' against the University if they don't divest from fossil fuels and ban single use plastics on campus as he states that environmental issues are very important to him and for young people.
Transparency is very important to Emperor Palpatine as he told Redbrick that if he were to be elected, he will 'follow through' with all of his pledges.
'I want people to know that their Guild President is a Sith Lord, that is no secret. If I am elected, I will follow through with everything that I have pledged.'
He finished by stating that his main goal is to 'actually lobby the University for change' and to not just accept things as they are.
'If they don't agree with me, I will crush them using all the power of the dark side of the force.'
Owen Shann 
Second year history student Owen Shann believes that he is the best candidate to be the next Guild president as 'there are a lot of things that need changing.'
Speaking to Redbrick, Owen Shann outlined how he feels that there is a lot of change to be made and he wants to represent the people. He said he has spoken to lots of students at the University who told him that there are 'lots of issues that need resolving.'
'I want to push for positive change. People need representation so I want to do that.'
He outlined that he wanted to focus his campaign around democratisation of 'not just the Guild but also of the University.'
Shann has outlined that a lot of his proposed ideas will be a radical change for the Guild and the University, but it is something that he deems essential. Some ideas that he proposes include declaring a climate emergency on campus, shutting down the Dubai campus and removing David Eastwood.
'Most institutions have some kind of election or democratic process in choosing their leadership. This University is bigger than lots of small countries and if they have full democratic processes, I believe that this University should too.'
He also told Redbrick that he plans to retain and improve on existing changes made by the Guild in recent years, such as the continuation of diversification within the Guild, continuation of outreach programs and improving initiatives like the Selly Wardens. He highlighted how he feels that some students don't trust current systems put in by the university and the police, so improving on services such as the Selly Wardens and the Selly Express will be highly beneficial for students. 
Shann stated that transparency will be 'at the heart' of everything he does and claims that it is crucial for organisations such as the Guild and institutions like the University to be completely transparent with its students, staff and members.
'We can't have a student body which is engaged without them knowing what's happening behind the scenes, transparency is crucial to creating a better community, revealing the failures as well as good things is important. You can't have all the bad stuff hidden because otherwise people cannot trust you.'
Shann has been highly involved with university and Guild life throughout his two years at university so far and has held positions such as Student Rep and Social Sec for Karate Society. He has also started two societies, Climate Action UoB and Marxist Society and has been on committee for both. He believes that his active involvement with university and student life, as well as the campaigning work he does alongside his studies, makes him the ideal candidate for this role.
He ended by saying that it is the people he meets and the stories that they tell him which has motivated him to run for this role.
'I've been quite active in talking to people, the more people you talk to, the more you realise that, there are so many issues but is unaddressed because they think its unimportant. There's a current lack of belief in the system, and I want to change that.  I want to bring change on campus and want to give people more influence by taking back control.'