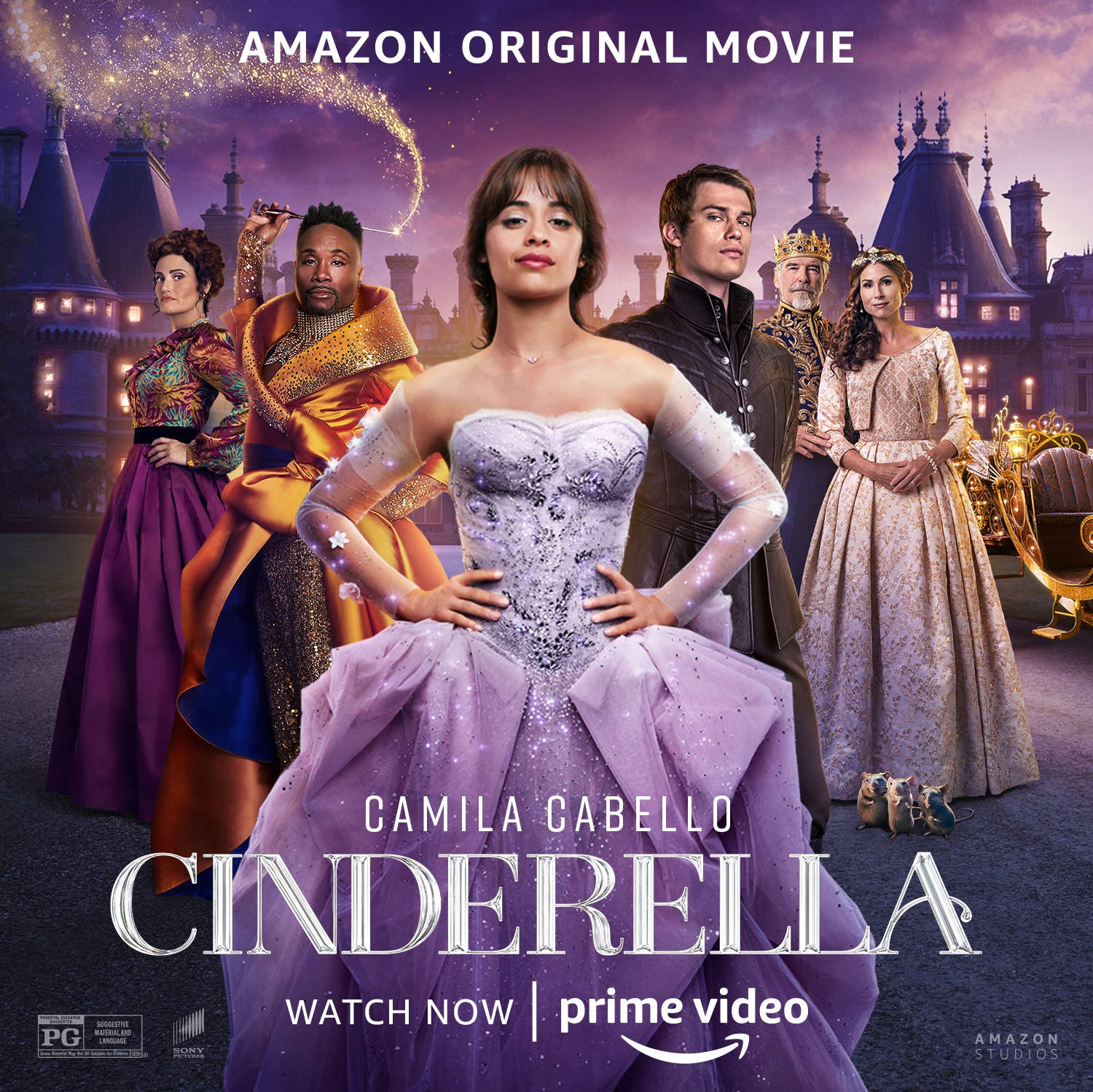 Film Writer Ilina Jha defends Cinderella (2021)
I was hugely excited by the trailer for this Amazon Original adaptation of the classic fairy tale, written and directed by Kay Cannon and starring Camila Cabello in the titular role; you can imagine my disappointment when I found out that Cinderella (2021) had received mixed reviews from critics, as well as being mocked and despised by much of the general viewing public. However, it came up as one of the listed films available on my 8-hour flight to India last summer, so I thought I might as well give it a go – and I thoroughly enjoyed it. Was this really the film that had been so criticised by audiences and film critics alike?
I can see that they have a point. There are moments of inconsistency in this film, and I am not trying to claim that it is an Oscar-worthy masterpiece. However, I think Cinderella has some fantastic qualities that make it a feel-good, fun, and enjoyable film.
Firstly, this classic fairy tale receives a fresh update whilst retaining elements from the original plot. Ella is still an orphaned servant to her stepmother (Idina Menzel) and stepsisters (Maddie Baillio and Charlotte Spencer), who nickname her Cinderella, and her best friends are still three mice. However, instead of miserably mourning her fate, Ella dreams of becoming a successful fashion designer and takes steps towards making this dream a reality.
Her basement room is filled with dress designs that she has worked on and even made with her limited resources, and she takes one to the village to sell. Not that this is so easy to do – the villagers mock her ambition: 'This girl fancies herself a businessman!' But Ella refuses to give up on her dream – in the film's uplifting and empowering original song, 'A Million to One,' she sings of her determination to be 'that one in [a million]' who can succeed. Plus, Ella's motive for attending the ball is not to marry a prince but to meet people who might offer her paid work as a designer. I think it is wonderful that Ella does not just sit around waiting for a fairy godmother and a prince to rescue her from her fate; instead, she works to forge her own freedom.
This does not mean that these characters cannot help her, of course. When Ella's handmade dress is characteristically ruined by her stepmother on the evening of the ball, the 'Fabulous Godmother' – a gender-ambiguous revamp of the Fairy Godmother played by Billy Porter – steps in to create a dress from one of Ella's designs, thus honouring her desire to showcase her work at the ball. The Prince (Nicholas Galitzine) admires Ella's wit and ambition, even buying her dress in the village for his sister Princess Gwen (Tallulah Greive). At the ball, they enjoy a beautiful dance that results in instant love (this is a fairy tale, after all).
However, upon the Prince's marriage proposal, Ella rejects him, knowing that pursuing her dreams would not be possible as a traditional princess bride; 'I don't want a life stuck waving from a royal box any more than a life stuck in a basement' is perhaps the best line in the film. And the Prince, while obviously saddened, accepts her decision with good grace. This is still a fairy tale, of course, so the film finds a way for the two to end up together: the Prince happily waives his right to the throne in order to travel the world with Ella, who has successfully snagged a job as a queen's personal designer.
Additionally, there are some strong vocal performances from the cast, most notably from Cabello and Menzel. The musical numbers are good fun, combining great choreography with well-known pop songs that are seamlessly worked into the film's narrative. Fantastic costume design, bright colours, and special effects work together to enhance the magic of the story, and there is a lot more humour than one would usually expect from a Cinderella film.
Overall, at the end of this joyous musical film, Ella achieves her dream of becoming a fashion designer. Getting a prince as a boyfriend is simply an added bonus to her new life – it is pursuing the passion that ultimately frees her and makes her happy. What better empowering, feminist message to send to a new generation of children growing up on this beloved fairy tale?
---
Enjoyed this feature? Check out these other recent features from Redbrick Film:
'Eat the Rich' Films: Possibilities and Flaws of an Ascending Genre | Redbrick Film
The 95th Academy Awards: The Meteoric Success of Everything Everywhere All At Once | Redbrick Slider — Front Page
Austin Butler: A Vocal Approach to Method Acting | Redbrick Film