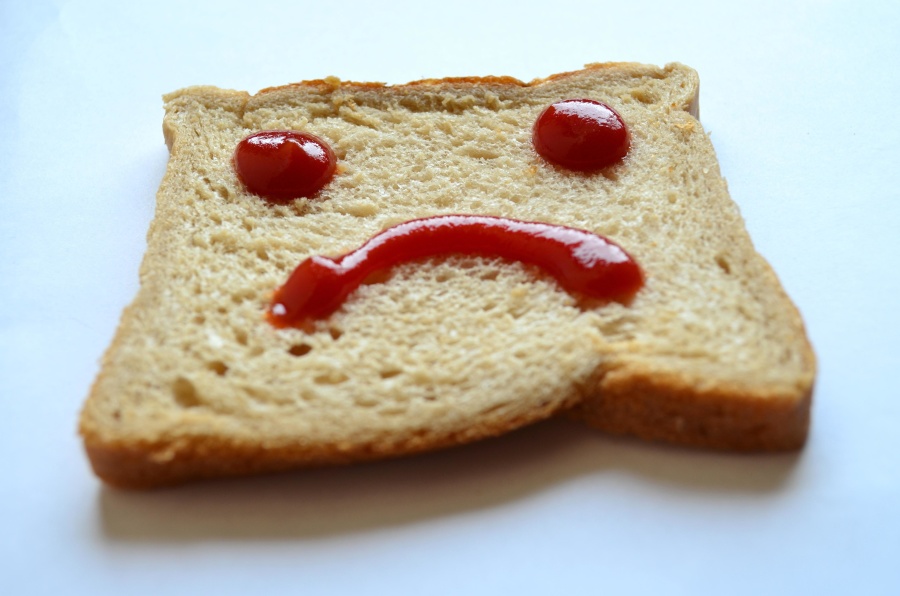 Food&Drink Editor Lydia Waller interviews UoB based Instagram account creators of Very Sad Food, discussing all things baked beans and expectations of student life
Images by
Pixnio
, Very Sad Food
'Very Sad Food' is a small community of 328 followers, on Instagram, from UoB, who share some of the saddest and most disappointing looking meals, that are conjured up during the stresses of University life. With edging towards 100 posts, the masterminds behind this comedic account, of sharing students' culinary crises, have built up a recognition as a meme-like platform, at the University. From pictures of cookies and raw eggs and butter captioned 'protein gains,' to smashed pickled jars, this account is a highlight reel of what it looks like to be a student, who literally has too much on their plate. We contacted the creators of Very Sad Food to hear about how the idea came about and what they think about honest representation of University life, through food.  
What made you start the account?
"It just started off as a joke within our flat last year, one of the guys we live with always makes very dry meals and another gets way too ketchup happy. It got to the point where we had so many photos of ugly food that we felt they needed to be collected in one place and shared — kind of like a gallery of our culinary experience."
Do you think it offers a sense of relief and comfort, through the comedic aspect, for students, that everyone struggles to keep up standards?
"We think it's nice to see other people are in the same boat. Although it wasn't our intention, we think the account is a welcome contrast to some of the 'easy student meals' you see on Instagram that have about fifty ingredients in them, and ultimately just make you feel sad for eating beans on toast every night. There's definitely a sense of solidarity in the sadness."
Do you think it illustrates an honest depiction of University life? And do you think people should see more of the realities of being a student like this?
"We think it is a fairly honest representation of university life, although it is obviously hyperbolic in the sense that we only post the worst meals we see. At the end of the day, all of these are meals that university students are eating. We do think this representation is important. University is often described as being the 'best time of your life', which creates a standard that is difficult to achieve and maintain — kind of like those student friendly meals on Instagram! When it's built up that university is meant to be amazing all of the time through social media and stuff, it can be super disheartening if you're having any difficulties. Hopefully stuff like 'sadfood' can show not every moment has to be incredible for your Uni experience to be a 'success'. On this point, we do understand there is a fine line between the joke of sad food and normalising a lack of self care; we never want it to seem like we're laughing at anyone who is struggling with food for whatever reason. The account's main purpose is just to offer a bit of light relief in the form of ugly meals." 
What has been your favourite entry?
"Our favourite entry is the syrupy bananas from the 25th of October, 2018. We even ran a poll to make sure this was the correct choice!"
How many submissions do you get weekly?
"At the moment we're getting about 10 submissions a week. Some of them aren't too bad, but we've had a few that have made us question the palettes of our followers."
Are there certain times of the year/term where you get more submissions?
"At the moment we're getting the most submissions we've ever had, but usually when its coming towards the end of term people seem to get quite adventurous with the food they're trying to use up before they go home and we get a bit of an influx."
What do you get personally, from putting this project together?
"Honestly, we just find it quite funny seeing what people come up with, and it's nice getting to interact with lots of different students! There's also the aforementioned solidarity which makes us feel better about our own kitchen disasters."
Is Very Sad Food larger than you expected it would be?
"Yeah the account is definitely bigger than we thought it would be. For the first few months we had it, literally only the ten people from our flat followed it! Then a few friends began to interact with it, and it's kind of grown from there. It's really cool when we get people who none of us know sending photos in or commenting."
How central do you think food is to the University student?
"Food is undeniably central to University life. You have to plan your week to include food shopping, you have to actually prepare and plan out all of your meals for the first time, and it is a key point for social interaction, be it just in your house kitchen or going out for lunch."
What do you think is the main reason students end up with 'sad food?' e.g money, time, expectations etc.
"Part of it is probably the fact a lot of us are consistently cooking for ourselves for the first time ever. It's pretty easy to make nice food at home every once in a while and think you know your way around a kitchen, but when you have to start making three meals a day (and doing the shopping to prepare for that), it can be pretty hard to maintain the motivation to make good meals. It is so easy to just cover something in beans and call it a day." 
Very Sad Food are on Instagram – @verysadfood, join the solidarity in the sadness of failed food by submitting your own entries or just enjoying the gallery of ghastly plates on their feed! Thank you to Very Sad Food.