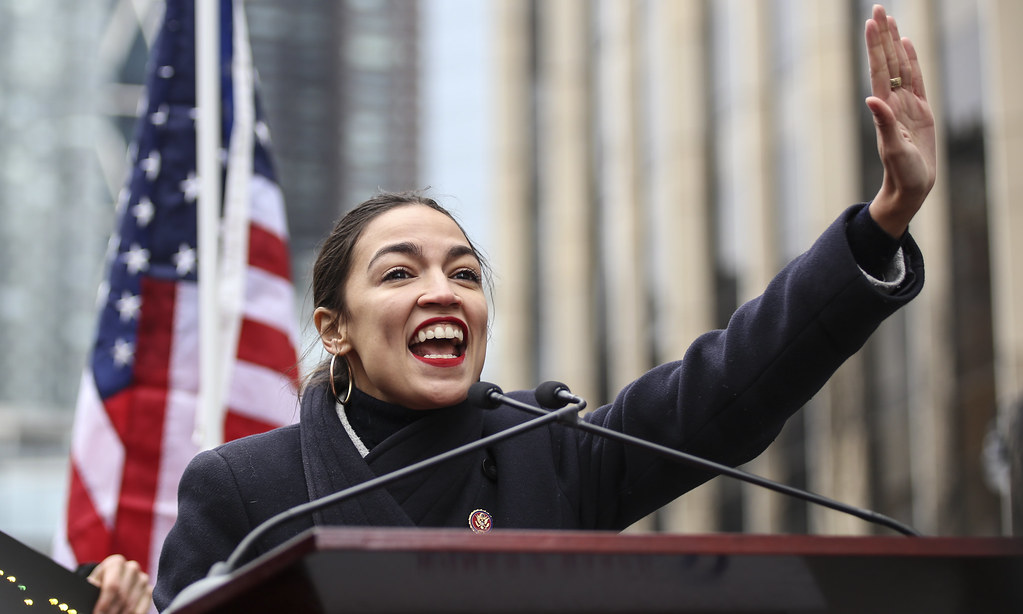 Gaming Editor Alex Green reviews Knock Down the House, a documentary which follows the campaigns of a progressive new set of Democrats challenging the status quo
Politics can seem utterly mind-boggling nowadays, partly because it dominates our lives so much. With the obvious increased exposure due to the social media age we live in, it almost seems we are swamped with news about politicians, both in the UK and abroad. Regardless of said views, it's nice that films are there to help us get by… apart from when Netflix releases a documentary on the last US midterm elections. What's a bit more politics on the television screen?
Knock Down The House, directed by Rachel Lears, follows four outsider non-career politicians, Alexandria Ocasio-Cortez, Cori Bush, Amy Vilela and Paula Jean Swearengin, a set of progressive new Democrats endorsed by the groups Brand New Congress and Justice Democrats. The documentary follows their campaigns as outsiders attempting to topple career Democrats who are all well-established in their respective states. The classic David vs. Goliath to bring up a cliché.
As indicated, political documentaries can sometimes be a bit exhausting. The over saturation of politics in our lives can seem to make documentaries like Knock Down The House seem like something we've seen before. However, this is a trap well avoided by Lears who clearly had an eye for these four people. This is a showcase of a midterm that challenged the status quo, that decided to take a crack at the establishment, fuelled by four diverse and strong women all with true motivation to change the system. In this sense, Knock Down The House excels at documenting events that represent the problems within the American political system, yet showcases the people who are true catalysts for stories of inspiration.
Make no mistake, these four women weren't all winners, but their stories are well worth seeing. Whilst the documentary does primarily focus on Ocasio-Cortez (sometimes to its detriment), the motivations and complex desires of all of them shines through superbly, with the editing and direction of this documentary being exemplary. Truly, these women are each so fascinating to understand, all fuelled with passion, in some cases anger and a desire to be a catalyst for change in American politics. Knock Down The House is at it's best when it gets to the heart of these people. The film has a proud sense of feminism and champions the power of these women and even highlights the patriarchal barriers placed in front of them, discussing being told how they should dress and talk. After all, as pointed out in the documentary, they aren't "rich white guys in suits." The need for Lears to highlight this says a lot about her faith in embracing these women as individuals all with diverse talents. 
Praise can also be given to a strong direction by Lears who understands how to display the full range of these stories and even ties them back into a more in-depth look at the complex establishments that have sustained career politicians in the country, from big money donors like pharmaceutical companies to the tiring effect of the status quo wearing away at people who don't really believe in the grassroots candidates. This is a reality that is confronted and spotlighted quite significantly as one of the true barriers to democracy in this piece, a stark look at the danger of maintaining people in the same posts who can further grow their stronghold on their own position. In a sense, it is frightening but Lears presents it as a very real evil that is worth challenging, not just on principle but to allow democracy to function. It's in this complex deconstruction where Lears shines with a smooth pace and excellent choice.
Of course, it isn't a perfect affair here. As mentioned, the focus can sometimes feel a bit off when it comes to the substance of the candidates. We don't learn too much about the establishment opponents that much, aside from a couple of lines of text. Granted, this would have been difficult but a potential look at these people a bit closer to understand the full extent of their character as opposed to faceless long-running democrats would have been more encompassing and add to the depth that Knock Down The House is going for.
Whilst this might seem superficial, it is worth bringing up as the focus issue does also mean some of the candidates the documentary is observing also feel like they are fighting for screen time. The story of Ocasio-Cortez is great and is a good overarching narrative, yet the other three equally bold and talented women do feel sidelined, almost feeling like we get the highlights of their campaigns, not their full stories. I suppose given the 87 minute run time, you can only get through so much content, but again, to gather more detail would have been appreciated.
Regardless, it's worth checking out this documentary. Even if the politics of the world can feel cumbersome, sometimes it gives us people who are truly extraordinary and stories that at least seeking out can show us that the unpredictability of politics isn't always a bad thing. Hopefully, Knock Down The House provides Rachel Lears with more opportunity, as one of the great winners of this documentary.
Verdict:
A cohesive project that sometimes sacrifices overall clarity for individual focus – but still excellently directed, full of grace and complexity tackling both the grassroots politician and the establishment they face.
8/10
Knock Down the House is streaming now on Netflix.