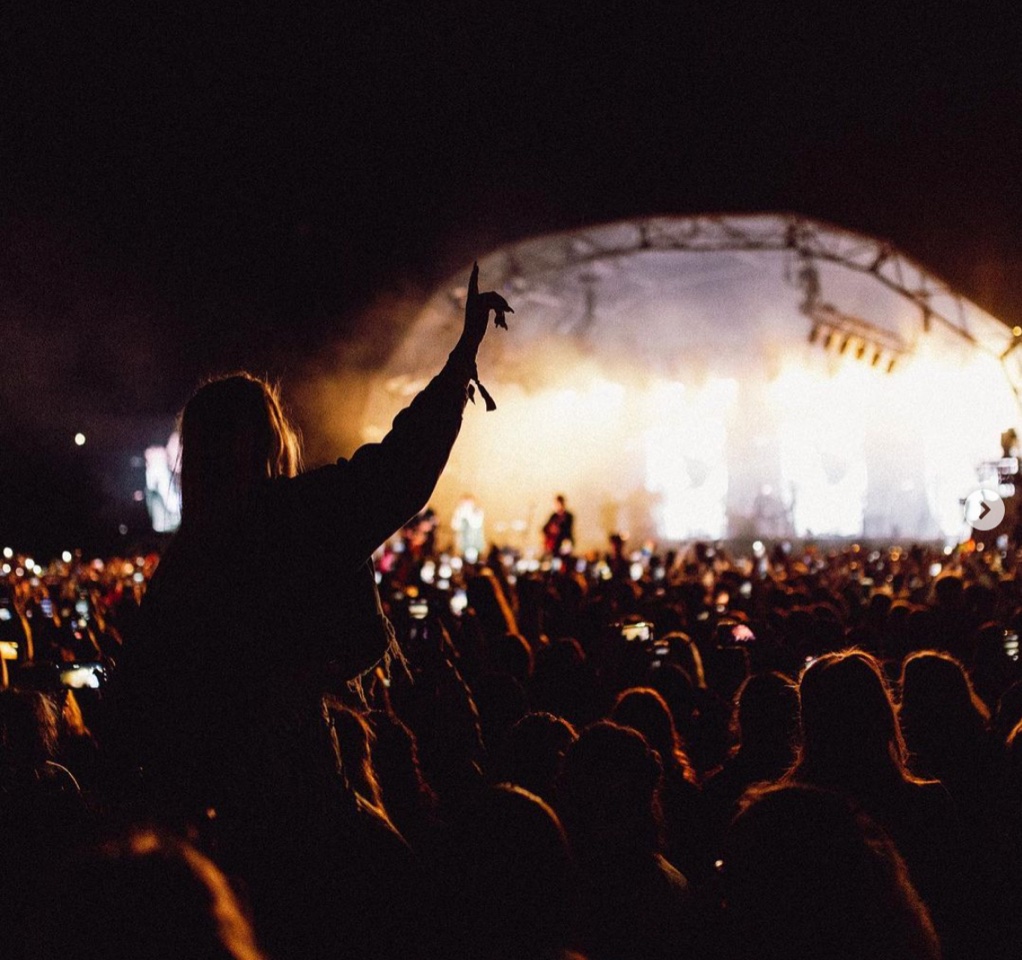 Life&Style Editor Julia Lee reviews Louis Tomlinson's Away From Home Festival, praising its celebration of British music and sense of community
The Away From Home festival that occurred over the bank holiday weekend was the first time One Direction veteran Louis Tomlinson had performed in front of a live audience since his debut solo tour was cut short in Spring 2020. Despite being the last of his band to embark on their solo careers, Tomlinson's endeavours, including a stint as a judge on the X-Factor and a record-breaking charity livestream, have had remarkable success. 
Almost two years since the release of his debut album Walls, headlining his own one-day festival event was a ballsy one, especially given that tickets were entirely free and given out on a lottery basis. I was lucky enough to receive tickets for myself and a plus one, and on that drizzly Monday afternoon, set off to the Crystal Palace Bowl for the event. 
The South London venue affectionately nicknamed the 'Rusty Laptop' sits on a grassy knoll whose natural topography allows all, big or small, to see the stage in perfect clarity. It had hosted the likes of Bob Marley, Pink Floyd and Garden Party festivals in its heyday, and was revived by the City Council this year in an attempt to bring the venue to its former glory. With bars and food trucks lining the perimeter, small groups settling onto warm blankets on the soft grass, and fans with country and pride flags flocking to the front of the stage, all before the sun had begun to dip below the horizon- the atmosphere was electric. 
According to Tomlinson, the festival had been in the works for the better part of the year. Not only did he commit to it being as affordable as possible for his fans, he also took the opportunity to spotlight British talent. The first live act to take to the stage was Essex natives BILK. Formed in 2015, the trio boasts rambling rap vocals to pop-punk riffs that make the mundane amusing. 'CM2' pays homage to their postcode, where 'When boredom comes / It sticks like glue.' Other songs on the setlist such as 'Weed Song' and 'I Got Knocked out the Same Night England Did' are quite self-explanatory. The band has a devil-may-care indie feel that envelops the crowd into the ambient angst of small-town England. BILK is going on a UK tour and has a new EP ALLOW IT out now. 
In the lulls between acts, DJ Jess Iszatt played songs by artists such as Sam Fender, MGMT and Kaiser Chiefs, and of course crowd favourites like 'Mr Brightside' and 'Wonderwall.'
The Snuts are an indie rock band hailing from West Lothian who had a stacked agenda this past month, playing at various festivals including Reading, Leeds, and Away From Home. Their sound is resonant in a way that makes your heart thump to the beat and body sway to the melody, made to be enjoyed live. Time and place are heavily referenced in their music and give it an aura of nostalgia and longing- in 'Glasgow' the chorus soars with 'Jump on my back / And I will take you home / I'll always love the way that you say Glasgow.' This seems to be the common thread theme between all the artists' performances- childhood, youth, home- the festival is named Away From Home after all. The Snuts' debut album W.L. is out now. 
Finally, when the sun is well and truly hidden, Tomlinson emerges to flashing lights to a drum-heavy rendition of his single 'We Made It.' A fitting opener- he has made it. 'Underestimated / And always underrated' no more, Tomlinson lit up the stage, confidence rolling off him in spades. 'Drag Me Down' was one of his few One Direction covers of the night, delivered with a gusto that comes from years of performing and a stage presence that makes clear that he is the star of the show.
He paid tribute to his late mother in 'Two Of Us', the audience lighting up the glade with torch lights. Tomlinson travelled closer to the audience for the more sombre numbers, including fan favourite 'Only the Brave,' queer fans waving pride flags to 'It's a church of burnt romances / And I'm too far gone to pray.' 'Fearless' in particular was a cathartic embodiment of arena rock and allowed Tomlinson's guitarist to show off his chops.
The production design really shone in 'Copy of a Copy of a Copy,' where black and white duplicates of the stage were projected instead in reference to the song, which itself debuted in his streaming event Live In London in December 2020. Tomlinson's signature emotive vocals lament that 'You won't be the first or be the last to bleed,' seeming to speak to younger self as a cog in the industry machine.
After throwing it back with a rockier version of his debut single 'Just Hold On,' Tomlinson remarked on getting to play a new song to an audience before launching into the never-before-heard 'Change.' The song draws parallels to many of his previous works, simple yet evocative lyrics that draw on an intangible sense of homesickness. The heavy use of minor-key plucks at your heartstrings, the hush of the crowd emphasising the hollow feeling of 'Everything's changed outside / But I feel the same inside'. As always, Tomlinson injects a positive spin with 'If you need you can call on me / I'll be the friend you need'. To fans' delight, Tomlinson confirmed it and 'Copy of a Copy of a Copy''s place on his sophomore album.
His Kings of Leon Cover 'Beautiful War' was a moment of reprieve that let the audience appreciate his no-frills vocals. 'For every question why / You were my because' from his album's title single 'Walls' had become an ask-and-answer bonding moment for Tomlinson and his fans over previous live performances and this time was no different. He did not let up on his affection at any point during his set, at one point exclaiming 'I just f***ing love all of you. I love you. I love you.' 'Through The Dark,' an underrated gem from One Direction's Midnight Memories is given new life, Tomlinson declaring that 'you guys make me feel f***ing invincible.' The upbeat 'Kill My Mind' makes for an explosive finale complete with fireworks and confetti streamers. 
Leaving Crystal Palace Bowl singing along to 'Sweet Caroline,' I felt a surge of love and community. For the performers, the crew, the caterers, my fellow attendees – the exact feeling you want after a festival before the eventual crash of realising you will never experience something quite the same again. The Away From Home Festival made me feel right at home. Like Tomlinson said at the show, 'all I feel is excited about what's to come.'
---
You Might Also Like:
Essential Albums: One Direction – Midnight Memories
Live Preview: Moseley Folk & Arts Festival