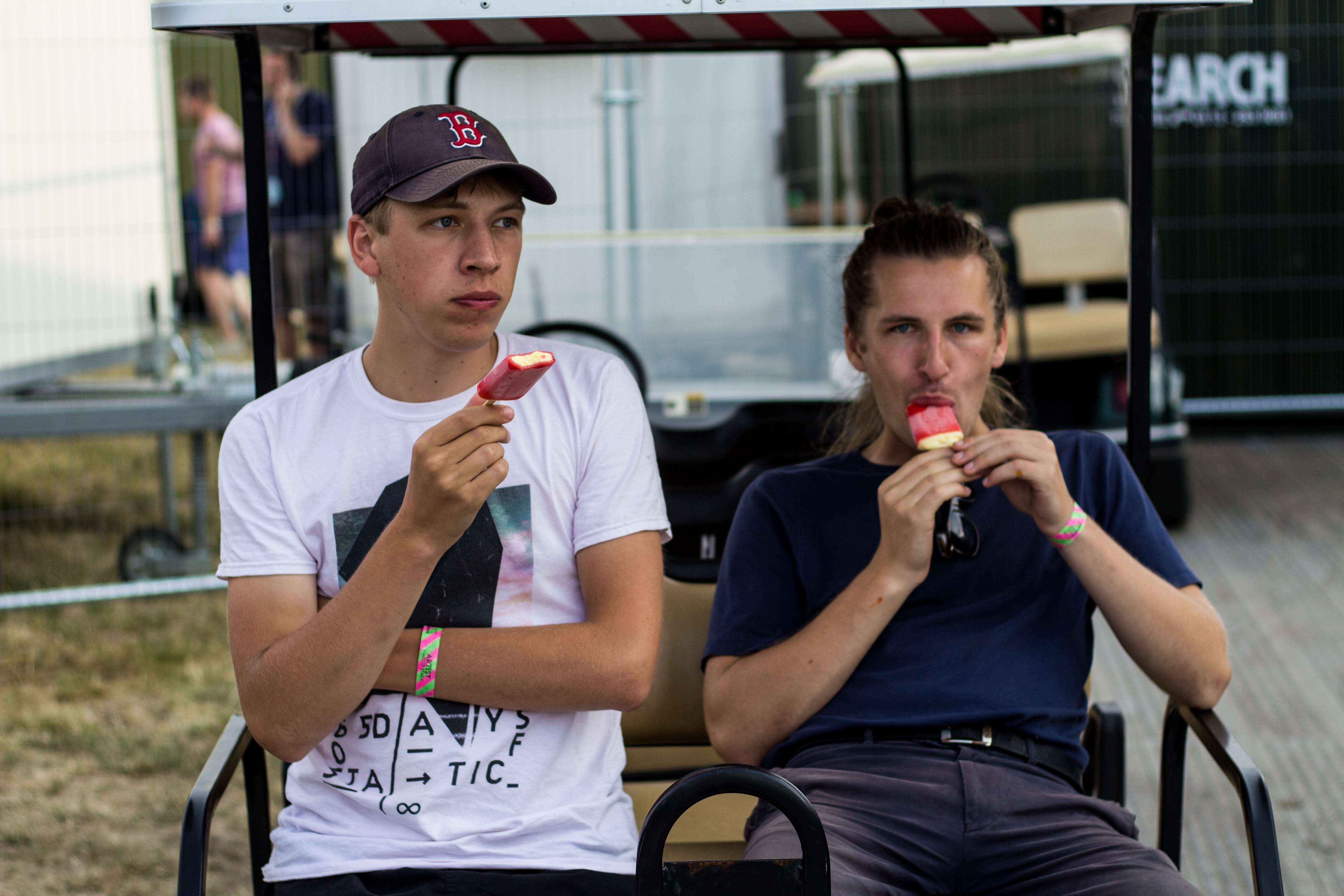 Concluding a long tour, Drenge stick the landing at their recent Birmingham show, Laura Moseley reviews
Having been just under four years since Drenge's last album release and headline tour, with only a handful of festival slots in between, it'd be easy to assume that Drenge might be a little rusty in advance of their Strange Creatures tour. But as the last show of the tour, Birmingham's O2 Institute is packed full of people anticipating the show to come – Drenge have a lot to deliver. Preceded by support act Valeras, whose music, alas, fully confines itself to the warm-up category and not much else, exclaimed 'Are you excited for Drenge?' which was met with about two singular whoops; a contrary reaction to how the band were actually received. As they marched on to the stage, with singer Eoin Loveless donning a grey suit and Vans Old Skools, the band's image projected a sense of what their new music is about, and so the night began.
Opening with new release and Eoin's personal favourite song, 'Prom Night', Eoin's outfit seemed set to tell a story. Lyrically, the song is vibrant, telling a twisted tale of a horror event at a prom that left the audience thirsting for more. The song is slow, but nonetheless, Drenge are story-tellers who are eager to keep the crowd at bay, waiting for the first impactful song of the night. This, of course immediately followed with the inception of 'Bonfire of the City Boys', which debuts a new synth- infused sound for Drenge, with Eoin's vocals shifting more towards a talking-based John Cooper Clarke style. This song is also lyrically focused with its heavy urban-sound, transforming the vibe of the O2 Institute into an area that felt more like a grungey industrial setting. This was complemented by the intense red flashing lights that lit up the stage like a warning sign, drawing the audience's attention to the band's stage presence and Eoin's vehement cavorting which showed how much energy was going into the performance.
The setlist consisted heavily of songs from the new album with 'Autonomy', 'Teenage Love' and 'Never See the Signs' following swiftly after. 'Alright, Saturday night!' Eoin screamed, despite his slightly wavering voice, a symptom of the tour which had inflicted itself on the final night. 'Backwaters' provoked the wildest crowd reaction of the night with the crowd parting, leaving a circle completely free so when the chorus hit, bodies were bashing into each other with as much fervour as the room could hold.
More songs from the band's previous albums included 'Favourite Son' and 'Bloodsports' which were evidently fan favourites. Interestingly, however, 'Fuckabout,' the band's most listened to song on Spotify, was absent from the setlist, suggesting that perhaps the band wish to make a departure from their early tune, or rather, their focus of the night was to showcase as many songs from the new album as possible.
'Let's Pretend' finishes the main part of the set, with its instrumental piece allowing the crowd to reflect on the night – one that has been a celebration of Drenge's new slower sound and lyrical emphasis. After a short break, the band return with 'When I Look Into Your Eyes' and 'We Can Do What We Want', the latter speaking out to the youthful, energetic crowd and hinting at Drenge's evolution from here, perhaps an elaboration of their slower, more experimental and lyrically focused songs which reflect city-life more than life in the Peaks.
The gig was a huge insight into Drenge's journey, both musically and performing live with a huge progression from earlier headline tours. Drenge were not rusty at all, but well-practiced and it seems they're finally formulating a live sound which they thrive in, and is completely their own.
'Strange Creatures' is available now via Infectious Music Ltd.