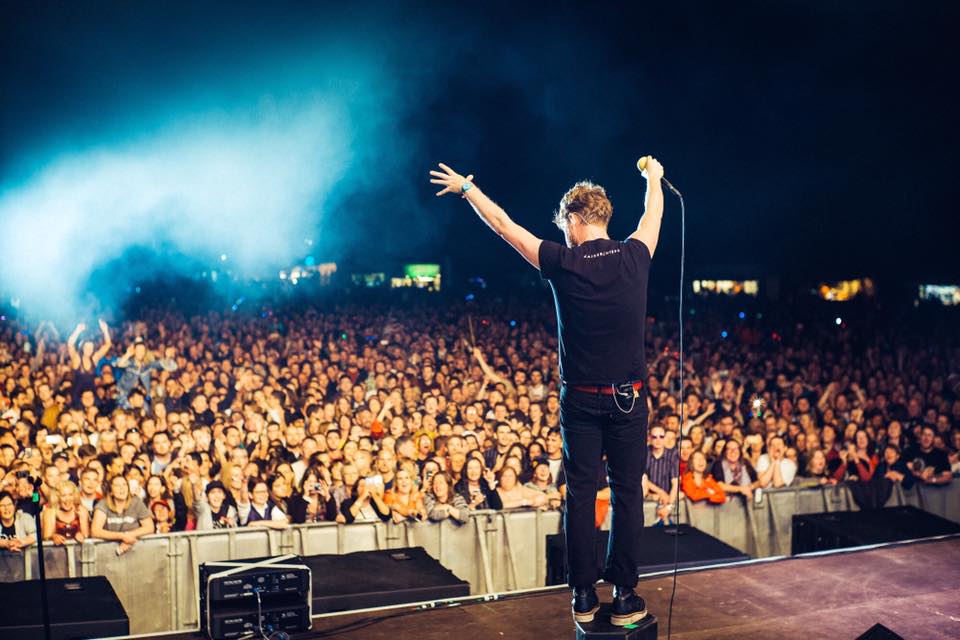 Music Critic Luke Cookson reviews Kaiser Chiefs' show at Birmingham Utilita Arena on the 18th November, describing it as 'a wicked show full of iconic anthems'
It was a cold night in Birmingham when the Kaiser Chiefs arrived to rock the foundations of the Utilita Arena with their iconic anthems which have become so synonymous with the noughties. The Leeds indie rock band put on a wicked show for the penultimate night of their 'All Together' tour. The Kaiser Chiefs were supported by both the Fratellis, another seminal rock band of the noughties, and the Sherlocks, a superb up-and-coming indie group emerging in the twenty-tens. The scene was set in classic Kaiser Chiefs fashion with a backdrop of garage doors graffitied with lyrics from 'Oh My God,' 'Everyday I Love You Less and Less,' and the classic "crisps for tea" reference to 'Never Miss A Beat.'
Once the crowds were awoken by the darkening of the lights, Front man Ricky Wilson emerged from above the stage as a silhouette illuminated by the projection of a full moon. The bands' arrival onto the stage did, however, come as a relief after a needlessly drawn-out build up which saw video footage of the band members looking through a keyhole and walking past garage doors. This long affair meant the first song to be performed, 'Born to Be a Dancer,' did not enliven the audience to the desired extent. However, when the slick riff of 'Never Miss a Beat' flew from Andrew White's guitar, the crowds jumped into action belting out every lyric. From then on, it was back-to-back bangers.
Although the first segment of the show featured little crowd work from Ricky Wilson with rapid song changes, the performance of massive hits like 'Na Na Na Na Naa,' and 'Modern Way' from their debut album Employment had the fans absolutely buzzing. With the sound mid-noughties nostalgia ringing in our ears, Wilson thanked the audience for singing along and asked for us to dance along with the band's new track 'How 2 Dance.' The new pop single kicked off with a funky and exceptionally danceable synth beat that got the audience bouncing around. The track follows the recent trend of noughties rock labels branching further into the pop scene, a move that some fans would hope to resist. It seems unlikely that this lyrically uninspired track will ever reach the heights of the band's older hits which remain adored.
Next came an intimate and stripped back acoustic rendition of 'Coming Home' which had the crowd swaying in harmony. To the delight of the dedicated fans, the rest of the show continued the highlight reel of Kaiser Chiefs greatest hits. The electrifying performance of anthems 'Ruby' and 'I Predict a Riot' proved the band can still deliver an epic night out. The vibrant visuals that accompanied the hits really popped; from animated collages of contrasting 60s imagery to an eccentric claymation, Kaiser Chiefs certainly kept their audience entertained.
Having seen the band perform in 2020 for their Duck album tour, as the last live gig I saw before the pandemic, it was awesome hearing them for a second time. They certainly did not disappoint in the sound department, but despite frontman Ricky Wilson delivering a stellar vocal performance, he seemed somewhat subdued on the night, having previously been so dynamic on stage. This was perhaps not helped by the size and capacity of the venue in comparison with the number of fans present.
Ultimately, Kaiser Chiefs gave the audience a sensational musical performance clearly unweathered by the years they've been performing together. Tracks like 'Angry Mob' remain lyrically relevant, reflective of our social climate and still sound utterly brilliant.
---
Enjoyed this? You might also enjoy: