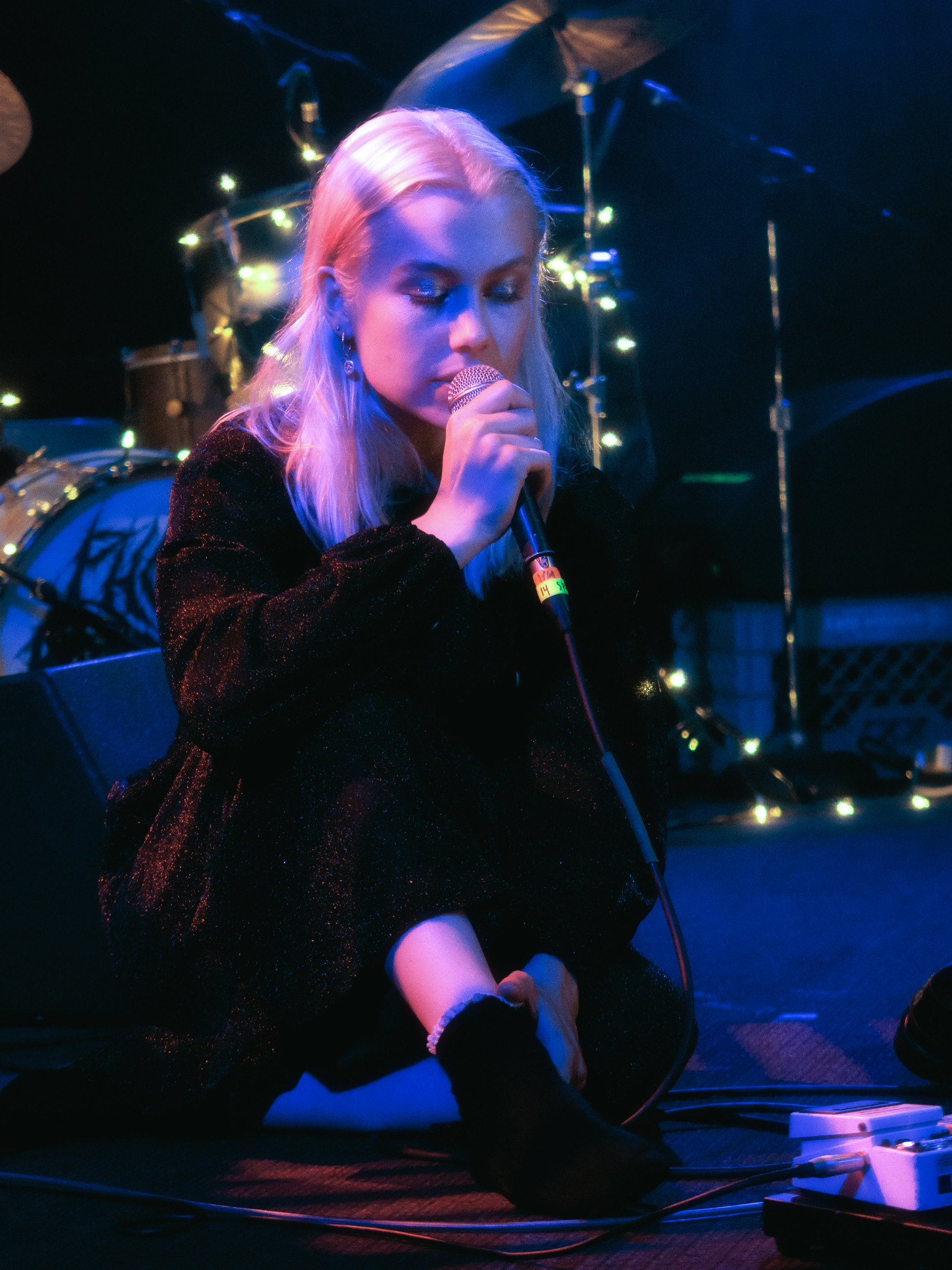 The confidence that Phoebe Bridgers displays on stage defies the vulnerability of her lyrics, Music Critic Hannah Massey writes
Now headlining MIRRORS festival at the Roundhouse in London, Phoebe Bridgers confesses the first time she ever played any of her songs to an audience was at this same festival two years earlier. In this set she combines fan favourites from her debut album Stranger in the Alps with a spattering of new songs, all captivating the hushed crowd equally.  The confidence she displays on stage now defies the vulnerability of her lyrics, and her powerful vocals combined with guitarist Harrison Whitford's epic guitar slides displays a strength that makes the confessional nature of her music all the more forceful. 
She opens with 'Motion Sickness', a song about her relationship with Ryan Adams, and in her performance tonight she morphs this from a song of painful vulnerability into one of vital anger, the strength in her voice in the opening lines 'I hate you for what you did / and I miss you like a little kid' stunning the crowd to silence. The purple lights and mystical set align themselves perfectly with the haunting composition and lyrics of 'Funeral', an extremely personal song about performing at a friend's memorial service, and the harmonies in the lines 'Jesus Christ I'm so blue all the time / and that's just how I feel' combine this genuine confession with courage. Following this she goes into 'Killer', a piano ballad in which she imagines her own death and admits she is frightened by her own obsession with serial killer Jeffrey Dahmer. 
The new songs she performs are simultaneously surprising and undoubtedly characteristic, having greater energy than her previous releases and an almost rock-esque feel. The penultimate song of her set she describes as 'scary', not because of any frightful subject matter but rather because of her apprehension about playing it to an audience. This song begins slowly, before building through a swift crescendo and finally climaxing with an electrifying guitar solo from guitarist Harrison, this unexpected musical turn for Bridgers stunning the audience. 
She closes with 'Scott Street', a deliberately ambiguous song that doesn't quite disclose why you're sad and describes a conversation with someone from your past. This builds in a similar way, its transition from the simple lonely acoustic guitar to the addition of drums and strings never failing to give chills. She leaves the audience aching for more, and yet despite the inherently melancholic nature of her music, no one leaves the venue with a heavy heart. She fills her set with anecdotes and light-hearted quips that contrast her serious lyrics, and this only enhances them; she refuses to reduce herself to a woebegone singer songwriter but rather presents herself as a complex, multifaceted human being that makes her seem all the more real. This, combined with her deeply personal lyrics and the courage and power of her delivery makes seeing Bridgers live a heart-breaking, playful, whimsical and exhilarating experience, all in one.