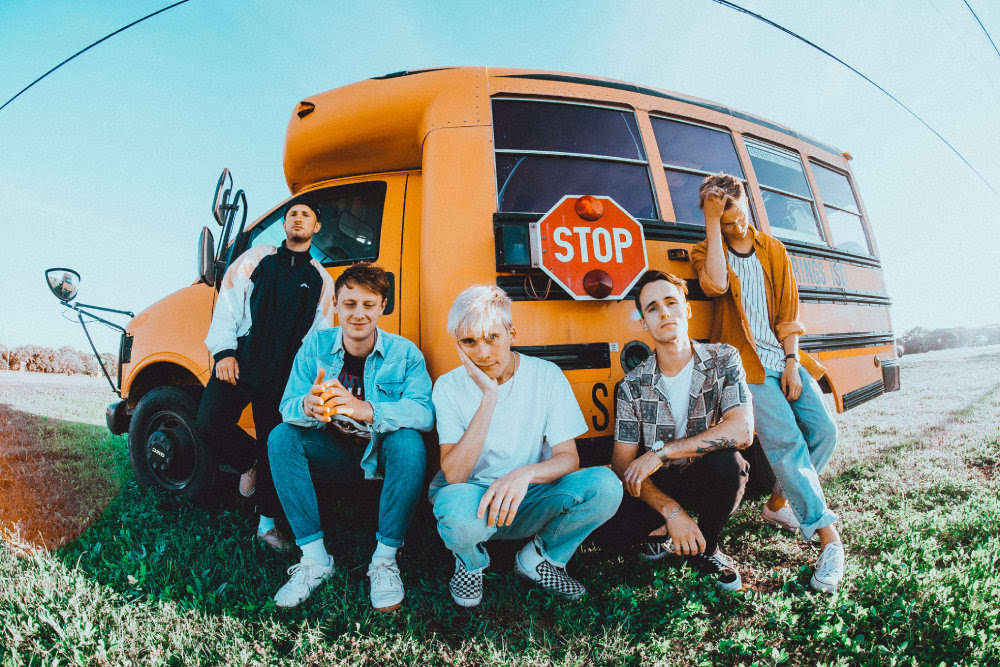 Romana Essop reviews the double-headliner performance of Roam and With Confidence at the O2 Institute
The start of this year's freshers' week saw the O2 Institute 2 treating Birmingham's pop punk fans to a night led by two of the scene's most exciting bands of today. Fresh from the release of their third full-length album, Smile Wide, Eastbourne's ROAM teamed up with Australian three-piece With Confidence for a co-headline tour to remember. Both bands have a relatively strong following in the UK and a lot of confidence in each other. This has led to alternating set times, giving both of them a chance to perform a slightly longer set and play the night out to its end.
For the Birmingham leg, With Confidence were first to step up to the plate. They took to the stage shortly after supports The Dead Love and Woes who both did well to capture the room's attention and warm up the crowd, the latter being particularly impressive.
With Confidence
Returning to the UK after over a year, the Aussie trio were greeted warmly by a strong audience clearly dominated by fans. Launching into their set with 'Moving Boxes' – the most successful single from their latest album – the Birmingham crowd needed little encouragement as the room began to sing, jump, and open up mosh pits without permission.
What followed was largely a celebration of the band's most recent album, Love and Loathing, which was released in summer 2018 and promotes a lighter, fun variety of pop punk with many examples of relatable yet poetic lyrics. Their live rendition of 'Icarus' in particular was a huge crowd-pleaser, tearing open the atmosphere and demanding heightened energy and vocals from the band and audience alike. This was perhaps my personal highlight of the evening.
The set's tranquil interruption came in the form of 'Paquerette (Without Me)', a song which has both a regular and an acoustic version in the band's discography. At least a dozen fans boosted themselves onto the shoulders of strangers and friends to sway and sing along with frontman Jayden Seeley for this emotional track. Inspired by the breaking up or fading of a relationship, 'Paquerette (Without Me)' captured the eyes and ears of the Institute more than any other song thanks to Seeley's faultless vocals and its hard-hitting lyrics, which undoubtedly resonated with most of the people in attendance. This was followed, perhaps unexpectedly, by a cover of Train's 'Drops of Jupiter' which the crowd were glad to hear.
With Confidence treated their dedicated audience to a few songs from their debut album, Better Weather, as well as their 2015 EP, Distance. This included 'London Lights' which the band confessed to rarely performing outside of the UK, but felt they had to due to its obvious connections to England's capital. Unfortunately, their position as the first headliner of the night meant that Birmingham was denied live renditions of 'Godzilla' and 'Better', but it's safe to say that the band's choices were hugely enjoyable nonetheless.
The set finished with 'Voldemort' – a single from the band's debut album which rocketed their international success when it was released in 2016. Fast-paced and wildly catchy, it was a perfect closer to an overall impressive performance.
ROAM
This five-piece from the South-East have been around longer than their tour companions and were using the tour as an opportunity to promote their third full-length album, Smile Wide, which was released less than a fortnight before shows began. Originally heavily linked to fellow pop-punkers As It Is, ROAM have now stretched to find something closer to their own unique sound. They sit firmly in the established genre, yet play with sounds and melodies atypical amongst their contemporaries.
Their set began with 'I Don't Think I Live Here Anymore', the first single off Smile Wide, which was largely well-received and certainly created an air of excitement. Fans had eagerly anticipated album three after impressive sophomore effort, Great Heights and Nosedives, which dropped in 2017. Whilst on stage the band confessed that they were going to perform some of the latest album's 'weird songs' including: 'Piranha' which was inspired by a recurring dream in which the band's lead guitarist and vocalist, Alex, is trying to escape death by piranhas; 'Toy Box' which uses quotes from Pixar's Toy Story; and 'Turn', a song about overthinking. 
Unfortunately, it was clear that not every new track performed could be fully celebrated. Perhaps this was due to the proximity of Smile Wide's release to the album before as the audience weren't familiar with their lyrics. This lead to somewhat of a drop in energy particularly during the verses of such songs. However, the atmosphere and excitement was consequently much more noticeably heightened during renditions of ROAM's earlier, more established tracks. Songs like 'Alive', 'Dead Weight' and 'Head Rush' encouraged the crowd to be louder than ever and produced some of the most widely enjoyed moments of the set. The band themselves clearly felt this, and lead vocalist, Alex Costello, even joined the crowd during 'Head Rush' which served as the penultimate song of the night.
This was followed by 'Playing Fiction' – a much loved single from ROAM's sophomore album and a smart choice for the big finale of an ultimately fantastic gig. Despite being fairly big names in the scene, this was my first time seeing both ROAM and With Confidence, and both bands showcased live talent and great stage presence. As the line-up for 2020's Slam Dunk festival is slowly revealed, I wouldn't be surprised to see either of these bands included, and I look forward to catching their shows again in the future. 
Roam and With Confidence's music is all available via Hopeless Records