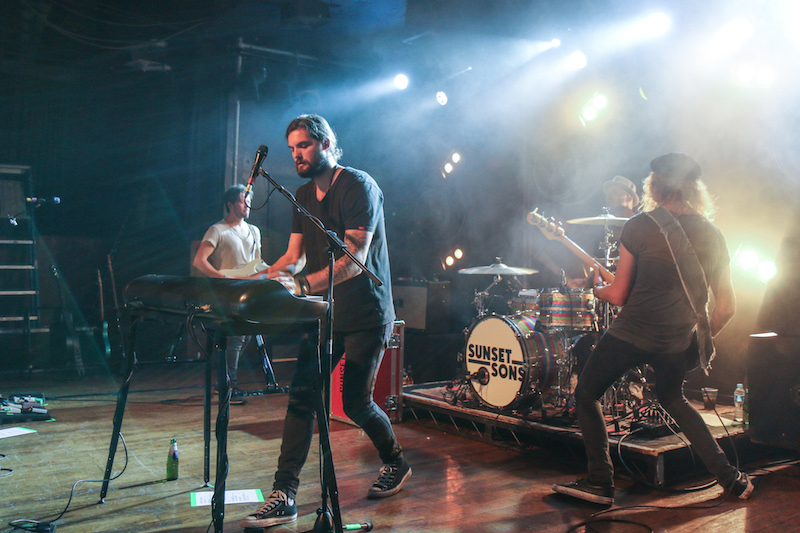 Sunset Sons bring their brand of indie rock to Birmingham, Music Writer Kelsey Baxter-Sibley reviews
I recently had the pleasure of making my first foray out to Digbeth's O2 Institute, to catch the penultimate show of Sunset's Sons' headline UK tour, fresh off the back of their newly released second album 'Blood Rush Déjà Vu'.
The two support acts – National Mystery Museum and Novacub – kicked the night off with the high levels of energy and rock-heavy music that easily filled the relatively intimate room throughout the evening, setting the tone for the rest of the evening. Before long, Sunset Sons themselves took to the stage and went straight into what can only be described as a whirlwind set. Lead singer and keyboard player Rory Williams jumped straight in to the show, full of energy and clearly loving being on stage.
Across the evening, the band played a huge mix of their music, from early hits 'She Wants' and 'Somewhere Maybe' to tracks from their new album, including 'Superman', 'Heroes' and 'Alien'. Although Williams seemed almost too energetic at the start of the show – possibly still feeling the nerves of the band's first set of live shows with the new album – he soon settled into his groove with pitch-perfect vocals and fantastic backing from the rest of the band.
As the set progressed, Williams created a great rapport with the audience, inciting loud singalongs from the crowd, especially when it came to 'She Wants'. Despite his growing confidence on stage, Williams took time to acknowledge how big a deal the show and audience's reaction meant to them – especially when playing 'Remember', which he described as 'the song that's the reason why we're playing on this stage in the first place', before taking a mini keyboard and microphone into the crowd to play it amongst the audience – creating possibly one of the best moments I've ever experienced at a gig.
They then finished their main set with the more alternative track 'Alien' from their new album before only Williams came back out to kick off their three-song encore with slower 2016 track 'Loa', with the audience welcoming the change of pace and reciting the lyrics back to him word-for-word. The rest of the band – made up of Jed Laidlaw on drums, Pete Harper on bass and touring guitarist Henry Eastham – then rejoined Williams for the rest of the encore, finishing with fan favourite Superman from their new album.
Overall the show was a well-executed lesson in how to unite a room and tailor a show that could easily have headlined a bigger venue to the intimate O2 Institute 2. Sunset Sons are an amazing live act, full of energy, charisma and flawless vocals, and I can't wait to see them live next time they tour the UK.