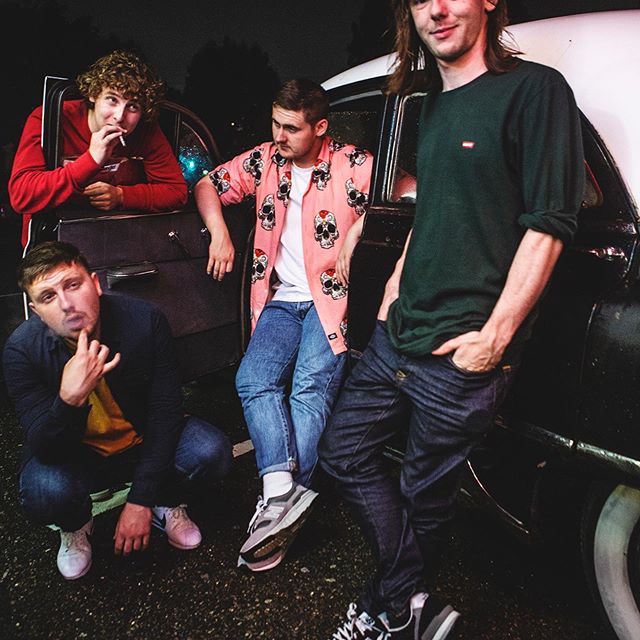 Life&Style Editor Frankie Rhodes reviews as The Snuts, Lewis Capaldi and Grace Carter bring a three act extravaganza to Birmingham
I was lucky enough on Monday the 25th of November to witness not one, but three amazing music acts at Birmingham's O2 Academy. The Snuts, Grace Carter, and Lewis Capaldi each offered something unique, yet complemented each other for an evening of musical greatness.
The Snuts
The first act of the night were Whitburn 4-piece The Snuts, who released their first EP The Matador in 2017. Warming up the crowd, lead singer Jack Cochrane demonstrated impressive Jack-White esque vocals, whilst the supporting band members created a body of sound falling somewhere between mellow indie and heavier rock-n-roll. The performance of their debut single, 'Glasgow' featured an electric guitar line reminiscent of the 1975 in 'Chocolate', with a grungy edge.
Their most recent single 'Juan Belmonte' impressed the crowd with its haunting bass line and falsetto backing vocals giving Arctic Monkeys vibes. With many influences prominent within their music, this served not to make the band seem unoriginal, but versatile in their skillset. My personal favourite track was 'Maybe California', which stayed closer to upbeat, indie tones. It was clear that the band had come a long way since originally getting together at school, and evidently have more success on the way.
Grace Carter
Having previously supported Dua Lipa and now appearing as Capaldi's second support, Grace Carter's vocals were heard before the singer was actually spotted on stage. Emerging a few bars into her track 'Don't Hurt Like It Used To', she expertly cleared high notes from the very beginning. Each track seemed to seamlessly flow into the next, and Carter's track 'Silence' featured atmospheric rosy lighting to match the powerful tones of the song. Ending this number with almost isolated vocals, the singer proved her worth as Capaldi's support.
My favourite moment of Carter's set has to have been her cover of Chris Isaak's 'Wicked Game', which was hauntingly beautiful set to low lighting. Carter was able to achieve an eerie feeling in the high parts, and soulfulness in the lower parts which made for a chilling rendition. Explaining that she has been writing songs since she was thirteen, Carter dedicated her track 'Fight For You' to her Mum, who raised her as a single parent. This touching message, combined with Carter's ability to engage the crowd, made this track another memorable aspect. Overall, aside from the backing vocals perhaps being a bit too loud, Carter's set was an exciting introduction to the talented artist.
Lewis Capaldi
After two hours of waiting with baited breath, the moment finally came for the main act. In true Capaldi style, the set began with Spandau Ballet's 'True' blasting out of loudspeakers, accompanied by Capaldi on voiceover, promising the audience a 'fun' evening. When the singer did appear, he launched straight in to 'Grace', a track with a suitable amount of oomph to animate the already excited crowd. It was only when Capaldi paused for the first time that one really became aware of his popularity, with the crowd offering endless cheers.
Anyone who is familiar with Lewis Capaldi knows that the artist is a beautiful (if somewhat odd) combination of music and memes. His hilarious twitter presence is almost as famous as his stunning voice, and this performance was one that did not fail to capture the hilarious aspects of his character. Sharing silly anecdotes with the crowd, and even miming an air-tennis match (with himself), Capaldi kept the crowd entertained all night long.
This did not take away from his musical performance, however, with his tracks appearing all the more impressive when heard live. 'Don't Get Me Wrong' had a blues feel with a prominent bass line, whilst 'One' stuck to Capaldi's acoustic roots, with all the focus being on his voice. Often, the artist would seem to end a song, only to finish it off with a uniquely crafted vocal run. It was at moments like these that the audience were reminded that Capaldi is first and foremost a singer: and an incredible one at that.
Before performing 'Before You Go', Capaldi explained that the single had only been released a few days ago as part of his extended album Divinely Uninspired to a Hellish Extent, yet had already reached number two in the UK charts. With an impressively high-reaching chorus, and a dramatic drum beat taking it beyond an acoustic number, it wasn't difficult to identify the song's success. Transitioning into the sombre 'Lost on You', Capaldi gave a meaningful performance that aptly suited the track's heart-breaking lyrics, as he sang, 'Hope you'll be safe in the arms of another / 'Cause I can't take the weight of your love.'
Impressively, Capaldi was able to perform tracks with virtually no backing, such as 'Something in the Water', which kept the company of just a few piano chords. Yet, he was also able to achieve more upbeat, road-trip-vibe numbers, such as 'Hollywood', which featured more of a mainstream pop style. Whilst the set generally used fairly basic lighting, flashing lights during 'Fade' portrayed the drama behind the number, rounding off the latter part of the concert.
After joking with the audience about the bizarre façade of the encore, (winks were exchanged before Capaldi left the stage), he returned to perform his iconic number, 'Someone You Loved.' Before exiting, he thanked the audience countless times, sharing heartfelt statements such as 'thank you for the life you have given me.' There was a sense that despite all the jokes, Capaldi was genuinely grateful to be there, and valued his position at the top of the charts.
Such a stunning performance left little to be critiqued, save for the fact that Capaldi failed to introduce or thank his supporting band. Despite this, in every other respect he was the perfect entertainer, providing fantastic music and witty interjections. It isn't hard to imagine Capaldi selling out huge arenas in the near future.