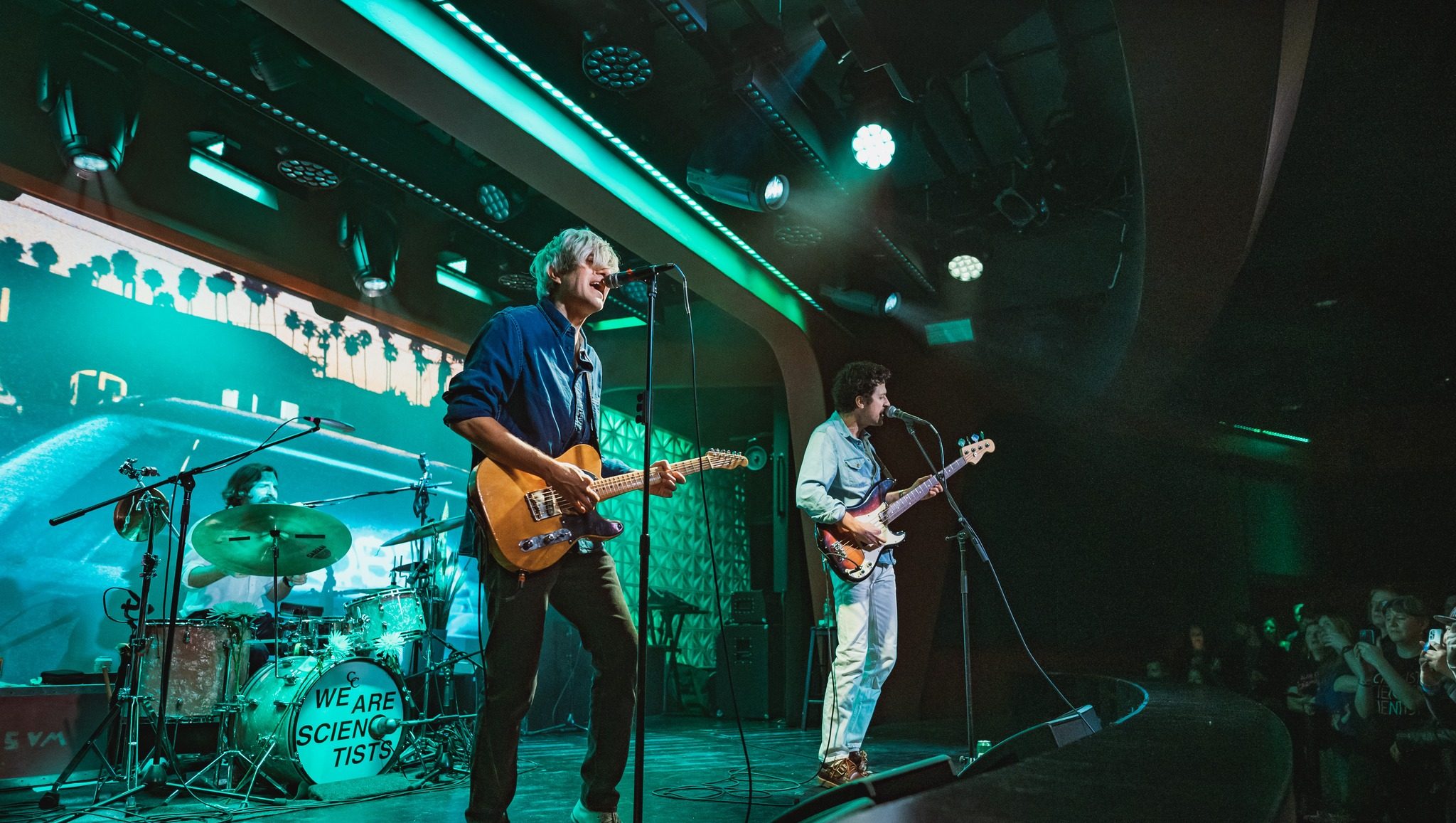 Music Critic Luke Cookson praises We Are Scientists for their exceptional performance and infectious energy
Hitting the stage of the Birmingham O2 Institute for the eighth leg of their Lobes tour, American pop-rock trio We Are Scientists energised the crowds with an exceptional performance. With a setlist that showcased the best of their latest album whilst satisfying the audience with classic fan-favourites, We Are Scientists once again proved their musical prowess, over two decades after first performing.
Looking youthful as ever, lead vocalist Keith Murry and bassist Chris Cain kicked off the gig with a high-octane performance of 'Lucky Just to Be Here.' This track really highlights the unwavering vocal virility of Murry, who seemingly ages in reverse. Having warmed up the audience, the band then launched into an anthemic rendition of one of their older tracks, 'No Wait at Five Leaves', from their 2018 album Megaplex, my personal favourite. In the downtime between tracks Murray and Cain began their iconic stand-up routine typical of their live performances. Introducing the next track, 'Contact High,' Murry joked "I'd hate to objectify the audience, but you all look wonderful" which unsurprisingly regressed into a comedic bit about the senses with Cain commenting that "the stink of the audience" calls him to action. Following 'Contact High' the lead single from their 2022 album Huffy, We Are Scientists dynamised the crowd with their number one track, 'Nobody Move, Nobody Gets Hurt,' a song which layers a catchy electronic guitar riff with a pacy bassline and powerful vocals. Cain continued to entertain the crowd as he jokingly asked, 'Is it anyone's first time in Birmingham?', 'Anyone having a holiday in Birmingham?'. In response to the audience's laughter, he asserted that he thinks it's a lovely place for a getaway, joking that on their night off they'd waited outside Walkabout for half an hour before realising everything closes at midnight here. The energy in the crowd spiked again as the band launched into their older hits 'Nice Guys' and 'Buckle', which featured an insane guitar solo utilising some striking wah-wah pedal action.
Though I hadn't fully listened to Lobes before the show, the track 'Settled Accounts,' stood out with its hypnotic rising and falling synth scales, and the electronic dance style beat in 'Turn it Up' highlighted the bands evolution from its post-punk origins. Holding a long note as he sang the concluding lyric 'shiiiiit', Murray seamlessly transitioned into 'Inaction', a spunky hit which injected the audience with a nostalgic shot. Murray and Cain continued to intersperse the set with witty off-the-cusp humour, repeatedly joking about the Institute's "infamous" haunted nature. There's a rumour in America recounted by mothers every Tuesday at noon that the Birmingham institute is haunted Murray joked and dedicated the next song to 'all the ghouls and demons present.' Crowds were enthralled by the punchy guitar riff of their classic hit 'Great Escape,' a track that holds a permanent place on the setlist. You know a riff is iconic when the audience chants every note. After exiting the stage, tounanimous calls for an encore, We Are Scientists returned to conclude the set with a generous four more songs. They ended on a high with their funky new single 'Less From You' before thanking the audience for their continued support.
Ultimately, We Are Scientists yet again delivered on an incredibly fun show with avaried setlist that satisfied older fans whilst providing a fiery debut for Lobes. Their constant enthusiasm and charisma make for a fantastic night. The chemistry between Murry and Cain continues to radiate through their live performances, bouncing off each other and the crowd with unparalleled wit. It is abundantly clear that the pair adore what they do, and the energy they create is utterly infectious.
---
Enjoyed this? You also might enjoy:
Album Review: Gorillaz – Cracker Island