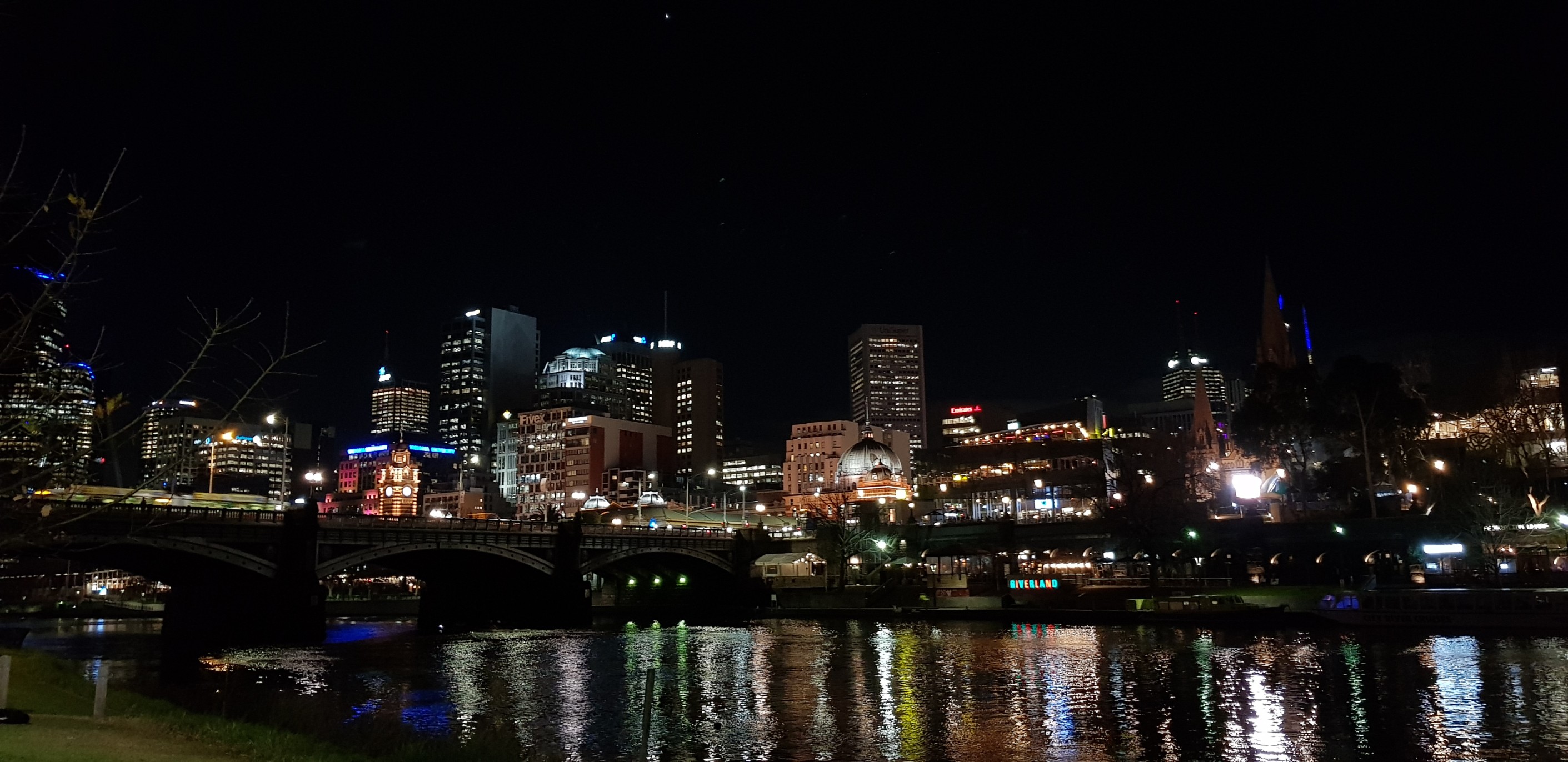 Travel Writer Memoonah Hussain offers tips for visiting Melbourne on a budget
When you hear the words 'Melbourne' or  'Australia,' you start to hear those $$$. Australia is a very expensive country. Melbourne was ranked the most liveable city for seven years consecutively from 2011 to 2017, losing to Vienna these last two years. With buzzing laneways, eye-catching shops and restaurants, and award-winning stadiums, Melbourne is Australia's cultural capital and the sports capital of the world. So it's not hard to see why there's such a large price tag attached to all things Aussie.
Having explored as much of Melbourne as I possibly could, I found myself wondering: is it possible to experience Melbourne on a budget? Especially a budget of AU$50 or less a day?
Transport:
Airport Transfers:
Public transport links are currently under construction in Melbourne meaning, for now, the best option is private transport. You can use SkyBus to reach a number of destination with the most convenient destination for tourists being the CDB. Tickets for the Melbourne City Express from Melbourne Tullamarine Airport are $19.75. The other option is taxis, which is cheaper if you're travelling with other people. 
Public Transport:
Using public transport is much cheaper than hiring a car. The fantastic thing about the public transport system is that it is nationalised. This keeps costs down and you can use your myki card on all trams, trains, and buses and there's a daily cap. Also, within the CBD and Docklands, there is a free tram zone, allowing you to travel the area with minimal funds. Just make sure that you don't accidentally tap your myki or you will be charged. The number 35 tram is a great way to see the CBD as it is the city circle tram stopping at plenty of attractions across the city.
Sadly, despite being a student, you do have to pay full fare if you're not from Melbourne. A myki card costs $6 and the daily cap us $8.80 regardless of how much public transport you use (on weekends and public holidays the fare is capped at $6.40). This might seem expensive but it's much cheaper than the $16.10 cap in Sydney. You can buy a myki card from a number of train stations including Flinders Street Station and Melbourne Central Station.
DAY ONE:
Street Art:
From the CBD to Fitzroy and beyond, Melbourne is basking in magnificent street art. Hosier Lane is probably the most famous Lane in Melbourne, notorious for it's ever-changing gallery of street art. One of its most famed pieces is Lushsux's 'In Loving Memory of Taylor Swift.' Ed Sheeran even did a gig there back in 2018. Day or night, Hosier Lane is always full of people and exploring Melbourne's laneways is a great way to soak up Australian art and culture without paying for an exhibition ticket.
Cost: £0
ACMI- Australian Centre For Moving Image:
Located almost opposite Hosier Lane is the ACMI which houses the history of Australian screen and television. Here you can interact with ACMI's free permanent Screen Worlds exhibition. You can see props, costumes, and memorabilia featured in Australian film and TV. They also do a variety of free and paid exhibitions and screenings.
Cost: £0
Shrine of Remembrance:
A twenty minute walk from the ACMI can find out at the Shrine of Remembrance. Build between 1928 and 1935, the Shrine is the state memorial of Victoria in memory of the soldiers who lost their lives for our freedom after World War One. One can spend over an hour at the free Galleries of Remembrance. The Shrine also has the best view of Melbourne's stunning skyline. This panoramic view of Melbourne is protected by law which prevents anything from being built which will block this gorgeous view.
Cost: £0
Botanical Gardens:
The Shrine of Remembrance is built on the ground of the Royal Botanical Gardens so why not give the Gardens a visit. They have tranquil lakes and majestic trees and have recently opened three new secret garden spaces to relax and meditate in.
Cost: $0
St Kilda Beach Penguins:
To get to St Kilda beach, you'll have to use public transport. You can grab the number 16 tram from Bourke St/ Swanston St. Make sure you go at sunset as this is when the penguins swim in after hunting for fish. They are present year-around. It may not be the penguin parade seen at Philip Island but a fraction of the cost of a Philip Island tour and Penguin Parade entry fee…..
Cost: £0
DAY TWO:
William Rickett Sanctuary:
Flinders Street Railway Station is probably the most famous railway station in all of Australia. The first railway station in an Australia city is where you start your journey to one of Melbourne's best kept secrets: The William Rickett Sanctuary. Located within the gorgeous Dandenong Ranges it takes just under two hours to get there by train and bus. William Rickett's goal was to provide a place of serenity where one could reflect on man's relationship with nature. Decorated with beautiful ornate sculptures you feel transported to a world far far away from the fast pace of Melbourne. It truly is a breathtakingly beautiful space in which to reflect. 
Cost: £0
Kokoda Track Memorial Trial (1,000 Steps):
For those who were able to have an early start to the day, there may be time to squeeze in the Kokoda Track Memorial Walk better know as the 1,000 Steps. Don't let the name fool you- there are way more than 1,000 steps and requires a reasonable amount of fitness due to the steep gradient. but the beautiful fern trees make it feel like you've just entered a rainforest. The track is located a short bus ride away from the sanctuary. The track was made to allow one to experience a fraction of the exhaustion Australian soldiers would have endured in World War Two during the Kokoda Trail in Papua New Guinea in 1942 with plaques along the trail to remember and depict the lives of those who fought and died.
On the way down it is advisable to take the fitness steps back to the start. The steps are much smaller and the terrain is less step making the journey less difficult.
Cost: £0
Eureka Skydeck 88:
On the 88th floor of the 287 metre Eureka Tower, one can find the Eureka Skydeck- the highest observation deck in Melbourne which offers panoramic views of this beautiful city. One of the best times to experience this view is definitely sunset.
Concession prices are $20 but if you have YHA membership you can enjoy 15% off or is you have an ISIC Card (comes with you NUS/TOTUM Card) you can get buy one get one free. Edge experience is extra.
Cost: $11.50-$20 (without edge experience).

DAY THREE:
Brighton Beach Boxes:
Catch the train from Flinders Street Station down to Brighton Beach famed for its iconic beach boxes and glorious skyline view of Melbourne. It's a great way to spend time on one of Australia's stunning beaches and great for those Instagram pics. 
Cost: $0
Federation Square:
Federation Square is a cultural and public events hotspot located Swanston St/ Flinders St. After opening in 2002, it has been named the 6th Best Public Square in the world. There are a number of free events taking place such as Qigong classes every Friday morning as well as film screenings alongside paid exhibitions and events. Fed Square played host to the first ever (free) F1 Season Launch where all 20 drivers and 10 team principals walked through Fed Square.
Cost: $0
Yarra Riverside:
The Yarra riverside is beautiful at night with the lights of the skyscrapers dancing along the river and seeing people kayak or row down in the moonlight. It's not a bad way to end the day or even your time in Melbourne.
Cost: $0
State Library of Victoria:
If Melbourne could be refined into a number of staple images, one of them would be the view from the balcony at the State Library of Victoria, founded in 1854. Guiding you to the balcony are free exhibitions. This is a perfect place for book lovers, architectures, and those who want that perfect shot for Instagram. It has a 4.5 star rating from 2,819 reviews on Trip Advisor.
Cost: $0 

Other tips:
Tix at Six:
The Arts Centre Melbourne offers tickets for shows for $30 every day. With some shows costing over $60, this could be a nice saving and a brilliant way to experience some of Australia's finest culture or even some international acts. I'd advise going around 4pm because there are limited tickets. They announce the show at 5 pm and you buy the tickets at 6 pm. It may be a long wait but when you can save over 50%, what's a bit of waiting around? I was lucky enough to watch Adam Hills for $30 instead of $69.
Secret Symphony:
The Melbourne Symphony Orchestra often plays free concerts in locations across Melbourne. Be sure to be following their Instagram page so you don't miss out!
Fitzroy Street Art Scene:

Hosier Lane might be one of the most famous street art spots in Melbourne but Fitzroy is at the forefront of the street art scene. A simple tram ride (number 86) from the city can take you straight into Fitzroy and get spark your creativity.
Australia Day Fireworks:
Australia Day is a controversial topic and I for one disagree with it. However, Marvel Stadium hosts a free spectacular fireworks display every year while members of the public hold a protest against the date when Australia Day is held.
Chinese New Year Fireworks at the Crown:
The Crown Melbourne puts on a fabulous riverside fireworks display for the Lunar and Chinese New Year.
July Melbourne Open House:
This is a great way to experience the parts of Melbourne which are normally closed off to the public for free.
Parliament Tours:
There are free tours of the Parliament of Victoria when Parliament is not sitting. Be sure to get there early as it's first come, first served. 

Queen Victoria Market:
Queen Victoria Market is a great place to buy cheap food and souvenirs. Most people don't haggle but I's suggest you do because it does work. And it doesn't hurt to use the student card. There's also the Winter Night Market which although is overpriced does have some great entertainment.
Footy Festival:
In the week leading up the AFL Grand Final the MCG hosts the Footy Festival where you can participate in all things AFL and even meet a bunch of AFL players.
Neighbours:
If you're a fan of Neighbours but don't want to pay the hefty tour price, a train and bus ride can get you to the iconic neighbours street. The Ramsey St sign might not be there but the houses will be and you never know, you might be lucky enough to head down there when there is some filming going on.
New to Melbourne:
There may be some people who are desperate to do a tour of the Great Ocean Road, The Grampians, or Wilson's Prom. While it is possible to reach Apollo Bay and the Grampians using V/Line, it can take quite a long time and you'd miss a lot of places along the Great Ocean Road. New to Melbourne offers cheap one day tours to these places: $49 for the Great Ocean Road; $53 for Wilson's Prom; $54 for the Grampians. 
So can you visit Melbourne on a budget?
I haven't included transport costs into each day as you have to prepay for the card and the amount deducted could be less than the daily cap. However, this would probably be a maximum of around $30-$35 if not less. 
But what the above itinerary does show is that it is possible to do a lot of things in Melbourne for absolutely nothing. Although certain activities may rely on being in Melbourne at a certain time, or even what day, there are still plenty of cheap or free activities for you to do.