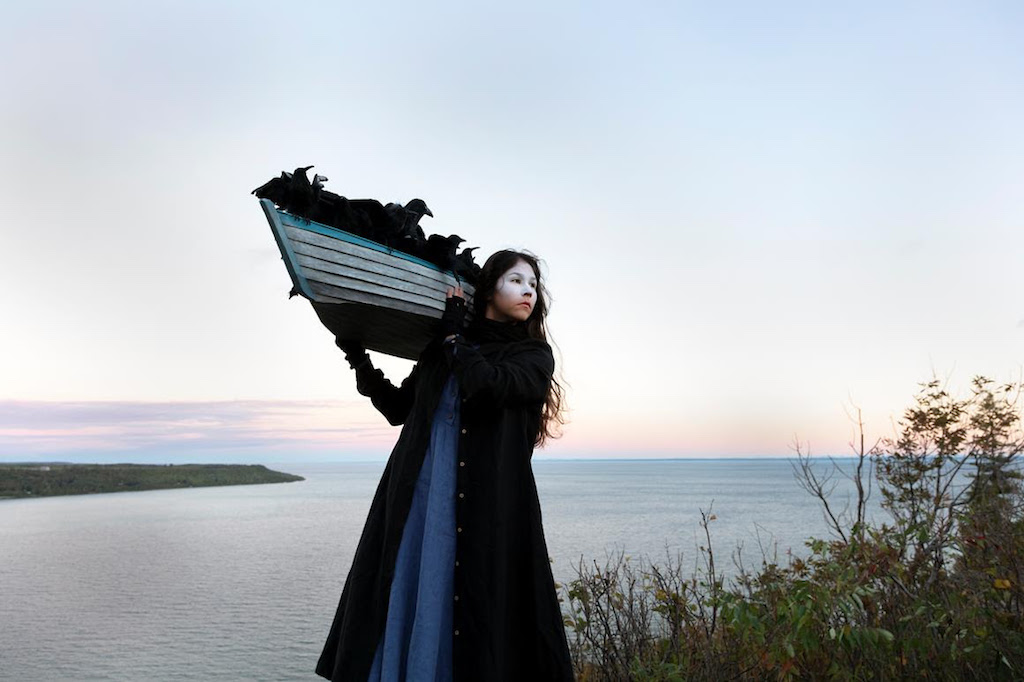 Culture's Nadia Serenity Sommella reviews the spiritually stimulating work of artist Meryl McMaster, which allows the visitor to contemplate the natural world and our place within it
Images by
Meryl McMaster
, On the Edge of this Immensity (2019) , courtesy the artist.
The new exhibition at Brindley Place's Ikon Gallery is the sprinkle of magic you need this Christmas season. Meryl McMaster's work is other-worldly, mythical and beautiful. Each artwork is accompanied by a poem rather than a label, transporting you into the artist's world where dream, spirit and space unite. Alongside this, the location captured in each image is specified, grounding the work in place rather than time. People don't often equate contemporary art with history, but McMaster's work is in constant dialogue with the past. She wants to know what the landscape itself has witnessed, tracing the steps of her ancestors through the medium of photography. As scholar Lucy. R. Lippard put it, 'her work is a lyrical (and profoundly serious) chain of narratives in which humans, animals and the natural world collaborate.' 1
McMaster is a contemporary indigenous artist. She is of the nêhiyawak community (Plains Cree). Her ancestry is fascinating, a member of the Siksika First Nation (Alberta Canada) on her father's side and Euro-Canadian (British and Dutch) on her mother's. The intertwining of these identities has clearly been an inspiration to her, discovering the ways in which they overlap and feed into one another, as well as the times there is strain and conflict. McMaster brings this personal familial history into her photography, but it is more complex than mere self-exploration. The artist aims to acknowledge wider social histories, the presence and continual effects of colonialism and the current inhabitants of the natural landscapes that fill her expansive pictures. 
The Ikon exhibition focuses primarily on the artist's most recent series of work, from which it takes its name, Immense as the Sky (2019). McMaster's photographs are carefully staged, the artist appears herself as the subject, always alone with no sign of other human life, but these are not self-portraits. The artist is in costume, a contemporary interpretation of traditional garments; meddling past and present, historical accuracy and fantastical creation. These textile designs are artworks in themselves, both sculptural and imaginative, often using animal imagery. This adds a playful element to what are serious works. For example, in What Will I Say to The Sun and Earth I & II the insects embroidered onto the artist's clothing appear to prepare to take flight, transcending the barrier between real and other.  In Harbourage for a Song the artist's powerful, stern stance in juxtaposed by her headdress, made out of bird boxes where bright yellow chicks pop out like they are in a cuckoo clock. 
This is contemporary art that even its fervent sceptics can appreciate. McMaster's work is rich in subtext and meaning. It is layered, built up over time like the natural landscapes she depicts. Prior academic knowledge however is not required to enjoy this exhibition. At its most basic level, McMaster's work presents nature at its most awe-inspiring, she transforms the gallery into a place of tranquil introspection. Her work makes the viewer contemplate the natural world and our place within it. History, identity and future. 
References:
1 Lucy R Lippard, 2019, (p.8), Meryl McMaster: As Immense as the Sky, Ikon Catalogue.