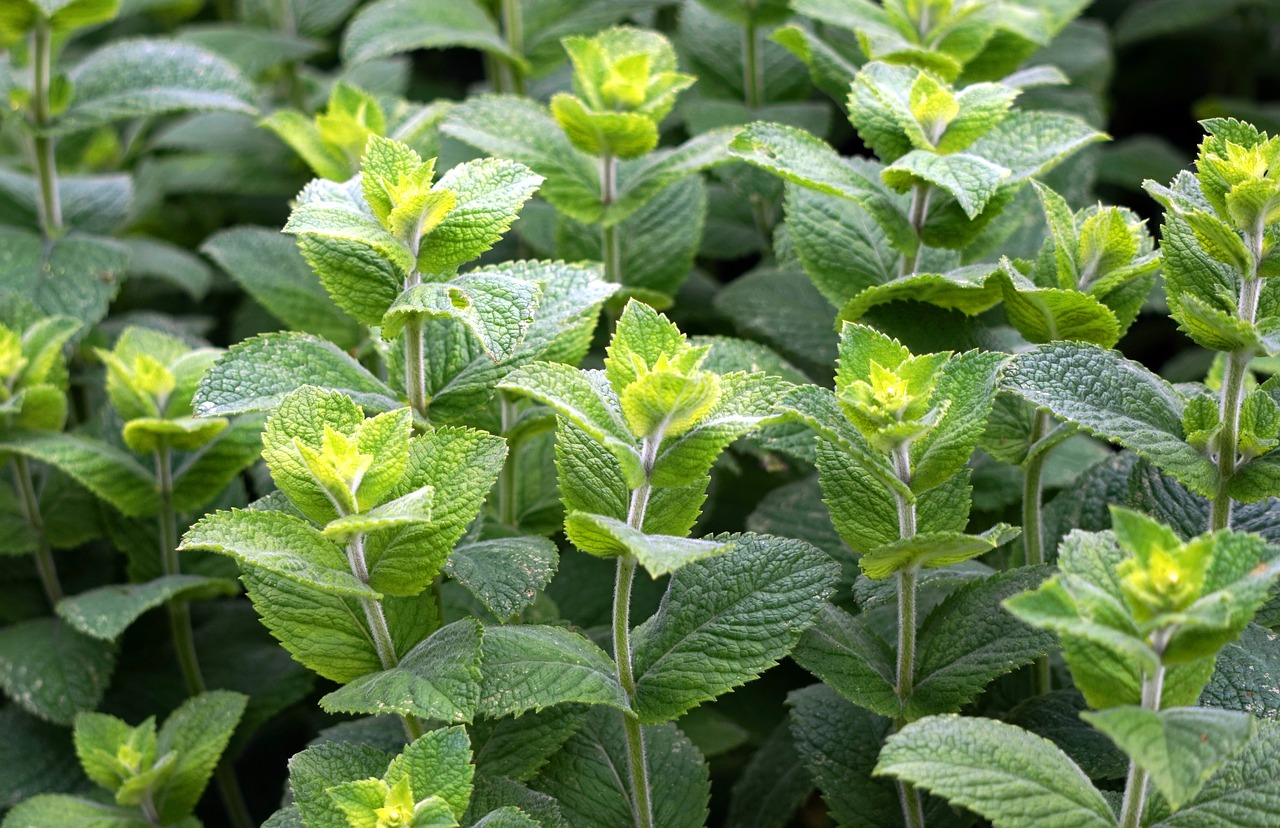 Food&Drink Writer Olivia Pinfold gives us some tasty summer recipes that make mint the star of the show
It is finally feeling like summer, albeit a very temperamental British one, which means that fresh seasonal produce is abundant. One of my favourite things is how easy it is for fresh herbs to thrive at this time of year. Mint is considered one of the easiest herbs to grow at home which is a blessing for those of us lacking green fingers. It is the perfect fresh and fragrant addition to summer recipes, so I have put together a few of my favourites to show its versatility.
Fattoush
Fattoush is a Lebanese dish – effectively a 'bread salad', a product of farmers throwing leftover pitta bread scraps into a frying pan with olive oil before combining with seasonal vegetables and herbs. Here is my take on this versatile dish:
Ingredients: (Serves 4)
4 slices of bread of choice – typically pitta, but crusty or even sliced bread will work

1 head romaine lettuce, torn or roughly chopped

Half a large cucumber, halved and sliced

4 large tomatoes, roughly chopped

1 red onion, sliced thinly

3 handfuls fresh mint, finely chopped

2 handfuls fresh parsley, finely chopped

Juice of half of a lime

1 tsp sumac

3 tbsp olive oil

2 tbsp white wine vinegar

Salt and pepper, to taste
 Method:
1. Shake the lime juice, sumac, olive oil and vinegar in a sealed container or jar to make the dressing.
2. Combine the rest of the salad ingredients including the salt and pepper, but save the bread. Add the dressing, mix well and leave to sit (preferably in the fridge).
3. Tear up the bread and fry in a little olive oil until golden and crispy on the outside and still soft in the middle. Add to the salad, mix well, season to taste with salt and pepper, and serve.
Pea & Mint Avocado Toast 
Avocado toast is a modern brunch staple, and often Australia and California are credited with the 'invention' of this delicious combination – but there is evidence that avocado on bread or toast has long been commonplace in South America, particularly Mexico, which is known for an abundance of avocados. Even before the Spanish arrived, it is suggested that the Aztecs ate avocado on tortillas, centuries before it became the clichéd millennial staple. This recipe is a twist on the classic combo:
Ingredients: (Serves 2)
2 large slices of bread, toasted (I used bagels)

1 avocado

1/2 cup of peas (defrosted)

A handful of mint, finely chopped

Juice of half a lemon

1 tsp garlic granules

Salt and pepper to taste
Method:
1. Crush the peas in a bowl before adding the avocado and mashing them together. Combine with the mint, lemon and garlic, and then season to taste with salt and pepper before spreading on your toast. It's that simple. I topped it with fried onions and served with a fried plum tomato to make it more of a filling meal, but this is of course optional. 
Citrus & Mint Cooler
A perfectly tart and aromatic drink for a summer evening, this is a cross between a mojito and a margarita, and would probably work well with most clear spirits. 
Ingredients: (Makes 1 Cocktail)
60ml (¼ cup) Lemon Juice

Crushed Ice
Handful of fresh mint
35ml gin or vodka
Wedge of lemon, optional
Method:
1. Mix ¼ cup of lemon juice with crushed ice. If you don't have crushed ice, combine the lemon juice with 6-7 ice cubes just for a few seconds in a blender. 
2. Pour into a glass and muddle with a handful of fresh mint until the mint breaks down a little and becomes very fragrant. 
3. Add a tablespoon of agave syrup and a measure of vodka or gin – I prefer gin for a fresher, more summery flavour. For a quick fix, just stir in thoroughly, but the syrup will settle so it is better shaken in a cocktail shaker.
4. Top up with lemonade or soda water depending on desired sweetness and garnish with more fresh mint, a lemon wedge, and a few extra ice cubes.
Like this? See below for more recipes to try this summer:
Red Onion, Garlic and Rosemary Focaccia