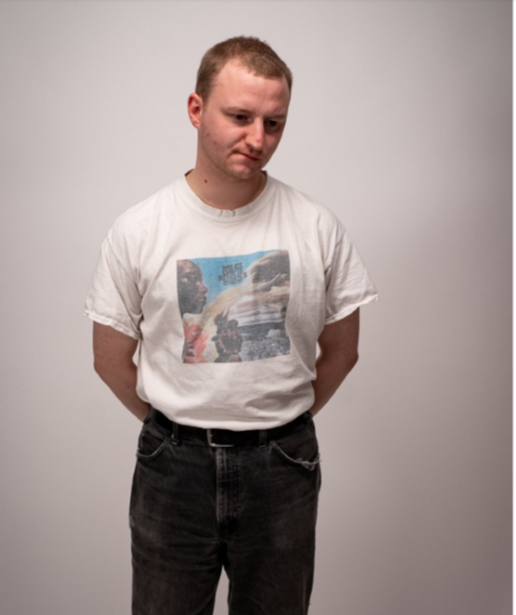 Music Critic Jake Sandy considers the raw emotion experienced in the lyrics of the new M.T. Hadley album Empty
Fame sometimes comes in peaks and troughs and no-one knows more about this than Martin 'M. T.' Hadley. The Stoke-Newington-based singer-songwriter became an overnight sensation in 2016 when his track, 'Janet,' was played on Frank Ocean's personally curated radio show, Blonded. Despite winning legions of fans overnight, Hadley then disappeared from the public eye – only resurfacing earlier this year with a new single and an announcement of his full-length debut, Empty.
The single in question, 'Rattle,' is undeniably bleak from a lyrical perspective with the central themes being the inevitability of pain and sadness in life. However, it is entirely juxtaposed by the instrumental, which has a comforting edge with the bright synthesiser notes. Combining these with Hadley's dreamy falsetto creates something that is more akin to a lullaby. In hindsight, this was a definite sign of the direction the album would take – a sense of all-encompassing sorrow delivered with staggering elegance. 
Despite the beauty in the music, he manages to balance it out by interspersing moments of uncomfortable tension that showcase his individuality and thus set him apart from his peers. This is immediately obvious on the album's opener, 'Reticence,' which is a short piece of ambient electronica that starts as quickly oscillating synthesiser notes that get progressively slower, until the track descends into dissonant piano chords. These chords gradually gain in volume until finally the unbearable tautness is finally relieved with the introduction to the much sprightlier second track, 'Private Eye,' bursting into the mix. Whilst confrontational to the point of being difficult to listen to, the track's foreboding atmosphere is a credit to Hadley's skills at translating his artistic vision into audio form.
This avant-garde approach to what is, from a sonic perspective at least, a pop record is a seam that runs deeply through the record. It is most notably expressed throughout the rest of the album as the masterful use of synthesisers add an astonishing level of emotional depth to the instrumentals. From the lurching and repetitive ones on 'Reticent' which evoke a visceral sense of unease to the bouncy, upbeat ones on 'Roof Party' (that add an almost funk-like groove), it's impossible not to be drawn into the luscious soundscapes Hadley creates throughout the album.
Despite it being released far before this LP came out, it's impossible to discuss the album without at least touching on the breakout hit, 'Janet.' Based on his mother's death, it's an incredibly raw and introspective account of the experience of his unimaginable loss and, even more heartbreakingly, what he'd say to her if he saw her again. Although it's an immensely personal song, the ubiquity of the subject matter makes it an incredibly poignant moment and one that is sure to live long in the memory of anyone who hears it.
Speaking to Dazed ahead of the release of the album, Hadley spoke about his love for jazz fusion when he was younger. This influence is certainly most overt during the tracks 'Lonely People' and 'Roof Party' where a lone saxophone adds a unique textural element, acting as almost a lone beacon of light in the sparse, moody instrumentals. This sparseness in the mix is a running theme throughout the album and is especially noticeable from a percussive perspective, with most tracks featuring very low-tempo, light, drumming that is reminiscent of records like Frank Ocean's Blonde. Rather than detract from the album though, it creates an openness that allows Hadley's vocals to be much more atmospheric and lets the listener truly engage with his haunting delivery.
With Hadley serving as producer on all the tracks as well as writing and performing them, it allowed him space to experiment with different instruments and techniques depending on the atmosphere of the songs. One of the moments on the record that is most indicative of this novel approach is the final leg of the album's closer, 'Read Receipt.' Lyrically, this track is a heart-achingly mournful ballad about lost love which, when combined with a spine-chilling vocal performance from Hadley and droning synthesiser notes, evokes a powerful sense of despondency in the listener. However, the end of the track features a passage of over-driven electric guitar. This undercuts the sadness to pair beautifully with Hadley's final line, 'The loss is gone but my heart rings on, it's true' – leaving the listener with a subtle, yet extremely poignant glimmer of hope in the sea of melancholy they've been immersed in.
Running in at just over 30 minutes, the breadth of subject matter and ambitious stylistic choices on this album would usually be expected from a musician who's been in the industry for a long time. So, for Hadley to achieve this on his debut, is a testament to him as a master of his craft and a sure-fire sign that he's one of the most intriguing artists to keep an eye on as we move into the next decade. 
Overall, this is a record that reminds us that, while the path through life is never a straightforward one, there's a universality to our suffering that means we are never truly alone. That's certainly an uplifting thought when confronted with the heartbreak and grief that Hadley explores in such painstaking detail. This is, perhaps, what this album is truly about – a reflection on the fact that, no matter what you have lost, the emotions you feel mean that you are never truly Empty.