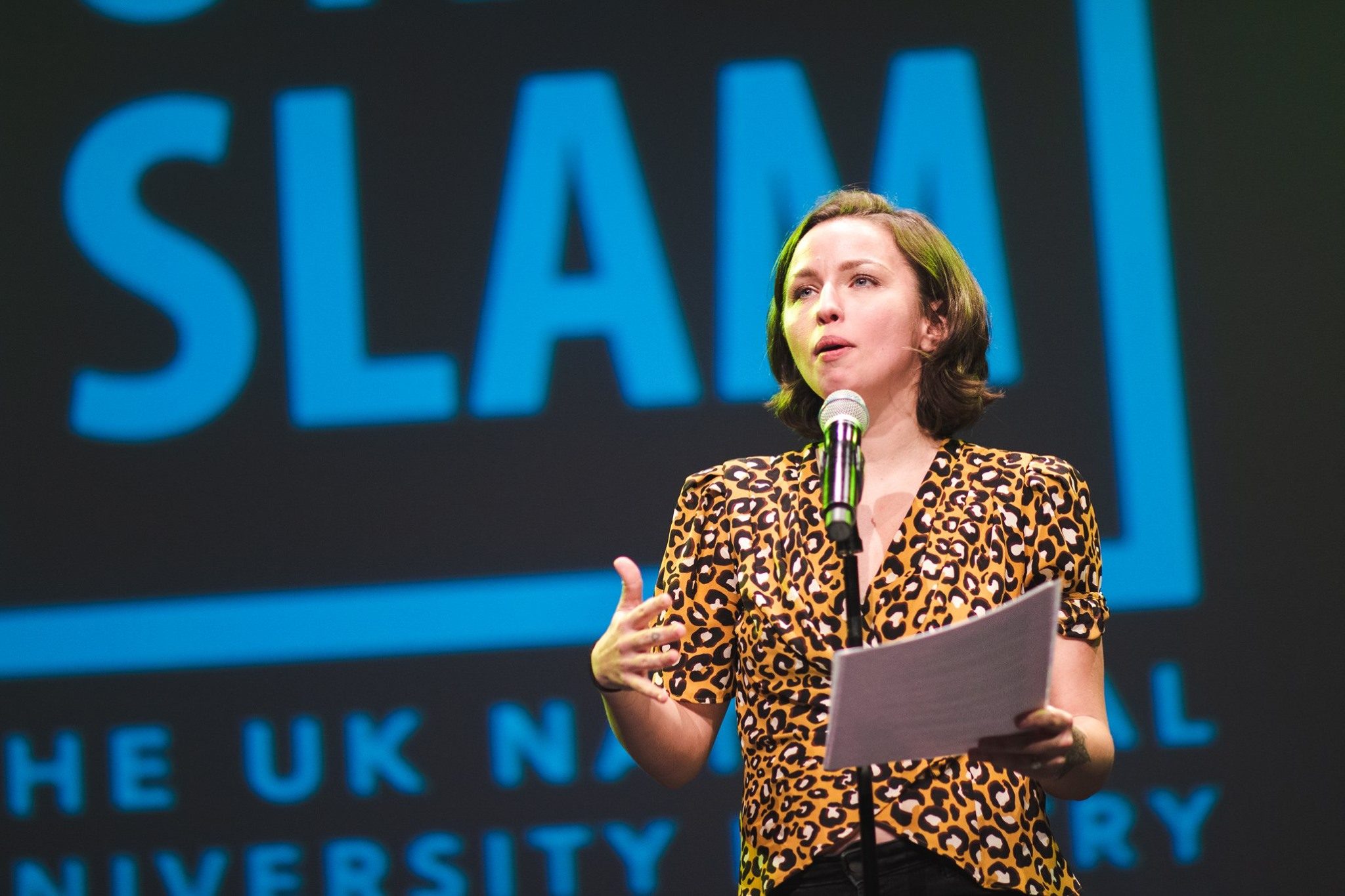 Culture writer Zainab Rao reviews this month's Hit the Ode, a poetry evening packed with diverse, entertaining, and thought-provoking performances
Under the hazy lighting of the Hippodrome's Patrick Wilson Studio, Hit the Ode returned. This month's event was slightly different than others, with Hit the Ode serving as an opening event for UniSlam, a spoken word competition featuring teams of students from universities across the country.
Our host for the evening was University of Birmingham's very own Bohdan Piasecki, an acclaimed poet and performer in his own right. His brilliant sense of humour and ability to instantly build a rapport with the audience kicked the evening off on a high. His fantastic hosting was easily a highlight of the night, with Piasecki's quick wit making everything feel instantly more entertaining. From being able to turn his struggles with the fiddly microphone stand into a comedic bit, to making even the ground rules of the night amusing to listen to, Piasecki would make a brilliant comedian if he so wanted to.
The good humour did not stop there with the night's first headliner, Jack Underwood, adding to this evening of eccentricity. Underwood endeared the audience with a poem detailing a very human problem: blood from your bum. Despite this poem having the potential for a few grimaces from the audience, Underwood's deadpan delivery and sparse details made this an enjoyable and laughable listen. The rest of Underwood's poetry showcased his range in both tone and subject. His poems on navigating parenthood, long-term love, and early creationist conversations between God and Ms. God demonstrated Underwood's talent in drawing out various audience emotions through unsuspectingly wonderful ways.
The second headliner Tolu Agbelusi opened the second part of the night and brought different depth to the event. Her poetry was heartfelt and written with soul and sincerity. Her set featured poems depicting various forms of love; from having a celebrity crush on actor Jonathon Majors, marital heartbreak, and eventual self-acceptance. Agbelusi took the audience on a journey with her, with her dream-like voice and beautiful delivery leading the way.
Closing headliner Ella Frears complemented Underwood's offbeat style and Agbelusi's candour. Frear's subject matter was bizarre and outlandishly endearing with her set covering various topics; from imagining would happen if she locked her lover on the roof, to navigating a friendship with someone obsessed with sand. Before each set, Frear's treated us to funny and brutally honest anecdotes that have influenced her writing process, such as taking a writer's residency in a motorway service station. Whilst Frear's was an objectively funny poet, her poetry also featured deeper messages, such as the responsibility of art and using satire to cope with dark moments in your life.
In addition to the headliners the event had the opportunity for anyone to place their name into the open mic. These sign-ups were then randomly selected, with each poet given up to three minutes to perform one poem of their choice. Selected were a range of UniSlam performers practising their pieces last second, professional freelance poets, and first-time performers wanting to try their material in front of an audience. Admittedly, I usually feel tense at open mic nights as you never know what to expect. The poets that performed at Hit the Ode however, were each brilliant in their own way. Some spoke on their diasporic experiences, others noting on political hypocrisy, and some performing poetry on their own experiences of self-doubt. Whilst I personally preferred the headliner portion of the night, it was refreshing to hear from a variety of performers, as well as a great way of hearing and encouraging new voices.
Overall, this was a night with a wonderful and supportive audience. The selection of headliners was fantastic, as was Piasecki's hosting. Despite the open mic selection being randomised, the performers were perfect for the tone of this event. Hit the Ode runs once a month and I would encourage everyone to give it a go, whether as a performer or audience member.
Rating: 4.5/5
---
Liked this? Read more from Redbrick Culture below!
Art Exhibition: Foka Wolf – Why Are We Stuck In Hospital?