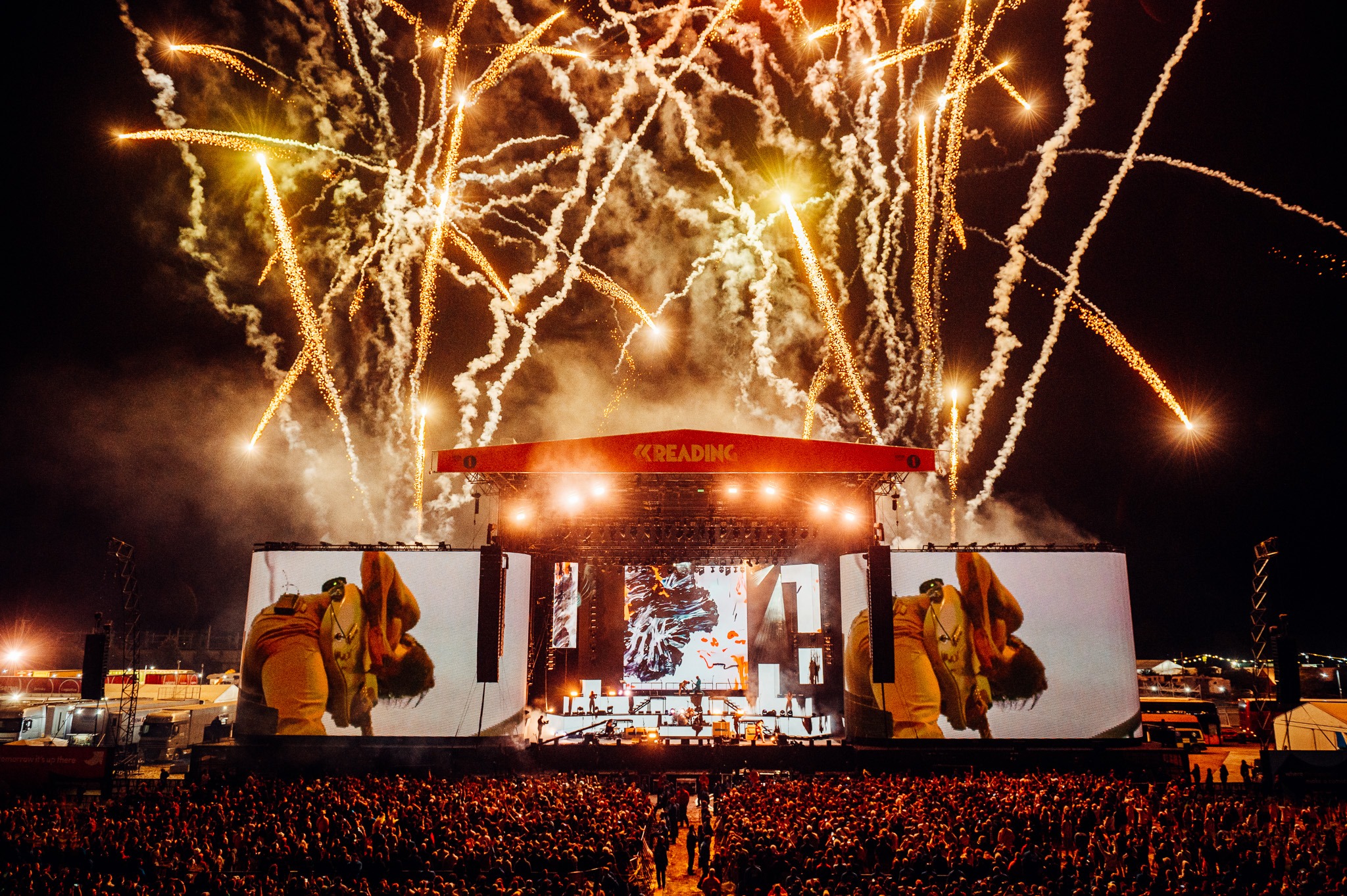 Music Editor Bas Bevan previews Reading Festival's BBC Radio 1Xtra's stage, marking it as one of the most diverse stages
On August Bank Holiday weekend music fans will again flock to Reading and Leeds for one of the UK's biggest and best music festivals. Whilst much of the attention will be on the main stages which will host star-studded acts like Dave and The Arctic Monkeys, the Radio 1Xtra stage will also showcase plenty of chart-topping talent from a wide array of genres.
Friday 25th August (Leeds: Saturday 26th August):
One of the first acts of the stage is R1Xtra DJ and renowned grime producer Sir Spyro who was the man behind songs like 'Big For Your Boots' by Stormzy. His track selection and mixing is widely praised and he is the go-to DJ for grime MCs making his set an ideal way to kickstart the weekend.
On later is Hazey, an artist at the opposite end of his career. The teenager from Liverpool has become known for his strong accent much like Aitch, and has become increasingly popular this year. His breakout song 'Packs and Potions' which is full of cheeky football references was a hit on TikTok and attracted Digga D, M1illionz and Unknown T onto the remix.
Veteran East-London MC Morrisson is also set to perform on the Friday after being brought out by Aitch during his main stage set last year. The recent surge in popularity of more drill-style rap has led to him featuring on and releasing plenty of his own big songs but one of his biggest hits, UK garage track 'House and Garage' which features Aitch, shows he can make the most of any beat. With his hard-hitting delivery and clever wordplay and references to popular culture, Morrisson is a great example of the depth of talent featured on the R1X Stage.
After an appearance from Knucks who is steadily becoming regarded as an elite in the UK rap scene, the stage will be headlined by Pa Salieu. The Coventry rapper, who has already performed at Radio One's Big Weekend in his home city and Glastonbury this summer, is one of the country's most exciting young artists and has had praise from people including Virgil Abloh and Drake's manager and OVO founder Oliver El-Khatib. He draws from many different influences and genres including his Gambian heritage and was named the BBC Sound of 2021. These credentials make Pa Salieu the perfect artist to end the first day of the festival.
Saturday 26th August (Leeds: Sunday 27th August):
Crystal Millz is an act definitely worth catching early on the Saturday. Like Hazey her skill far exceeds her age with her already having opened for Dappy, Bugzy Malone and Da Beatfreakz. Coming from Bolton she is another rapper who is flying the flag for the north of the country and the musical talent there. With endorsements from former 1EXtra DJ Charlie Sloth and current hosts DJ Target and Snoochie Shy she is sure to receive equal praise from the crowd.
DJ Target, who is one of the biggest names in the UK music scene, will also perform later. As well as being a DJ, Target has presented several TV programs and been a leading figure in the promotion of UK grime, rap and R&B. He was the first person to play Jorja Smith on the radio and also gave 'In2' by WSTRN its first play after being sent the unfinished CD. With such an accurate ear and eye for talent his set at Reading will be an unquestionable highlight for urban music fans.
Later in the evening, after widely acclaimed experimental hip hop artist JPEGMafia from Brooklyn, is Unknown T, a big star in the drill scene who has also achieved considerable mainstream success. His debut mixtape Rise Above Hate was highly praised and his 2021 follow up Adolescence included features from some of the biggest names in UK rap including M1llionz, M Huncho and Digga D. His 2018 track 'Homerton B' was a surprise hit and speaks to his ability to appeal to a wide audience.
The highlight of the Saturday and possibly the whole weekend on the Radio 1Xtra stage will be UK rap legends Krept and Konan. Since the duo's early releases in 2010 they have been at the top of their genre releasing iconic songs and collaborating with the likes of Skepta, Stormzy, Ed Sheeran, Giggs, Tinie Tempah and French Montana as well as Jeremih on their 2015 top ten single 'Freak of The Week'. They are two of the most respected names in the UK scene and internationally and are bound to give an unmissable performance.
Sunday 27th August (Leeds Friday 25th August):
Early on the Sunday on the R1X stage is Wes Nelson. The R&B/rap artist who first found fame on Love Island and has since appeared on multiple reality shows including Celebrity X Factor is proving to be a fast-rising star in the music industry. Despite scepticism about his music based on his TV career, Wes has had several hit songs, collaborated with big name artists like Clean Bandit, French Montana and Hardy Caprio and is due to support N Dubz on their comeback arena tour. His silky, summery tunes have shown both his talent and dedication to his music and his show will be a great start to the festival's final day.
The stage always aims to champion new talent in UK music and will feature plenty of artists on the final day who are quickly on their way to becoming big names in the industry. This includes genre-bending rapper V.I.C, who found a lot of success through TikTok and his song 'A Teen' was featured on the FIFA 22 soundtrack. Comfy, another must-see rapper, is another Mancunian helping his city to return to the top of the music business and Nottingham's M'Way who is known for blending UK and American styles.
Two more rappers who are defying their age and will take to the stage later in the day are A1 x J1 who, at the ages of 16 and 18, have seemingly come from nowhere to become the present and future of British rap music. After forming during lockdown their song 'Latest Trends' went viral on Tik Tok and peaked at number two on the UK singles charts, prompting to Aitch to jump on the remix and bring them out on main stage last year. They since have had further hits, featuring on 'Coming for You' with SwitchOTR (who will also perform on the R1X stage) which samples 'The Nights' by Avicii, and 'Night Away (Dance)' which makes use of Jenifer Lopez's 'On The Floor' featuring Pitbull. A1 x J1 are clearly major players in UK rap and will definitely beworth catching before the end of Reading and Leeds.
Closing the Radio 1Xtra stage is another young star who has achieved so much in a very short amount of time. Brighton MC ArrDee has taken the UK by storm with his mischievous lyrics and 'cheeky chappy' demeanour releasing several top 10 singles including 'Oliver Twist' and 'War' with Aitch who he joined on stage last year like some of the other artists on this year's line up. He burst onto the scene as part of the all-star cast featured on the remix of 'Body' by Tion Wayne and Russ Millions that was number one around the world and in the UK before reaching number five with 'Flowers' which adventurously sampled garage classic 'Flowers' by Sweet Female Attitude and 'Say My Name' by Destiny's Child. Arrdee is becoming one of the biggest stars in the new generation of British rappers and his fun, energetic songs will provide the perfect end to the festival on the 1Xtra stage.
*Disclaimer: Check the line-up for Leeds, as the day the artists play will be different to Reading*
---
Enjoyed this? Check out the latest from Redbrick Music:
Reading Festival Preview: Main Stage East Line Up