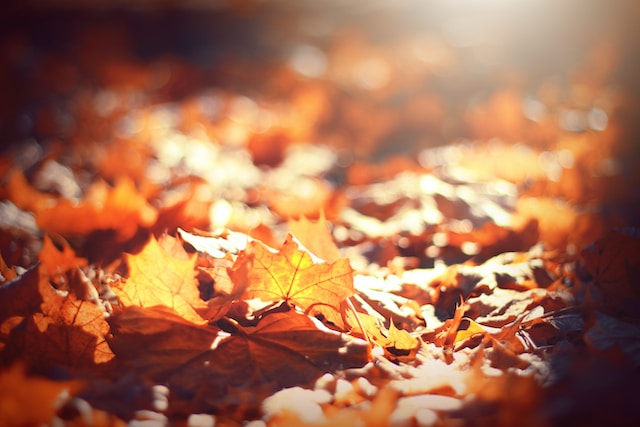 Digital Editor Weronika Bialek shares her recipes for seasonal treats, perfect to keep cosy in the Autumn weather.
As the leaves turn orange and the days get chillier, there is nothing better than getting home and preparing some cosy snacks. Here are three recipes for quick and easy treats for this autumn.
Apple Turnovers
For this recipe you will need as little as two ingredients! The first one is apples, of course, and the second is some puff pastry. You can make your own puff pastry but I find that store-bought puff pastry is just as yummy and there's nothing more satisfying than baking a cosy treat in less than half an hour! 
Either slice the apples or dice them, depending on which you prefer.

Optionally (but recommended) add a bit of brown sugar and cinnamon. Once again, the amount is very dependent on personal preference (I truly believe in eyeballing it when making snacks), but about a tablespoon of sugar and teaspoon of cinnamon should be enough for every two apples you use.

Next, cut the puff pastry into squares. If your puff pastry comes pre-cut into triangles, that's fine too, your turnovers will simply be a bit smaller. 

Spread your apples on half of the puff pastry square and then fold the puff pastry over so that it forms a triangle.

Squeeze the edges shut with a fork or your fingers, then place them in the oven for however long the instructions on the puff pastry packet tell you.
This recipe is super quick and easy but also gives you the satisfying feeling of making your own pastries!
Choco Popcorn
This is another super quick snack perfect for autumn, especially for halloween. All you need is salted popcorn, your chocolate bar of choice, and a bag of small chocolate sweets (such as M&Ms, Reese's Pieces, etc.). 
First step is to prepare your popcorn. If you have bought ready-to-eat popcorn, you're ready for the next step!

Next, spread your popcorn out on a baking tray or on some baking paper. Melt your chocolate bar, there are many ways to do this, but for this recipe, the best way is to keep it closed in its wrapper and put it into some boiling water.

Once the chocolate is fully melted, cut one of the corners of the wrapper, so that you can easily drizzle the chocolate.

Drizzle the chocolate all over the popcorn, then set the popcorn aside to allow the chocolate to harden.

Once the chocolate has cooled, find a big bowl and put the popcorn inside it.

Add the chocolate sweets to the popcorn, and mix it all together.
This will give you the perfect sweet and salty snack, ideal for halloween parties or scary movies! My personal recommendation for the chocolate combos are an Orange chocolate bar with Orange minis or a Dairy Milk bar with Reese's Pieces.
Baileys and Pumpkin Spice Hot Chocolate
This recipe is a must for cold, rainy evenings. It is incredibly simple, and if you are a hot drink lover, you will probably already own most of the ingredients other than the Baileys! 
Prepare your hot chocolate of choice

Add a splash of pumpkin spice syrup and a shot of Baileys.

Stir it all through in your favourite mug and top with some whipped cream and cocoa powder or marshmallows. 
This drink is not only extra warming, but also sweet and comforting and it goes perfectly with both the choco-popcorn and the apple turnovers!
---
Hungry for more? Check out these cozy autumnal recipes:
Recipe: Four ways to use crumble!
Recipe: Halloween Spider Cookies