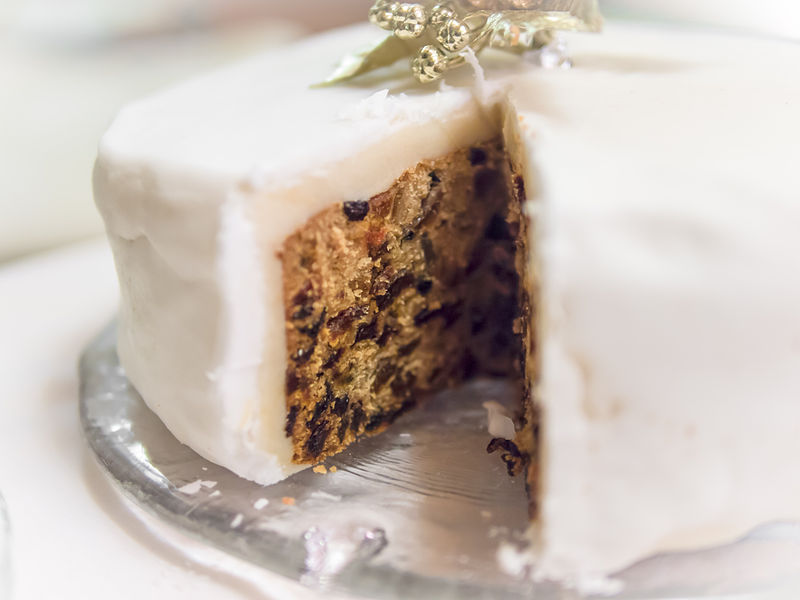 Food&Drink Writer Aimee Sargeant, shares her traditional Christmas Cake recipe
Every year, my Mum and I start preparing our Christmas cake around the end of November. Since it is now December, our prep has started. It is tradition in many households to make a Christmas cake, or buy one in. But what is better than being able to create your own? This recipe will create a cake that can fuel you throughout the Christmas break, as well as being quite boozy. The recipe requires a mixer (hand, standalone or you could whisk if you have a lot of energy!).
Serves around 8 slices (or less if you want a big piece)
Ingredients 
For the cake: 
400g of mixed dried fruit
50g ground almonds
12 tablespoons of brandy
225g butter
225g light muscovado sugar
4 large free-range eggs
100g self-raising flour 
125g plain flour
For the icing:
Apricot jam (melted)
550g Marzipan 
700g Slab of icing
Method
1. In a container or bowl, pour in the mixed dried fruit and add 8 tablespoons of brandy. Mix these together with a spoon. Leave for two days covered either with clingfilm or a lid for the dish. Return to this and add 4 extra tablespoons of brandy, mix again and recover for two days (or however long until you want to make the cake). This allows the fruit to soak in the brandy.
2. Preheat the fan oven to 150 degrees Celsius.
3. Add the butter and sugar together and whisk until it is a creamy texture.
4. Sieve the self-raising and plain flour into a bowl.
5. Whisk the eggs in a jug.
6. Add the flour, two tablespoons at a time, and add the whisked eggs little by little into the butter and sugar mixture. Repeat this step until the flour and eggs have gone. Don't mix too quickly or roughly to make sure the cake remains light and fluffy.
7. Add the mixed fruit and ground almonds into your cake mixture and mix altogether.
8. Once all mixed, pour the mixture evenly into a cake tin. Once the oven has preheated, cook for around an hour, or until cooked through. Cover loosely with foil if you feel the top of the cake is beginning to get too brown.
9. Store the cake in an airtight tin and let it cool.
10. For the cover of the cake, once cool, brush apricot jam over the whole cake. Then cover with marzipan and leave to dry. Then you can cover this with royal icing.
---
Check out these other festive articles to get your taste buds tingling:
Review: Costa Christmas Drinks Menu 2021
Review: Foodie Experiences at Birmingham's German Markets