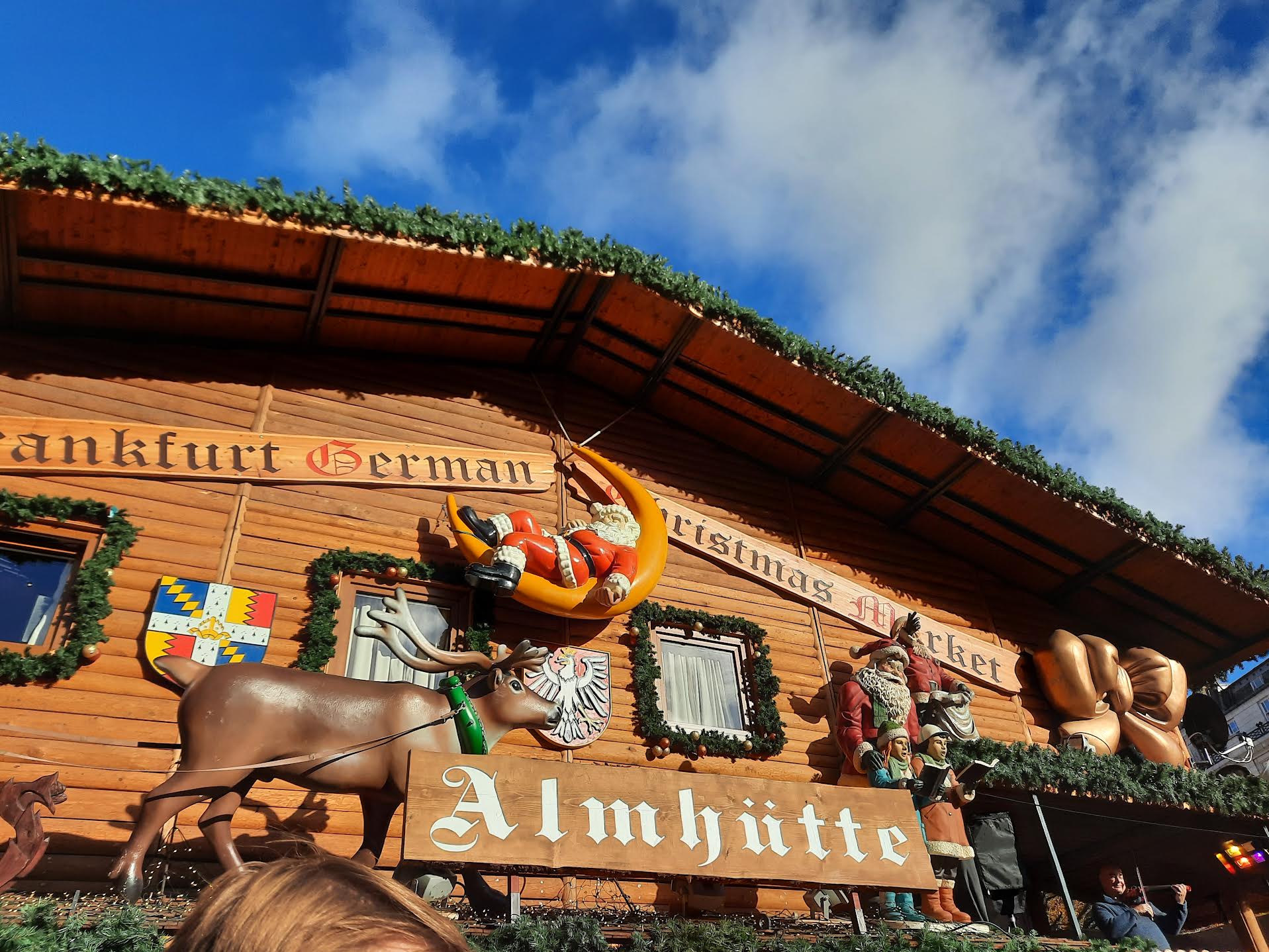 Food and Drink Editor Cara-Louise Scott, Digital Editor Tamzin Meyer and Writer Nicole Morris account their foodie-fuelled experiences at this year's Birmingham German Markets
Cara-Louise Scott
The Birmingham German Christmas Markets are the best thing to happen to the city at Christmas time and it is a magical spectacle for everyone to enjoy.
It has a bustling atmosphere, with people talking, laugher, the sound of foods and drinks being served, and music from buskers or the DJ or 'talking' moose. You are hit with that mouth-watering smell of baked goods, mulled wine, and sausage and chips. A mixture of food that seems to work well to the senses.
The markets have a range of food and drink stalls on offer (as well as gift stalls, the ice rink, big wheel and carousel), although it depends on your preferences and tolerances. Of course, because it is a German market, they have Bratwurst sausages, and other hot food includes chips and garlic pizza bread. There are plenty of non-hot foods available too, such as pretzels, crêpes, chocolate-covered apples, marshmallows and truffles. For drinks, there is plenty of beer on offer but if you hate beer like me, they have soft drink cans, or hot chocolate, which you can also get with alcohol in if you want a bit of a kick to your hot drink.
Price-wise, some things are over-priced, but I think this is a standard aspect of most food and drink stalls at Christmas markets. But from what I have experienced, I think it is worth the price as a treat and for the fantastic food scene this market brings. It is not something you want to miss out on.
Hot Chocolate
A couple of years ago, around Christmas time, I went to Longleat Safari Park and had the most beautiful hot chocolate I have ever had which was made from Belgian chocolate. I have never been able to find a hot chocolate as good as that one – until now. The hot chocolate at the Christmas markets gave me sweet nostalgia to my Longleat hot chocolate, and as much as I can remember, it tasted just as enchanting.
You can collect a hot chocolate from most of the big drink stalls that are dotted around the markets. The only downside to these drinks is the price. They cost £4 on the menu board but when you go to pay, you realize they put it in mugs that you get to keep which add a £3 to the bill, so for your first time you'll be paying £7. However, you get a deposit token and the mug is the perfect souvenir to take away from the markets, so you can bring it back if you come again so you only have to pay £4 for the hot chocolate next time.
For me, this is certainly worth the money for the quality of the hot chocolate, even if the mug is on the smaller size. It is hot enough to warm your hands up on a winter night, but not too warm so that you can drink it straight away. It's taste will linger on your tongue, with its creamy, chocolatey texture, in which you can tell there is top quality milk and chocolate in this.
The 'Sugar and Cinnamon' Pretzel
This sweet and sugary snack was a delightful treat when visiting the markets. I had never had a baked pretzel before, only the cracker-like ones you get in a packet at the supermarket. This was a first time for me, and definitely won't be the last time I'll be enjoying these tasty snacks.
The stall was situated close-by to Victoria Square (although there are a couple pretzel stalls across the entirety of the markets) and close to a cash machine as they only accepted cash at this stall in particular. There were plenty of pretzel's to choose from, such as a plain pretzel, sugar and cinnamon pretzel and even savory pretzel's such as cheese, ham and salad. I decided to go for the sugar and cinnamon pretzel as I wanted something sweet to compliment the hot chocolate.
It cost £3.50 which didn't seem too extortionate to pay for a big snack such as pretzel's, especially for the quality of them – you can even see the machines to make them at the back of the stall.
The pretzel was sugary, but not overly so, although I'd recommend eating from the paper bag and not your hands as it is quite sticky. I found the pretzel had a donut-quality to its taste, as it tasted more fried than baked (compared to my friend's plain pretzel) but as someone who is partial to a donut, I particularly enjoyed this texture. The cinnamon was flavoursome but not over-powering.
If you are looking for a treat to compliment a hot chocolate on a cold winter's night, I would really recommend these delectable creations.
Kinder Doughnut
Between Waterstones and Victoria Square lies a doughnut stall full of a huge range of every flavour of doughnuts you could dream of, from 'Black Forest' and 'After Eight', to 'Kinder' and 'Biscoff'. When my parents and I came across this stall, we knew we had to get one to try.
Each doughnut is £2.50, or you can get a box of 5 for £10, which is what we did. For the size and design of the doughnut, and the fact it is really filling, this price is worth it in my opinion.
The 'Kinder' doughnut was slightly dry which was a bit disappointing, but the flavours of the dark chocolate and Kinder piece on top of the doughnut made this really delightful. It was a nice surprise to find the doughnut was filled with an abundance of Nutella in the middle – even though I was expecting just a normal milk chocolate filling. The Nutella was tasty nonetheless, and made this both 'filling' and flavourful.
---
Tamzin Meyer
I always love the Birmingham German Market – there is always so much choice of food and drink that my bank account hardly thanks me after, but sometimes you have to treat yourself. This year was no different and yet again, the market won over my foodie heart. I decided to walk around the whole market and immerse myself in the atmosphere before deciding what to eat, since I really did not know where to start. All of the stalls immediately reminded me of something you would find in Lapland, with the beautiful golden lights being a magical feature that instantly made me ready for Christmas. This really melted my 'it's too early for Christmas' stance. I must admit that the singing deer head's rendition of 'Jingle Bells' was rather creepy, but it all added to the memorable experience.
Mulled Wine
After smelling all of the food and judging how long the queues were, I decided to go straight to the mulled wine stall – a staple drink that is my go-to when I go out to Christmas events. Christmas celebrations cannot begin until I have had my first mulled wine. Something about having one at the Christmas market was very special. The atmosphere, combined with the drink, made the experience 100 times better. The mulled wine itself was pricey at £5.50, costing you an extra £3 for a deposit for a mug. It was certainly worth it though, as I was so excited to be holding a cute, little Christmas themed mug with my drink in it. Nothing beat the mulled wine that had just the right levels of warming spice. I am not usually a fan of red wine but this particular one sent my taste buds on a spiritual journey.
White Chocolate Strawberry Skewer
Then, I decided to get something to eat. The choice between sweet or savoury was a difficult decision, but I ended up selecting a white chocolate-coated strawberry skewer, priced again at £5.50 which seemed rather expensive. However, the skewer was certainly a luxurious treat, with the thick chocolate and fresh fruit combining to create a mouth-watering experience. I must admit, the napkin was certainly needed as it was definitely a challenge to eat without making a mess.
Of course, I only managed to try a very small selection of what was on offer at the market so I will definitely be going back to explore more of the food and drink. I have already got my heart set on trying the fried potatoes so I will certainly be heading straight for those when I return.
---
Nicole Morris
Poffertjes
Poffertjes are small, fluffy Dutch pancakes, which taste very similar to normal pancakes, but instead of being flat they are puffed out in the middle. Their shape reminded me of flying saucers, but instead of sour sherbet in the middle; inside the Poffertjes was a lovely doughy texture that was somehow both stodgy and light at the same time.
Unlike the crêpes at the market where the flavour is wrapped in the middle of the pancake, Poffertjes are enriched by different toppings. Of which, there was a great selection: ranging from traditional accompaniments such as cherries and apple sauce, to toppings we might recognise from Pancake Day like banana and Nutella. There were also more boozier options available, such as Amaretto and Baileys. We opted for one portion topped with apple sauce and vanilla sauce, and another topped with Baileys.
The Poffertjes topped with apple sauce and vanilla sauce were very sweet (and almost sickly). The apple sauce was thick and sugary, like you'd expect to find in the middle of an apple turnover. The vanilla sauce was equally sweet, but also light and creamy. However, the flavours of the toppings married well with the doughiness of the Poffertjes, which dulled the flavours of the sauces to a manageable level of sweetness.
The Baileys Poffertjes looked slightly less exciting, as from their appearance they looked untouched and plain. Although, biting into these Poffertjes was a pleasant surprise as it was like tasting a mouthful of Baileys mixed with a fluffy, doughy pancake as the shot of Baileys poured over the top of the mini pancakes was fully absorbed. Therefore, the overall effect of eating the Baileys Poffertjes was thoroughly warming.
The experience of watching the Poffertjes being made enhanced the eating experience as you can appreciate the handiwork it takes to put together the little tray of miniature pancakes. You could witness the skilled expertise of the duo carefully filling the hot circular moulds with the mixture before timing perfectly the flip to cook the other side of the Poffertjes. If you look carefully enough you can see the Poffertjes slowly rising as the middle of the pancake puffs out giving it its flying saucer like shape.
Despite the large queue, this sweet treat was well worth the wait. I will be returning to test the other toppings on offer before the markets pack up before Christmas.
---
Fancy another bite? Have a look at these articles below:
Review: McDonald's McPlant Burger