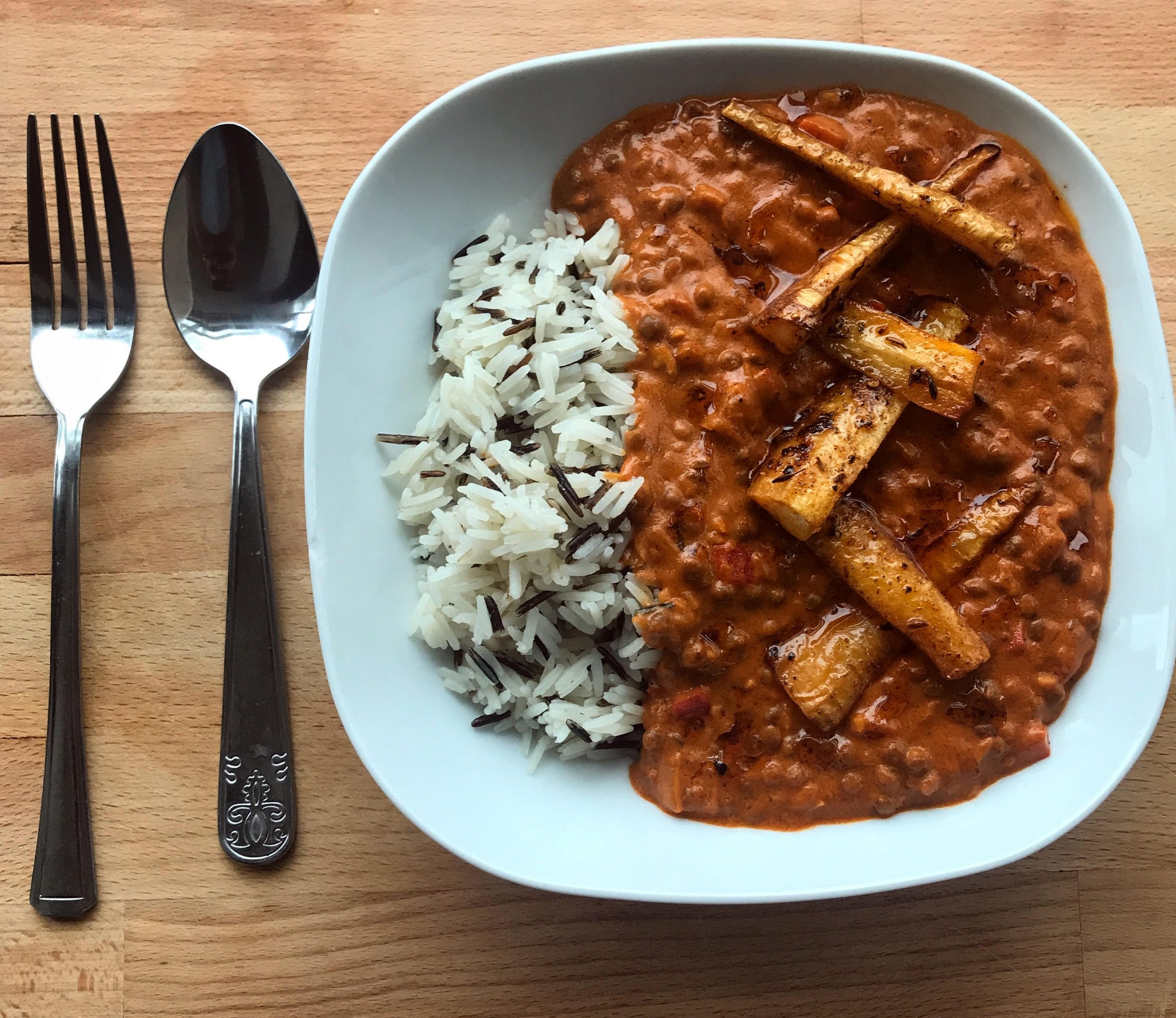 Food&Drink Writer Hugo Ricca serves up the recipe for his tasty home-made vegan curry, the ideal comfort food for isolation
As we settle into isolation and staying inside becomes part of our everyday routine, it is very easy to become very bored and stressed. Cooking is a great way to pass the time and relax while getting to enjoy delicious food. This vegan-friendly curry recipe is easy to make, warm and absolutely delicious. This recipe serves 2 so grab your isolation partner, find yourself some naan bread and dig in!
Ingredients 
1 small white onion, finely chopped
1 red bell pepper, finely chopped
3 cloves of garlic, minced
1 tin of lentils, drained or cooked dry lentils
2 large parsnips, cut into batons 
1 veggie stock pot
400 ml coconut milk
4 tbsp vegetable oil
2 tbsp tomato purée
2 tsp garam masala 
2 tsp smoked paprika
4 tsp ground cumin
Salt & pepper
Basmati rice; boiled or steamed
Large knob of vegan butter
Method 
Preheat oven to 200C/180C fan. In a roasting tray, toss the parsnips with half the oil and half the cumin until coated. Roast for 25-30 minutes until crispy and golden.
Heat the remaining oil in a large sautée pan. Fry the onions on a low heat for 15 minutes until caramelised, then add the red pepper, the rest of the spices and tomato purée and fry for an additional minute until fragrant. 
Add the garlic, fry for 30 seconds, then the lentils, coconut milk and stock. Simmer for 15-20 minutes until the sauce reduces. (A good trick to tell when it has reduced enough is to drag a spoon through the sauce; if you can see the bottom of the pan it's ready) 
Turn the heat off and add the vegan butter, stirring until melted into the sauce. Season with sea salt and freshly cracked black pepper to taste, before serving over rice with the crispy parsnips on top.