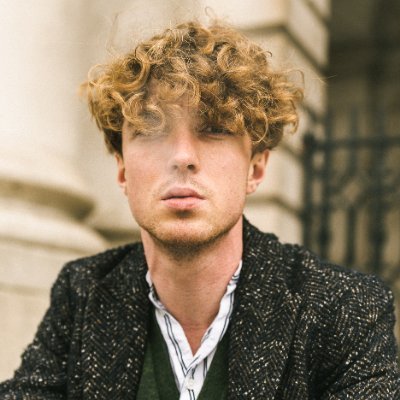 Music Editor Bethany-Jo O'Neill interviews up and coming folk star David Keenan about his latest album and upcoming tour
Ahead of his UK tour, with a date at Birmingham's Sunflower Lounge, I had the chance to interview rising Irish star, David Keenan. Following the rave reviews the 2020 release of his debut album, A Beginner's Guide to Bravery, has received, I was very excited to ask him about his inspirations for the album, his experiences in music and what can be expected from a live David Keenan show.
To begin, many congratulations on your debut album! It is a great listen from start to finish and grabs the attention of any listener. What was your motivation when penning A Beginner's Guide to Bravery?
The motivation to make a record was present in me for a number of years; it has always been there, it was never lacking. To make this record I had to reach a point where I knew that I could map the course of my life over a period of four years – a phase that saw me leave home, explore what it meant to be an individual and absorb influences that come through experience, love, loss, victories, teachings and resulting songs that I felt could tell that story. I've been releasing music in the form of EPs and singles consistently for the past few years. I knew last year that I had the means to make my first album, knew that I had stored up enough intent and emotional source to tap into. Also, I had a great live band around me who'd been playing these songs for a while so it was time.
I think the title of the album is really interesting, what was your thinking behind it?
The title came and just stuck. It felt like the title of the story I wanted to tell, it's open to interpretation.
If you could pick one, which would be your favourite track from the album and why?
I don't have a favourite song on the record, I don't consider them in that way. I know during the recording process I had to re-enter or at least try to step into the same headspace that I was in when writing the tunes, that unearthed new meaning and understandings that I'm grateful for. There's a real excitement in playing the songs live; where reality happens and things can be elongated. It's a joy to play live. Some songs, like mood swings, ebb and flow. There's excitement in the suspense.
There was a track that caught my attention from your 2017 EP Cobwebs called 'Field Upon Field' which is a piece of spoken word – would you say you have a passion for poetry and does this feed into your creative process for writing a song? Which tends to come first – the music or the lyrics?
Expression is something that covers more ground for me and a feeling that I pursue. With that in mind, it allows me to vent in many forms and not feel that I have to limit myself to just playing with a guitar / piano. The vessel itself is an instrument. Language and the delivery of ideas / stream of consciousness can bring you to a flow state. The words are carriers of the idea, of the intentions of the emotions. I wanted them to be able to be read as they are alone without the music too, in the music of themselves. Poetry or prose or lyrics, they all emerge as they are and I just try to get out of the way. Spoken word or written word or singing or playing, it's all expression to me, all connected.
You have been compared to the likes of Van Morrison and Leonard Cohen; are these people you look up to in the industry and have taken a personal influence from?
It's a strange thing to be compared to the likes of Leonard and Van, people all want to make comparisons. I think it's human nature to look for a reference point. You just seek out art that you can relate to and that resonates with you, teachers of the craft, then channel in your own accent and vent in your own individual way. I admire artists with bodies of work that are fearless and not seeking validation from any 'industry'.
I don't think any real artist creates with an audience in mind. It's done in truth and for the self first of all – it has to be.
When did you first realise that music was what you wanted to do?
I can't imagine life without writing or creativity – I got into it as a child, escapism.
It's gifted me understandings and awareness and it's medicine and joy. It's a companion and a trusted teacher. It's always been there, there's a sense of purpose in it and a sense of place. It's a beautiful thing to do.
Is there a concert you have been to that sticks in your mind as being truly inspiring?
Recent gigs that really impacted me: Nick Cave and the Bad Seeds in Dublin, Idles in Dublin. Connection at its purest with audience and artist.
You were on tour with Hozier towards the end of last year, how was that as an experience?
It was a relentless flow through the UK and Europe with a tribe of immensely decent skins. I'd never been to Scandinavia before, the vine sizes and the audiences were warm and receptive. A great experience for me on the road.
Where is your favourite place that you have performed?
The Olympia Theatre in Dublin in January was the venue for my biggest home gathering to date. Things just aligned on the night – the culmination of so much. The Bowery Electric in New York last year was wild! The Olympia in Paris and the Palladium in London were surreal gatherings. Birmingham Town Hall in 18 with The Hothouse Flowers!
I for one am very excited for your upcoming Birmingham gig, what can people heading down to the Sunflower Lounge on March 12th expect from your show?
The Sunflower has been very good to me over the past few years. Expect songs from A Beginners Guide to Bravery and new songs that are coming in the post. Alchemy & Prose.