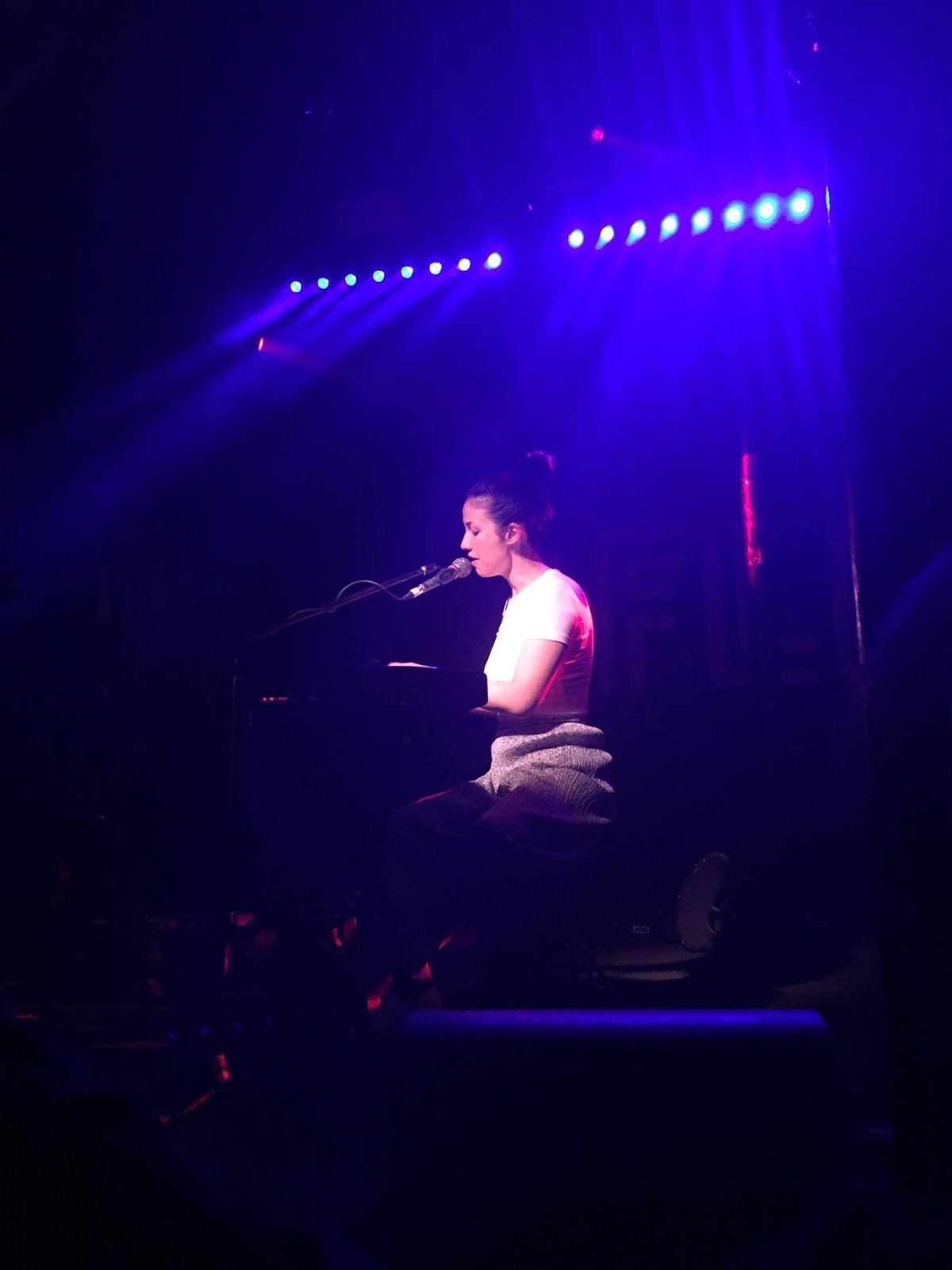 Grace Baxendine sits down with Emmy the Great to discuss her upcoming 10-year anniversary tour
Emma-Lee Moss, known by her stage name Emmy the Great, is celebrating her debut album with a tenth-anniversary tour this June. It's been a decade since First Love was released; an ode to her early twenties, a time of love and heartbreak. Dreamy and melodic, the album has many a literary allusion, including her treasured musical heroes such as Leonard Cohen and Diane Cluck. But most of all, Emmy the Great's First Love was a portrait of her connection with English nature and folklore, something which, in 2009 and still today, resonated with me and so many others. Throughout the years I have returned to Emma's music again and again through heartbreak and being generally lost in the chaos of adolescence, and found such solace in her lyrics. I have been lucky enough to sit down with Emma to talk through how she feels about the tour a few days before she embarks on it.
Hi Emma! Lovely to meet you, how are you feeling leading up to the tour starting next week?
Hey! Well, reasonably prepared but having only just had a baby five months ago, I haven't been able to rehearse as much as I usually would at this point; all I've been doing is pumping milk! It's really weird as it's the least musically prepared I've ever been, but it happens to be music that I know really well.
Are you working with a similar band as you did ten years ago?
So, when I started playing these songs 10 years ago, I was completely solo so that's how it's going to be this time. No matter how sketchy I am from lack of sleep or lack of preparation, there's no way I could be as bad as I was 10 years ago when I was starting out.
How did you get into song-writing and music?
I got onboard really late actually. I always wanted to write stories and always thought I was going to apply to Oxbridge and study English but made a really snap decision towards the end of my A levels as I wanted to go to London to study music. I wanted to go straight into the real world and be in the thick of it all. So, I went to London and started writing songs, and as it was the Myspace era, I very quickly got noticed. I even ended up getting excepted into Goldsmiths to do English Literature and the day before registration I got an offer to go on tour! And I still always think how different my life would have been if I had gone.
You have described the record as 'A record of the time that it was made,' What exactly did you mean by that?
I mean, yes, there was really a lot of accessible, DIY singer-songwriter music coming out of America at the time, just before I started writing songs. It seemed to spread in the UK and I remember doing a shoot for ID and there was like 20 singer-songwriters, there were people like Jack Peñate and Adele, and it felt like everyone was just wanting to write a decent song and then sing it very honestly.
So, how exactly would describe the genre of First Love?
I think I happened on that by mistake. Essentially, I wasn't that musically capable at the time and I had loads of lyrics but very little else, so I ended up doing these very simple arrangements because all I knew was a few chords and that I wanted to put 1,000 lyrics in a song, so I ended up by default being folk, but in my head, I had these bigger arrangements, it's just that I couldn't get there. Now I can get there, and I listen back to my first album and think about how innocent I was. I'm writing for other people now, writing some musicals and that brings a lot of arrangement with it, and it's exactly what I wanted to do. Basically, in that first album I wanted to write a musical about my relationships, heartbreak etc but I could only play guitar, but the way it came out was actually so perfect and exactly how it should have been at the time.
I agree, it's definitely very special. The way in which it resonates with young women is so lovely. I have and still do listen to the songs of First Love and it's so real!
Thank you, a lot of people thought it was too much confession, too much information, and I really took it onboard back then and thought, oh no, maybe there is something really crude about me, but now I listen back and think if I met that young woman I'd be like well done.
I've read in various articles over the years that you started off in the same musical circle as Mumford and Sons, Johnny Flynn etc, is this at all true?
No not really, people and writers often lump us together; there were in fact so many singer-songwriters at the time. Laura Marling and Johnny Flynn went on tour together in the US etc but there were so many friendship groups at the time, they had all grown up in the same area of London, but I really didn't know many of them that well. I had no connection to south west London or that scene really.
Were you inspired by any particular artists at the time of First Love? Diane Cluck is mentioned a few times, I adore her music and it seems very similar to yours?
Oh yeah, I absolutely love Diane Cluck! I went to New York while I was at uni and I went to this record store Downtown and found this handmade CD case, and inside was a Diane Cluck CD that she had printed. I took it home and realised that she'd made a few hundred and hand distributed them – it was so cool! But you know what, I lost that CD, at least I still own it on MP3. So yeah, she was a massive influence on me, she was proper barebone storytelling and guitar and then I've loved Weezer since I was a child, and at the time, as my musical understanding was so idiosyncratic, I thought Weezer and Diane Cluck were really similar. I couldn't explain it to anyone, people would say to me one's emo and one is raw folk, but I was like no no, it's the same, and what I meant was that in both cases the lyrics tell a story.
I suppose you have already answered this in part, but how do you feel your music has changed over the years?
I'm a much faster writer now, and I'm not so frustrated, I can channel an idea much more easily, but it's basically taken a long time. I have just finished a new album, but I had a baby, so it didn't come out, it's coming out next year instead. To me, it's kind of like a combination of all these years of improving on my music and my musical capabilities. I'll never be able to capture the naivety of my first album, it's almost precious, you can't recreate naivety. And so, to me, First Love will probably always be my favourite because I can become better at music, I can become more ambitious sonically, but I'll never be able to be that young girl again trying really hard to do something that seems almost impossible.
So, considering it's your favourite album, do you think you could say a song that means the most to you?
'Easter Parade' is my favourite. Because it's based on this book, The Bell by Iris Murdoch, and I reread it all the time, it's one of my favourite books.
You've mentioned how thrilled you are to be touring alongside BISHI, how did you come about asking her to tour with you?
I've been aware of BISHI for a long time, because I used to do a lot of these women in music panels and I'd see her there and thought she was so striking and fantastic. Then I listened to one of her albums, Albion Voice, and I knew that it was exactly what I was trying to do with First Love. I was a person of colour, in love with English folklore and the English pastoral, and that all came really naturally to me, and yet sometimes people would be like, oh it's funny how you're mimicking Englishness isn't it? and I was like no, I'm English! There are these moments you think you're alone in what you do creatively, but after listening to BISHI's album, I knew I wasn't. It sounds dramatic but that's how it felt. I'm absolutely thrilled to be touring with her.
Any future plans for music or even an album? What is next for Emmy the Great?
I'm on maternity leave at the moment but am about to finish the first act of a new musical with playwright Isley Lynn, she wrote the play Skin a Cat. The musical is called Heal, it's about female wrestling and we have just had Arts Council funding which is exciting. Of course, my new album is finished but I'm not sure when it's coming out because I am so busy with my baby, not sure how I'd put an album out right now, but my label is so understanding. It was something I was really worried about, but they have been so good about it all!
I saw Emmy the Great perform at The Fleece, Bristol, on the penultimate show of her tour and it was simply magical. BISHI's introductory performance was so refreshing and so different to anything I have ever heard before. A mixture of sitar and wonderful Indian inspired backing tracks, BISHI was a revelation and the perfect build-up to Emmy the Great's performance. Her energy was infectious, and you could really tell how much she was at one with her music. The use of the space on stage was fantastic as well, mixing interpretive dance alongside hauntingly beautiful Indian chants. She also mentioned how her new album has been based on critical writing surrounding culture and integration, which definitely helped us appreciate her music on a contextual level. She is definitely one to watch out for!
Performing solo, with only either guitar or keyboard was perfect for Emma's set, as the sole focus was her music, raw and unedited, echoing beautifully around the silent audience who were absolutely captivated by her lyrics and angelic voice. A really convincing impression of Kermit the frog and Elmo somehow came into conversation between songs, as well as other chatty interludes, and gave the performance such intimacy. It was very clear how much the record means to her and how thankful she is that so many people still adore it. As Emma told me, there is something very special about the naivety of the album, musically and spiritually. Her performance was mesmerising and just so magical; I will not forget it.