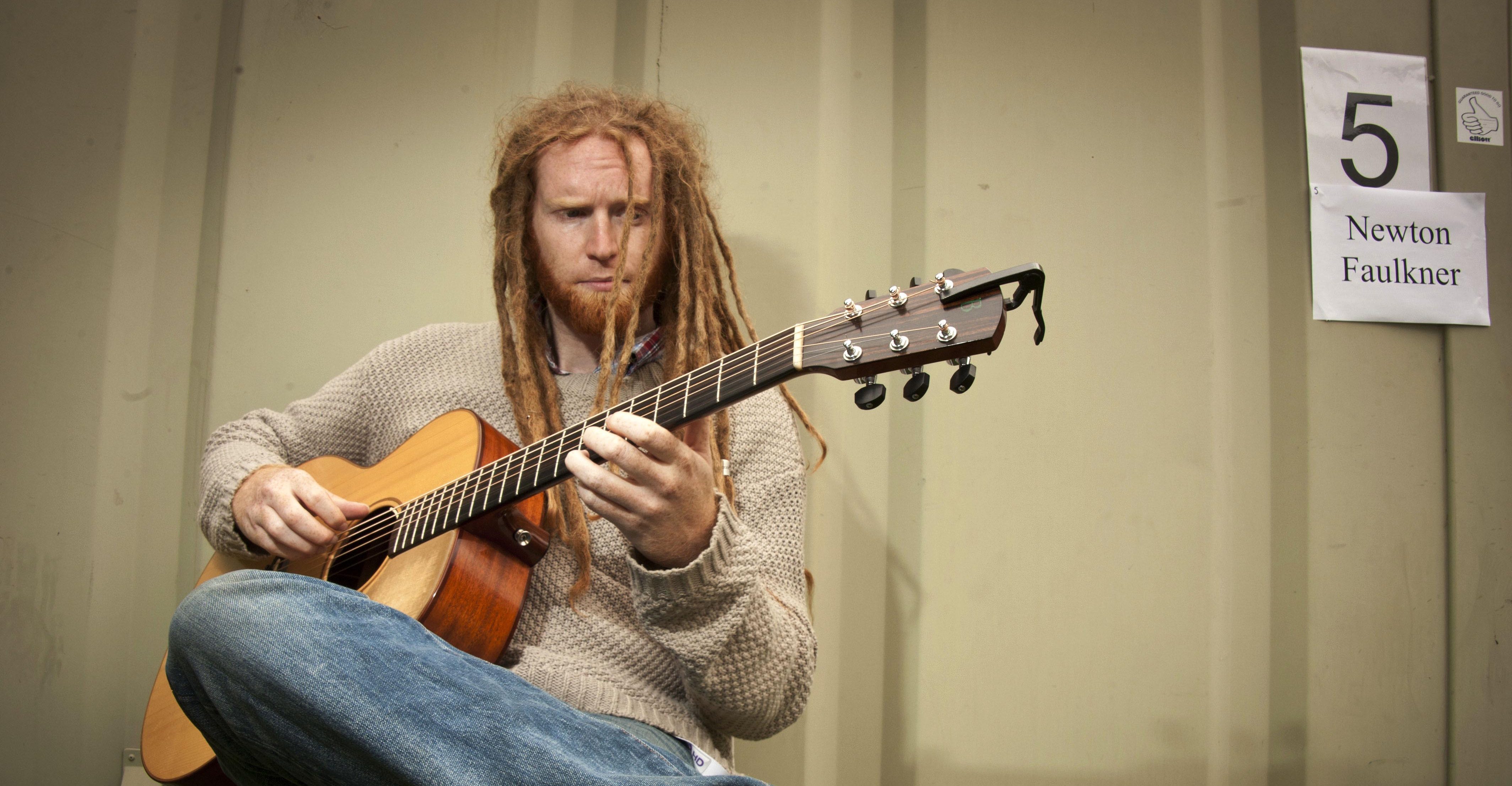 Deputy Editor Kat Smith chats to Newton Faulkner ahead of his most recent show at Birmingham's O2 Institute
With six albums under his belt and a career well over a decade long, Newton Faulkner is a familiar face in the music industry. His retrospective album, The Very Best of Newton Faulkner… So Far takes listeners on a journey throughout his discography so far alongside a plethora of covers, each infused with his unique vocals and playful guitar style. Before his show at the O2 Institute in Digbeth, I caught up with Newton backstage to discuss his latest release and accompanying tour, as well as looking back at his impressive career (so far).
Hi Newton – Welcome to Birmingham!
Thank you, it's nice to be back.
How are you?
I'm very well thank you. There's a lot going on – did the London show which was mental, because we did the Palladium which is a pretty ridiculous place to find yourself!
How's the tour going so far?
Really good! Really good actually, I think these are my favourite arrangements. Because a lot of the songs I've been playing are songs that have been around for a long time, as it's a retrospective campaign, I've been going back over a lot of stuff and finding more interesting ways of doing it. I remember the first tours after the albums came out, you do what you think is best at the time but now there's so many more possibilities, technologically, and I know a lot more about how to programme stuff as well. I've programmed all my own sounds and I've build really strange… series of mechanisms which work really well. I think people are really getting it. What I was doing before was, I was doing very complicated things but in a very subtle way. So my feet were doing stuff that everyone assumed was either a loop or a backing track – no one really took in what I was doing. But now I'm sitting down and I'm hitting stuff as well as that, you can see my legs moving and I think people are starting to put all of the bits together and I think it's basically doing with everything else what 'Teardrop' did for the way that I play guitar. It's a very slow, gradual introduction to stuff that I can do. So it's like: 'This is some notes, this is some singing, this is a beat, this is some other stuff all at the same time AND some singing!' Because of that, I would come in with something like 'To the Light' which is really busy and people would be like 'I don't know what it is it sounds weird I don't understand!' and people wouldn't take it in until 'Teardrop' when they saw what I was doing. It's very fun, it's totally mad.
Considering this is a 'best of' tour, what is your favourite song to play live? Does it depend on the venue or the size of crowd you're playing to?
Oh yes there are a lot of different factors. I love 'Up Up and Away', I think partly because that's the one that I never thought I'd be able to do solo. I wrote it off, almost as soon as I wrote it, thinking I'm definitely going to need a band for that because there's a lot going on. So because I found a way of doing it which I think works, and also it's the one where I've got the most freedom in a weird way because there's always different combinations of things. I've got this A/B switch, where I'm switching between two different settings that have slightly different sounds and you can really improvise with the combinations. I really love it that there's a song on the setlist where I literally make it up as I go along! I'm like, I know how the song goes and I'll keep singing but in terms of which guitar parts and which pedals, I think I've done it differently every night and felt what's right. I've made some quite small, some really out there, some small and then they've grown and there's just so much freedom involved which is great.
(CHARLOTTE is sound-checking in the background) So we can hear her now, but aside from her beautiful voice, how did you pick CHARLOTTE as your support act?
Oh she's amazing isn't she! She's been my support act before and I was like 'you are awesome'. She is great, I like having the same support for the whole run because it feels like a show and it makes sense as a unit. Also, I like having supports that make me slightly nervous – like holy shit, I better be really good. She's on first and I'm on second, I've got to be better! And I quite like that tension.
Looking back on your discography so far, are there any songs that you remember being particularly easy and natural to write?
There are a whole load of songs that I don't remember writing at all! 'Ageing Superhero' was the first where I just sat down with the guitar and the whole song just happened and I thought, 'oh, I should write that down it's quite good!'. And there have been others more recently – 'Take What You Want' was pretty quick. You can kind of tell – they don't feel like they've been written. There are some songs, especially in pop land where you can tell that they had this bit and then this bit and you can feel the thought process. With songs which just happen, you can feel it when you listen to it, you can tell that it's just one thought rather than lots of separate thoughts.
On the other side of the coin, were there any that took that building process?
Oh yeah. 'Dream Catch Me' was bizarre, it's like nine songs all sliced up and shoved together! It's weird, there are no rules. 'I Need Something' took about four years to write. There were bits of 'Smoked Ice Cream' that were ready to go on the second album… and it only made it onto the sixth! So yes, sometimes it's easy, sometimes it takes a while and sometimes, other people see stuff in it that you can't see yourself. I'll be doing a melody and saying 'oh that sounds boring' and someone else will say 'no that's not boring that's really good'!
So with so many albums under your belt, why did you choose to put so many covers on this album?
Well it's effectively two albums – there's the retrospective disc and there's the cover disc. It was mainly for people who have all the albums, I thought I'd give them something else otherwise they're just buying something they've already got in a different form… it seemed a bit mean. So we did the second covers disc which was so much fun!
How did you pick which covers to do? I know some of them you've performed live a lot, but ones like Dua Lipa [IDGAF] and some of the newer songs, how did you choose them?
Yeah the live element was the main thing. The others are just songs that I think are really good! We tried out every pop song which I've liked for the last few years and decided which ones really work, which ones are kind of fun but not special.
Are there any songs that you wanted to cover but couldn't?
There were things that got overwritten by other tracks. I did a cover of Wichita Lineman a while ago which I would have loved another chance to do because it's just a live recording. So that, and Sigrid's 'High Fives' I wanted to have a play about with – amazing song, I'll definitely do that at some point.
We do get a few new songs on the album, are these pointing at future releases?
We purposefully didn't want to go too far towards what we're going to do next. We didn't want to play all the cards and be like 'this is where we're going!'. So, it's subtly hinting… I mean, we don't know what's going to happen next. I've definitely got a batch of material which has a very different feel to it, which is one of the reasons why the best of happened when it did. Nothing that's overt – it's not like one of them is the template for everything else. It's just little, subtle hints.
You've already sort of answered this one, but what's next for you?
I do talk a lot! One thing a best of does, it's kind of an album that's come out without me having to make an album! There's a lot of things that I've started and I'm really looking forward to finishing and I'm excited about this next phase. We're also going to change the way we release as well because I think we've always waited for albums and we don't need to do that anymore. I'll always make albums. I'm trying to think of a good analogy – songs are like an episode of a TV show and an album is a movie – it's a harder medium to get right, it's a bigger story arc. So I don't think I'll ever stop making albums but I'm definitely going to release more stuff whenever I feel like it, because you can now.
Well, I'm really looking forward to it. Thank you so much for chatting to me today.
It's an absolute pleasure!
Newton Faulkner's The Very Best of Newton Faulkner… So Far is out now.