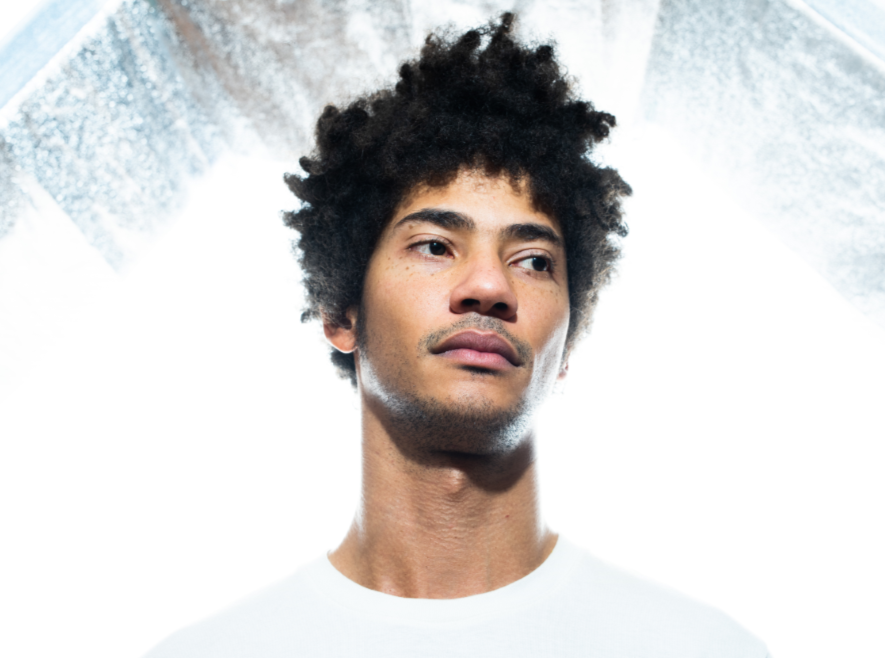 Music Writer Seb Rolley talks to Skinny Pelembe about Iggy Pop, moving home to record, and recording his latest album in advance of his upcoming tour
How was your summer tour? I caught you at Green Man and Love Supreme.
Nice one! You went to the right ones then. I think we played nearly every weekend over the whole summer; it was great.
Doing that, do you feel like the summer of touring has changed your live show and the way you play your music at all?
Well, we got really good at doing it as that band, but we've just got a new drummer and lost a bassist so it's half a new band. We're kind of starting again from scratch again in a way.
Oh, that's cool. What's the line-up going into this tour then?
Mainly three people and sometimes four.
So the album's been out for a good few months now, how's it been seeing the album sink in and getting feedback from it?
Yeah, it's just been a lot of the same mad surprises really. With 'Spit / Swallow' it got on the A list (for BBC Radio 6 Music) all summer and it was like fucking hell that's insane! And for No Blacks No Dogs No Irish to get on there with the name, the length of the track and half of it being noise, it was great. It's slightly validating, and yeah, it's lovely.
I saw you got a shout out from Iggy Pop on Radio 6 which must have been cool.
Yeah man, he's just the one. First time I became properly aware of The Stooges was in the intro to the Sorry skateboard video. It was I Wanna Be Your Dog, I can't think of a better guitar sound and he's like top five artists of all time, or at least my top five anyway.
He's got one of the best voices in radio too, I love how low it is.
Yeah man my alarm clock is just him saying my name now. I've got it, I sampled it, it's mine.
Going from that guitar sound, was guitar where your relationship with music started for you?
It is, that and breakdancing.
Where did the production side of things come into the picture? Your tracks seem rooted in live instruments but with quite a lot of production on top of that.
I've always had a little bit of a demand in the recordings and I don't really know why really. I've got a bit more of them on the album. Apart from the guitar which I generally like to be flat and compressed which is what's going to happen if I'm recording it through shit interfaces and stuff then everything else is production, samples and beats and stuff like that. After that and I've got a bear I try and put the lyrics on, get rid of at least half the samples and put some more guitar on to try and make it be a bit more of a cowboy thing. We had a little bit more instrumentation for this one, we might switch it up for the next one, we'll see.
How much of the sound of the record would you say is influenced by being signed to Brownswood Recordings and having come up through Future Bubblers (Brownswood's talent development program)?
A lot of it is inadvertently influenced by Gilles (Peterson, head of Brownswood). Going to the studio in Doncaster when I was about 15 the guy who did my recording put me onto his show and I guess a lot of my taste has come from listening to that and similar shows. Maybe not so much the label. A lot of the early stuff on Brownswood like Eric Lau got me into them but it's the Bubblers records that really did it for me more than anything. Before I lived in London and before I was part of this crew that I always wanted to be part of those Bubblers albums were always just how I imagined it would sound. I guess I kind of ruined it by being on one because now that whole mystery is kind of gone. I can't listen to it anymore its not as romantic.
Artists signed to Brownswood seem to be associated to a new wave of British jazz; where do you see yourself as a part of that?
I mean, I'm not jazz. I have moments where I'm trying to emulate jazz players, but I think to call me jazz would be a little bit disrespectful to the genre.
I read that you spent time at uni, how did your time there influence you as a musician?
It was a lot less strict than going to work so for about three years I didn't have to turn up, so got to do a lot more music and eventually fail uni and carry on with music. It was a good amount of time to not have to do anything in the day apart from make music.
Were you playing shows during that period?
I was, but in cover bands and doing different stuff, but I guess that all planted the seeds for what I'm doing now. I guess what I'm doing now will have some influence on what I'm doing in 10 years which might not be this.
In that period since then you've moved down to London, but is it right you recorded the album back in Doncaster?
Yeah, I moved back up to Doncaster to do it.
What was the thinking behind that decision?
Distraction, money, the studios in Doncaster, I didn't really want to record in a big posh London studio and throw loads of money at the wall trying to figure out what I was going to do. I've been working with the same people I have been since I was like 15 so the first opportunity I got to actually pay them to do what I'm doing I went to them instead. So yeah, I moved back for a year, did it, and then came back.
Are there any musicians or people that you worked with or were hanging around with in that period in Doncaster that you think people should know about?
I didn't really leave my house, I went out to run, came back, did music, press-ups, run, music, press-ups. I didn't really go out. But there's a guy called Tom Beales who should be a session guitarist for every band – he's just the best guitarist ever and my co-producer Paul Littlewood is immense as well.
I feel like there's plenty of areas in the North outside of Newcastle and Manchester we just don't hear much about but there's got to be plenty of amazing musicians.
Yeah, there's just no money, it's all in London. You're never going to hear about them if people aren't spending money in Sheffield or Doncaster or Barnsley unfortunately.
I saw you did a video with Colors recently. They seem to be this massive cultural phenomenon this year with their videos becoming absolutely huge. Have you seen a noticeable change as a result? And how did the whole thing come about?
Of course, I think for the first time I reached someone under 35. So yeah, getting the youth on board. We played at Leeds and Reading the year before and as soon as we came on we saw a mass migration of anyone under 30 go to see Dua Lipa and only guys with beards sticking around to watch us, so I guess it has made a bit of a change in getting people who are younger into it.
It's nice to see Colors bring in people who perhaps don't have the sound people expect from their videos.
I guess so. I was going to do it. I guess I didn't really see where I fit in after watching all of their videos, but I appreciate the opportunity and they were all a bunch of really cool guys.
So, the tour starts in a couple of weeks, and you're stopping off here in Birmingham. Have you toured much to here and what's your relationship to the city?
No, my dad was from the Black Country, but I've never been. I kind of fall in love with anyone who's got a Brummie accent for the obvious reason that it reminds me of my dad. Yeah, I'm looking forward to it! Looking forward to practising my accent without hopefully disgusting anybody with it.
Skinny Pelembe plays Hare and Hounds on Tuesday 15th October, tickets available here

Dreaming Is Dead Now is available now via Brownswood Recordings