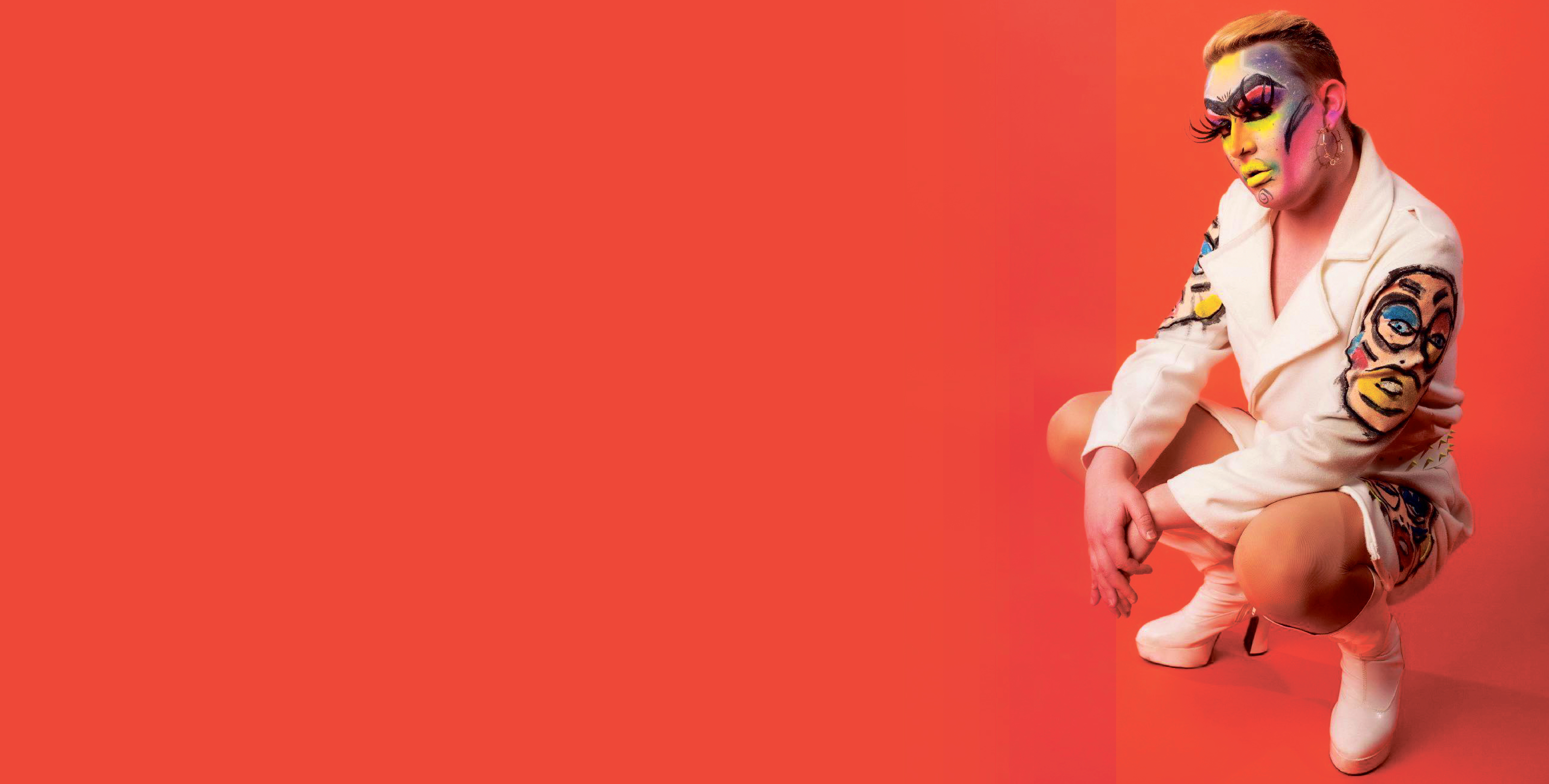 Print & Features Editor Thom Dent sits down with Ashleigh-Marc, the performer in charge of a society designed to change your perceptions
---
Despite enjoying a rising prominence over the last few years, the perception of drag artistry in Britain is still fairly one-dimensional. For the most part, the extent of the exposure a Birmingham student gets during their time at the university is an evening at Nightingales and ten seasons of RuPaul's Drag Race on Netflix. For Ashley Jones (better known by their persona Ashleigh-Marc), the founder and president of UoB Drag, the society has been created to tackle this exact issue.
'It's shocking – when I was actually doing the research for it, at that time there were only two other universities that had drag societies. They were very limited in numbers and in terms of the students that actually would participate. It was very drag-centric, you had to do drag to join it.
'I think the main aim of the society is to widen the horizons for people, to be like, "yes, you may think this of drag, you may have seen RuPaul, but we want you to take a deeper look inside of what drag is." It's so much more than the gender boundaries, it's so much more than just putting on a bit of makeup.'
What was your first experience of drag?
'I'm gonna put that down to the university actually, it was Sports Night that started me off. I'd obviously watched RuPaul, but when I came along to the first Sports Night we did a lot of costumes and it was something I hadn't really ever done; I'd never been that person. Costumes turned into more theatrical pieces, which turned into drag… it kind of came out of nowhere. But, obviously, I love it – I've only been doing it for just over a year as well so it's only been a very short time, but it's been an interesting twelve months.'
On the society's plans for the rest of the year, Jones says:
'Obviously we're trying to make it as inclusive an environment as possible. I've always said, many people consider drag just to be something that men do, but we want women to come along and experience it too. Also I think a lot of straight men can get deterred by it, thinking it's an LGBTQ-themed event, so we try not to put any labels on it. We've got guest speakers ideally coming in, performance nights planned for the end of the year, and one thing we've already got set in motion is the ball we have planned at the end of the year, which will be… interesting.
'One thing that upsets me: a couple of people came up to me before I started, who identified as being straight and felt like they couldn't do drag because they aren't on the LGBTQ spectrum – that's totally wrong. For me, it goes beyond those boundaries of gender and sexual identity – who are we to say that someone who identifies as straight can't do drag?'
While it may not be at the forefront of mainstream entertainment culture yet, drag is certainly an industry on the rise. With its recent permeation into Netflix it seems as though shows such as RuPaul are bellwethers of a potential cultural behemoth. And yet there have always been rumblings that such a new frontier for the industry is having a negative effect on the community, reducing the concept of drag to only what the sanitised world of TV allows for.
'I think it's a double-edged sword,' says Ashley. 'It's really opened people's minds – people who wouldn't necessarily be exposed to drag – to explore what drag is really about, but I think it's also created a narrow mindset. I've had people come up to me in clubs and refer to me by certain slogans or catchphrases and, you know, always ask me "which drag queen inspired you to do drag?" Well, none of them, actually. I think we're at a point now where things like this society can help to go beyond that. RuPaul's Drag Race is a great show, it really allowed so many people to do what they do – but does it necessarily show all aspects of the drag spectrum?'
One of the misconceptions about drag is that it is a fixed identity – you are either Dame Edna or you are Alyssa Edwards. For Jones, this is part of the RuPaul effect. The realities of drag culture, they explain, are far more multifaceted.
'The first thing I need to explain is all the different categories. Within queens you can have men who dress as women, women who dress as women – and then you have drag kings, that can be a man dressing up in drag or a woman trying to impersonate a man. Drag kings are something that are often neglected by shows like RuPaul's Drag Race because people see these hyper-feminine men in dresses and they forget that there are people who don't necessarily identify with that. I'm trying to find if there are any men or women on campus who are interested in that sort of thing.
'Drag is an open concept; it's open to interpretation. I have so much respect for people who do drag and associate with being a drag king, because it shows another side to what drag does. It's really hard to explain, I'd say take a look at it – there are a couple of big performers in the UK who identify as drag kings or drag princes, but that's what I'm trying to open up the society to. People think they have to come a certain way, and that's not right. I try to think of myself as a drag performer, rather than a drag queen, because I think with anything I do it depends on how I'm feeling on the night.'
Can you ever see it becoming part of the mainstream entertainment culture?
'I really do hope so! I mean, if you look back to the nineties you have people like Lily Savage, you have Dame Edna Everage – they were two really big personalities on national TV. Do I think it might take off in the next couple of years? I don't know so much… even in the last couple of years that I've been exposed to it, it's exploded to an extent now that everyone knows the catchphrases. Even if you don't watch RuPaul, there are people that recognise some of the characters and things like that. I hope to see it expand beyond just Netflix or something like that, just really become something a bit more mainstream.'
Ashley's involvement in the industry is far more than just UoB Drag. They are a regular performer in competitions across Birmingham, part of a longer-term plan to become a professional drag artist. 'Do I see a career out of it?' Ashley muses. 'That's still to be determined. But am I enjoying it, am I getting the most out of it at the moment? Absolutely – I'm so lucky with the support I've had from everyone.'
For a lot of people it can be hard to differentiate between the performance elements and the identity elements of drag. Unfortunately, and particularly in the UK, the phrase 'cross-dressing' either conjures assumptions of transvestitism or of pantomime. 'I actually went to speak to some college students at City College about these issues,' says Jones. 'For me, drag is very much a performance-based art. There are some weeks I can be hyper-feminine and then there's other weeks I can be very androgynous.
'I think drag kind of surpasses the gender boundaries that people seem to have set there. I think it's very much about playing on a character, in the moment – that's what I do, anyway – and when I'm done I put it aside. I think another thing people struggle with is having the differentiation between themselves and their drag personas. I try and consider it more an extension of who I am rather than a totally different being… I think people sometimes forget that there is a blurred boundary between drag and themselves.
'What I'm trying to do with the society is show that actually, it's okay – you don't have to necessarily do drag but it's okay to realise that there are moments in life where we just want to take ourselves outside of our comfort zone and do something different. That's something that's relatable to everyone.'
---
UoB Drag are always welcoming new members. To get in touch email drag@guild.bham.ac.uk or find their group 'UoB Drag Society' on Facebook.