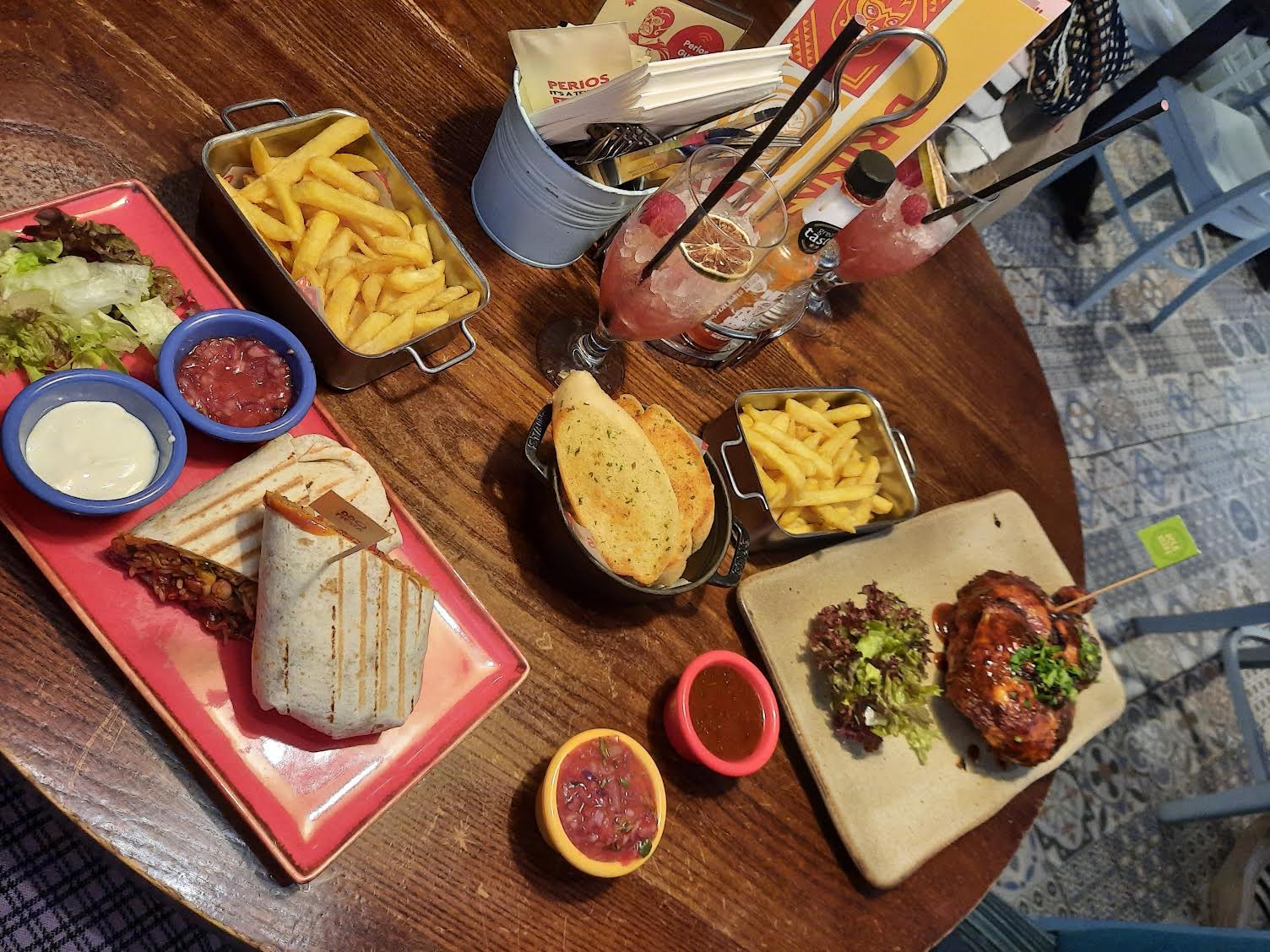 Food & Drink Editor Cara-Louise Scott reviews Perios, a hidden gem which deserves much more attention
Perios is a Tex-Mex restaurant located in the heart of Brindley Place, an area known for its bustling restaurant scene. Sitting directly on the canal-front, Perios is a hidden gem which does not receive as much attention as other cocktail bars and restaurants, but it certainly deserves to be seen.
Its basic but effective pale colours of the outside of the restaurant contrast heavily from the bold and quirky aesthetics of its inside. 'Perios' seems to be a character of the restaurant with a masked face, dotting itself across various parts of the restaurant, and the walls are decorated with spray-painted people. The wooden chairs and sofa seated tables create a relaxed atmosphere and the music in the background is a nice addition to the setting too. 
As I went on a Sunday at 4pm, I was only one of four groups in the entire restaurant which meant our drinks and food arrived in good time, but the staff did not rush us either and were all friendly. Luckily between Sunday and Thursday, Perios offer a two-for-one deal on certain cocktails, meaning that two cocktails only costs £8.95. My partner and I opted for the 'Spanish Frontier' on their 'Cocktails De La Casa' menu, which contained Bourbon, Chambord, Zinfandel, Apple Juice, Lemon and Raspberry. As expected, this cocktail was perfectly fruity with a strong taste of Bourbon alongside the Raspberry. The cocktail was in a reasonably large cocktail glass so this lasted us a while.
There was plenty of delicious Mexican food on offer, from fajitas, burritos, nachos, burgers and chicken dishes. Because of the reasonable price and variety of food, this is a place that is well suited for either a lunch or dinner sitting. After my mouth had finished watering with all the incredible sounding dishes, I decided to opt for the 'Veggie Chili Burrito' with a side of fries and garlic bread to share. We had to wait thirty minutes for my partner's chicken to cook, but we felt like this was a good time to wait and it made us even more excited to try our food. 
The burrito was cut in half although it felt like two huge burritos as they were extremely filling. The tortilla was filled to the brim with rice, veggies, black beans and mixed together with BBQ Sauce which was my flavour of choice. The flavours flared boldly in my mouth, with a mixture of spiciness from some of the veggies, and everything else gave me a wave of different flavours too. The dish also came with a side salad and sour cream and salsa dips. With the mountain of crispy yet soft fries, and the warm garlic bread, we were left feeling more than satisfied with our main course.  
As we love our puddings, we decided to order the 'Chocolate Fudge Cake' which was an extremely generous portion of chocolate sponge with a chocolate syrup delicately drizzled on top. Even though the sizing was generous, it was not overpowering and it was certainly the perfect way to finish off taste-testing a newly found Mexican food gem in Birmingham. 
---
Interested in more foodie content? Check out these articles below: