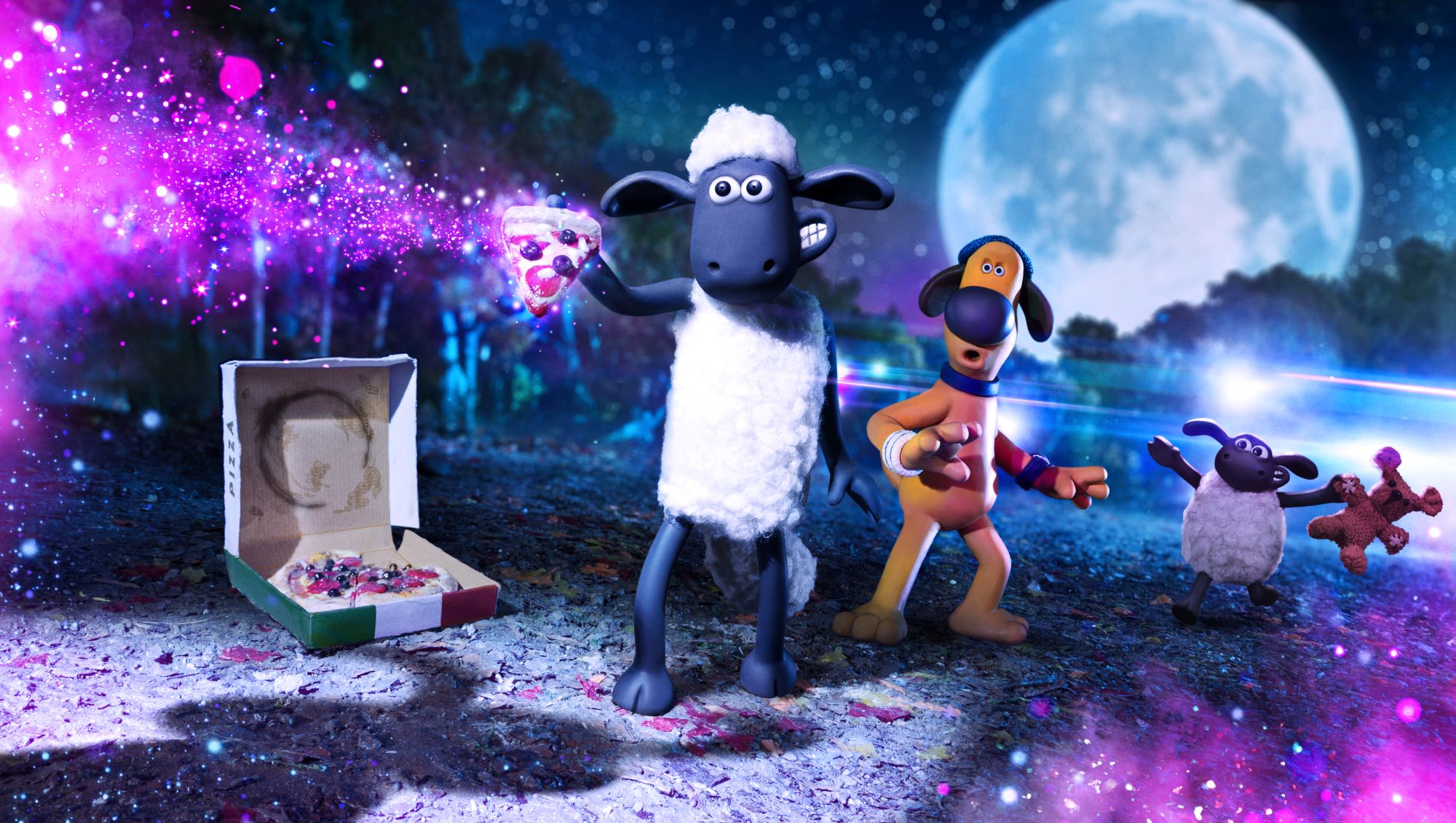 Film Editor Samuel Zucca has an absolute ball with Farmageddon, Aardman's latest Shaun the Sheep outing
Shaun the Sheep can be a tough sell. As popular and as culturally significant as the Wallace and Gromit films have become, love for its more child-friendly spinoff has been less passionate. This may in part be due to its marketing, and placement on CBBC rather than BBC One, which each Wallace and Gromit film regularly finds itself on, usually as part of a Christmas ritual. There's also the fact that it's quite a formulaic series, even carrying on into the films, where it's mostly focused on Shaun and the gang of sheep trying to sneak pizza, play football, or create hijinks. Obviously as a TV series the stakes are much lower, and condensed from 30 minute shorts to 10 minute episodes, but even the 2015 Shaun the Sheep film felt a little tame compared to its parent series, which was always willing to experiment and take inspiration from heist films, noir, westerns, and monster movies.
Think of how dark The Wrong Trousers is for a U-rated film, both through its tone and cinematography. Its atmosphere is so effective that a penguin with a rubber-glove on its head has haunted generations of children. By contrast, Shaun The Sheep: The Movie, was creative and fun in many ways, but it did seem to fall into the traps of many television to cinema adaptations – with the trope of transporting the main characters from farm to city. The two franchises are probably the best examples of the difference between 'child-friendly' and 'universal'. Other Aardman films have walked this line quite carefully, with Chicken Run and The Pirates! In an Adventure with Scientists being great examples of fun kid-friendly films, with more darker undertones worthy of a Grimm fairytale.
A Shaun the Sheep Movie: Farmageddon manages to finally nail a kid-friendly cinematic experience that is mature, if not dark, and universal while still retaining a tone of wholesome farmyard fun. Aardman's solution to getting grown-ups engaged with the film isn't through the 'adult jokes' crutch that some animated films rely on. Rather, its delight comes from detail. Like many other Aardman films, particularly Wallace and Gromit, Farmageddon is very cine-literate. Aside from the titular reference to the Bruce Willis and Michael Bay film, there are some great referential nuggets here; some miniscule, others entire set-pieces. There's a dazzling sequence early on paying tribute to 2001: A Space Odyssey, culminating in a burnt piece of toast popping – a slow motion monolith. There are also passing references to silent cinema, which is pretty much baked into the DNA of Shaun the Sheep, with its reverence for slapstick comedy, and some visual nods towards Modern Times and King Kong. Aside from that there are too many references to mention, some explicit, while others can be missed in a blink.
One of the more interesting differences between this and Wallace and Gromit is the absence of dialogue. It was never really a significant part of those films, with Gromit remaining completely mute, but Farmageddon's silencing of its human characters is an interesting one for a few reasons. A core effect of this is that it makes the film ever-more universal, attempting to communicate a story without the bounds of verbal language, almost using cinema itself as a tool for communication. Then there's bestowing the animal and human characters with the same importance. A particularly great scene early on sees a farmer giving testimony on a UFO sighting, and his dog chips in with the exact same charming gibberish. The rest of the film is filled with all sorts of creatures and characters simply existing as the story unfolds; chickens, pigs, frogs, hedgehogs, and snails both terrestrial and beyond. Its fitting then that the story is very much concerned with an embrace of the other, particularly Shaun's friendship with the alien Lu La. Her design is bubbly, cheery and, cute – looking more like a cartoon puppy than an alien. She makes E.T. look like the xenomorph.
The lack of dialogue also works fundamentally in driving the plot. Inter-species friendships are a staple of children's animation, a trope that is surprisingly easy to locate in everything from The Jungle Book to My Neighbour Totoro, to Monsters, Inc., to How to Train Your Dragon. Farmageddon cements its uniqueness, then, by relying heavily on visual storytelling to convey the friendship between Shaun and Lu La, and more importantly, avoids wading through exposition as a result. As an example of how Aardman rise to the challenge of not including dialogue, there is a stunning sequence early in the film, where Lu La creates a map of the solar system. Via telekinesis, she brings all these random objects and spheroids from across the farm, and holds them in the air, revolving around each other. It's as powerful as watching Yoda rising the X-wing out of the swamp in The Empire Strikes Back, and from this brief scene you know everything you need to know. Who this character is, what she wants, what she can do, and for the next hour, Lu La getting home to her parents is the most important thing in the world.
Verdict:
Farmageddon is an absolute delight. A colourful, vibrant, and effortlessly lovable film, it doesn't miss a single bleat, and is undoubtedly one of the best animated films of the year, and Aardman's best since Curse of the Were-Rabbit.
8/10
A Shaun the Sheep Movie: Farmageddon is in cinemas now.
Images courtesy of StudioCanal UK. All rights reserved.