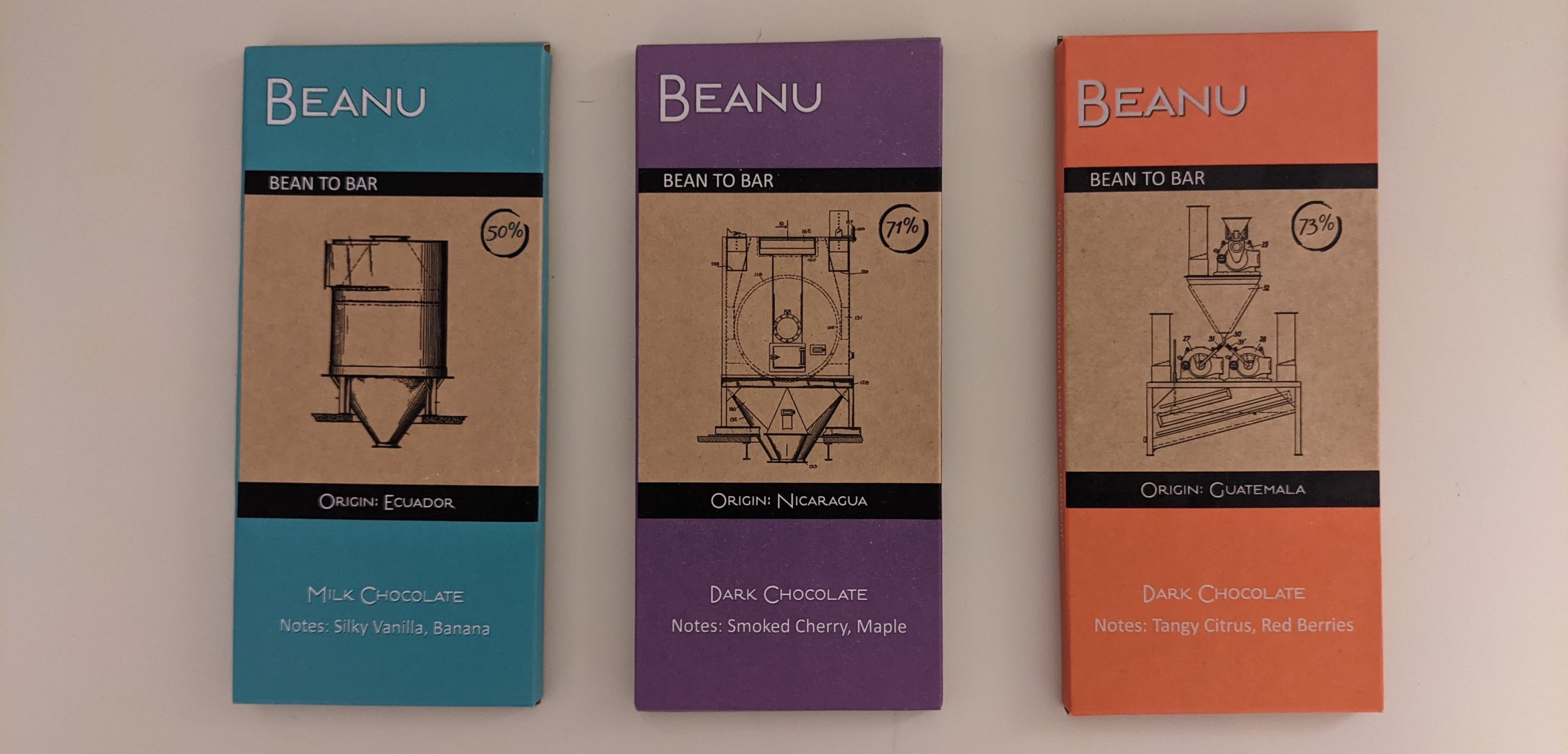 Food&Drink Editor Max Kelly tries out Birmingham-based Beanu's bars of ethically sourced and oh-so-delectable chocolate
Chocolate producers really have their work cut out these days. Customers are forever demanding more from their bars, with the focus on ethical sourcing matching the desire for amazing taste. Thankfully, Birmingham-based Beanu rises to the challenge in both of these aspects. 
The company founder, Jacob Lloyd, discovered the wonders of bean-to-bar techniques during a trip to South Korea. Bean-to-bar is widely used in that area of Asia, with an emphasis on retaining the natural flavours of the cacao bean. Jacob has taken those ideas back to sleepy Sutton Coldfield, and now produces his own range of bars with a unique emphasis on the underlying flavour notes of the beans themselves. 
Beanu currently makes three different flavours, ranging from 50% to 73% cocoa solids. But what comes through most of all is the natural notes of the beans. Far too often in chocolate, exotic flavours are touted on the packaging but go missing as soon as you sink your teeth in. With Beanu, though, this couldn't be further from the case. The '50% Ecuador Milk' brings truly unexpected flavours to your palate, with vanilla and butterscotch hints combining with silky cacao. A bar of '73% Guatamala Dark' pivots to a new direction, bringing enough citrus and berry undertones to take you to the heart of the Amazon. 
Ethical practice is a huge part of Beanu's culture. They source beans only from co-operatives, which pay their farmers a fair share of the profits. One such partner cooperative supports over 140,000 people and has been collectively helping families since 1976. This is such a refreshing approach, with reports of large-scale forced labour in chocolate production becoming far too common. 
It seems fitting that the company shares a home city with the most popular chocolate brand in the UK. Whilst it cannot boast sales similar to the beloved Cadbury Dairy Milk, Beanu has gained a loyal following. Notably, the company can name Revolución de Cuba along with drinks manufacturers Diageo and Ron Zacapa as partners. This shows the strength of the brand's unique message and a great sign that there is a bright future ahead. 
The economic downturn due to the pandemic gives us just another reason to shop locally and ethically. In the same breath, a company like Beanu gives us just another reason to turn away from the large chocolate manufacturers and take a chance on the little guy. If you're searching for bright flavours, sustainable practices and local charm, then you can look no further than Beanu. 
You can find out more here and follow Beanu on Instagram.
---
Looking for more to satisfy your sweet tooth? Check out more from Food&Drink:
Pancake Day: Five Flipping Good Topping Ideas
Recipe: Tasty Vegetarian Trifle