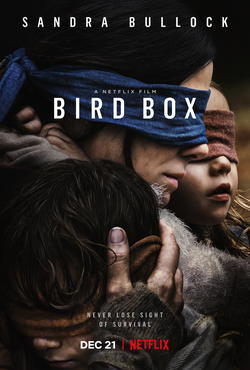 Deputy Editor Kat Smith is in love with the gritty Bird Box, yet finds several comparisons with a similar film, A Quiet Place
The restriction of the senses has been a horror-movie trope done well in the last couple of years. From the inability to hear in Hush, to the dangers of noise in A Quiet Place, the loss of something we all take for granted seems to resonate with audiences. Netflix's Bird Box is a successful yet terrifying exploration of life without sight.
Boasting an impressive cast alongside Sandra Bullock's lead performance, including John Malkovich, Jacki Weaver, Sarah Paulson, Tom Hollander and Trevante Rhodes, the famous faces in Bird Boxare not its only appeal. In spite of the wave of memes on Twitter, it's a triumph in its depiction of survival and fear that'll have you hooked from beginning to end.
Based on a 2014 novel by Josh Malerman of the same name, when unknown creatures plague the earth, sight becomes fatal. Seeing the creatures makes people see their greatest fear or sadness, subsequently leading them to kill themselves. This is usually in the most gruesome way possible (getting into a burning car, smashing heads against table corners… you get the gist). We never really know what the creatures look like, bar a few drawings and what can be inferred through character reaction, making the mysterious antagonists even more haunting.Bird Boxfollows heavily-pregnant artist Malorie as the creatures reach the US and force her into survival mode.
The film's most distinctive plot device is its telling of two timelines, both involving Bullock. Beginning with Malorie (Bullock) telling Girl (Vivien Lyra Blair) and Boy (Julian Edwards) that if they look they will die, before putting on their blindfolds. We are then swept along with the trio on a treacherous journey along a river. We are then taken through the preceding events through the more dominant storyline, which begins with Malorie's pregnancy and sees her find refuge in a house. This means that, to a certain extent, we know how the earlier timeline is going to play out. After all, Malorie is there with two children, on her own, trying to get somewhere. It can't have been all sunshine and rainbows in the house full of survivors.
Themes of an apocalypse, a pregnant leading role, the inability to use a pivotal sense and the role of the husband (I won't say anything more) have led to close comparisons between Bird Box and A Quiet Place. While A Quiet Place is significantly more emotive in its exploration of family, Bird Box is definitely a horror film. Our female protagonists differ greatly: Blunt's mother is defiant of her circumstances through her pregnancy and family comes first. While Bullock's Malorie may be protective on her river-journey, she is pragmatic in the children's upbringing, describing her pregnancy as a 'condition', subsequently calling her children simply 'Girl' and 'Boy' and managing their expectations of life beyond the plague of creatures.
While Bird Box is an enthralling watch, there were a few elements that wreaked frustration. Malorie may be pragmatic but the lack of emotion when her close friends/family die is a bit odd. I suspect this is a symptom of the writing and not Bullock's performance, but that might just be me being biased towards such a fantastic actress. Malkovich's character also has an underwhelming reaction to his wife dying – he just seems irritated which isn't exactly the expected response to your spouse walking into a burning car. This emotion was a presence in A Quiet Place that made viewers fall in love with the characters and more emotional whenever something or someone was lost.
The horror definitely takes centre stage in Bird Box, which would not be a bad thing if such simple things were not so easy to weave in. It seemed that emotion and meaning were struggling through but not quite seeing the light of day.
But overall, Bird Boxis worth the 2-hour watch. It may fall short of tugging your heartstrings but it's exciting, scary and entertaining all at once. It may not win the prize for 'Best Horror Movie of All Time', but for those who can't deal with horrific jump-scares and masked murderers, it's perfect.
VERDICT:
Bird Box will pull you in and take you on a turbulent journey over its 2-hour run-time. While it's not a cinematic masterpiece, it is exciting, clever and when a film inspires so many memes, it's easy to have a soft spot for it.
6/10