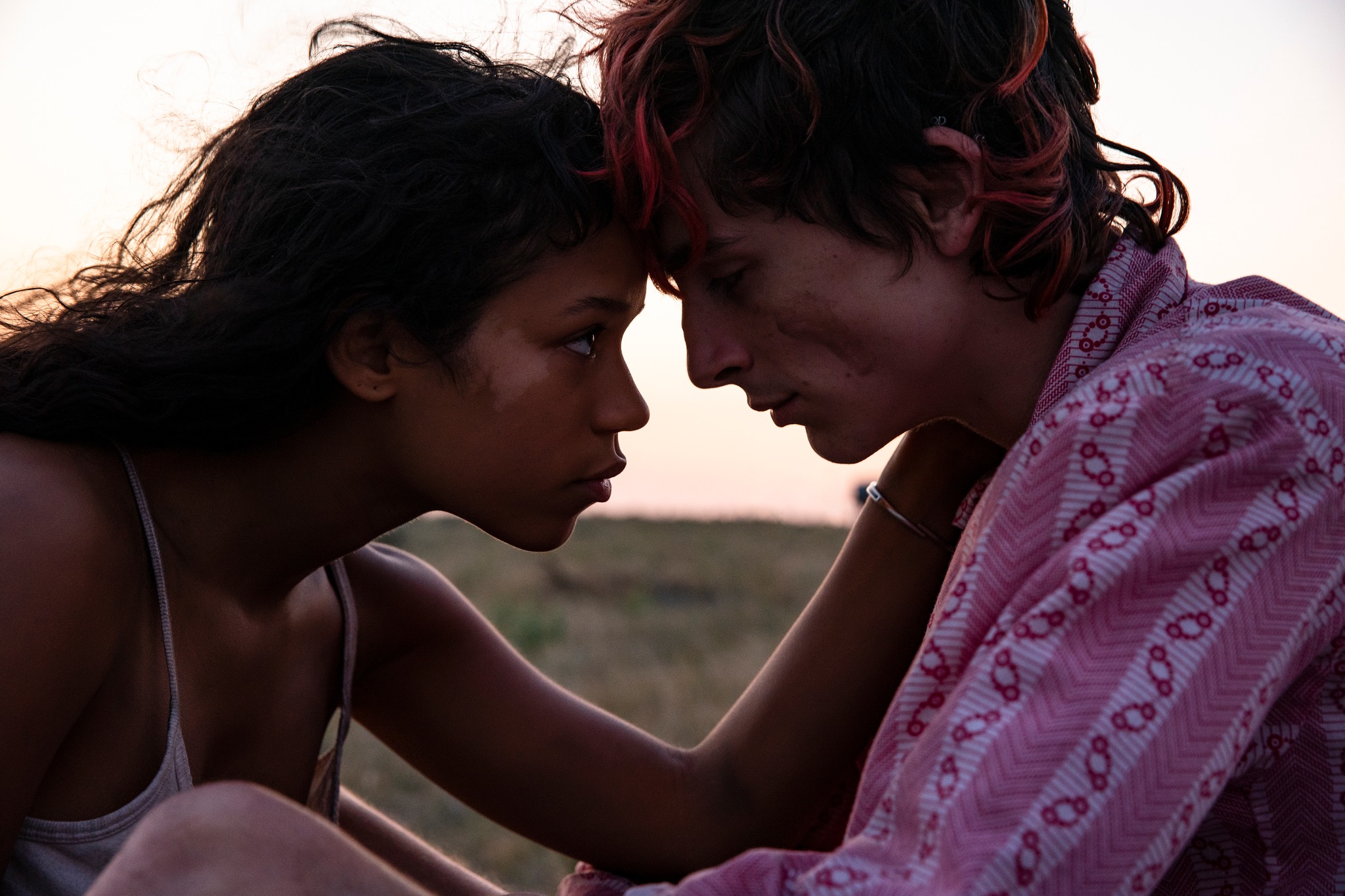 Film Critic Pippa Kline reviews Bones and All, praising its genre-bending nature as it blends body horror with coming-of-age
Content Warning: This article mentions Cannibalism.
Luca Guadagnino's Bones and All (2022) opens with a series of paintings of rural American landscapes filled with telephone towers and lines. Guadagnino communicates two messages through this opening scene: a corruption within natural beauty, and being an outsider in life – as if observing a painting. My only expectations of Guadagnino's films relied on Call Me By Your Name (2017), and while he maintains the same beautifully shot style as his iconic romance, Bones and All is deeply unsettling in its detailed portrayal of cannibalism. It is horrifically comedic that Timothée Chalamet stars as both pining, naive Elio in Call Me By Your Name and cannibalistic runaway Lee in Bones and All.
The film begins with teenager Maren (Taylor Russell) starting a new school and disconcertingly being locked in her room at night by her father. We soon learn it is not her father who poses a threat; rather he locks Maren away to keep others safe from her. After relocating their lives following one of her cannibalistic episodes, he disappears, leaving a tape explaining how he can no longer defend her. Maren struggles to listen to the story of her childhood, repulsed, yet still indulging in her cannibalism. Both of her parents are now absent, and in a parallel to the tape from her father, she receives a letter from her mother who she is searching for. Unable to receive direct communication from either of them, these forms of writing and recording allow an honesty surrounding topics too uncomfortable to be acknowledged face-to-face and aloud.
Cannibalism is what ties lovers Maren and Lee together. Embarking on a Bonnie and Clyde-esque road trip, their cannibalism is interspersed with beautiful young summer romance scenes of lake swimming and sleeping under the stars. You can almost appreciate the film as an aesthetic romantic drama alone. Guadagnino depicts his protagonists as complex characters that we feel some sympathy for: alone and searching for connection, seeking to understand themselves and the world. He perhaps uses cannibalism as a metaphor for isolation, and disillusionment with American society.
Both Russell and Chalamet's performances are sincere, emotional and vulnerable. Bones and All is not only a gruesome body horror, but a poignant coming-of-age story, with cannibalism somehow less of a factor in our judgement of the protagonists than we might expect. However, Guadagnino never allows the audience to become completely comfortable with his protagonists. A scene of Maren and Lee kissing on top of a ferris-wheel with Joy Division's iconic 'Atmosphere' playing is interrupted by her telling him 'I'm hungry' and we are swiftly reminded of the behaviour that separates them so severely from normal society.
Many of the 'eating' scenes are darkened, in abandoned homes or fields at night, meaning the senses of the viewer become heightened along with those of the cannibalistic protagonists, who can smell other 'eaters'. The sounds of chewing flesh and flies buzzing around blood-stained bodies establish a repulsion whenever food is involved in a scene; raw chicken is cut and seasoned and draws too close a parallel to the human flesh consumed. Regular food is, perhaps somewhat surprisingly, a huge part of the film. Maren and Lee seem to always be eating, unable to satisfy insatiable appetites.
Guadagnino further creates distance in his framing. Characters are shot through windows or their reflections caught in mirrors, adding an element of the uncanny and an othering effect. Maren watches girls from outside a porch glass door before joining them; Lee climbs through an abandoned building's window. Guadagnino uses these visual barriers to reflect both protagonists' positions as outsiders in society. They exist in a liminal space of brutally devouring people but also sometimes feeling remorse, less sadistic and disturbing than other 'eaters' they meet along their journey. Maren questions another cannibal: 'why do you say your name as if you're two different people?', communicating this idea of separating oneself from one's actions. The culmination of this difficulty in recognising oneself occurs when Lee confronts Maren for wanting to leave him, telling her she is uncomfortable because she sees herself for the first time through him.
Verdict:
Bones and All involves a beautiful, stylised depiction of American youth, landscape and journey, violently contrasted with sickening, brutally comprehensive scenes of cannibalism. Guadagnino successfully displays some of the most pleasurable and repulsive scenes alongside each other, creating a radical genre-blend. As an 'eater' describes in the film, there is indeed 'before bones and all, and there's after'.
Rating: 9/10
Bones and All is out now in cinemas
---
Looking for more recent releases? Check out these articles from Redbrick Film:
Review: Black Panther: Wakanda Forever