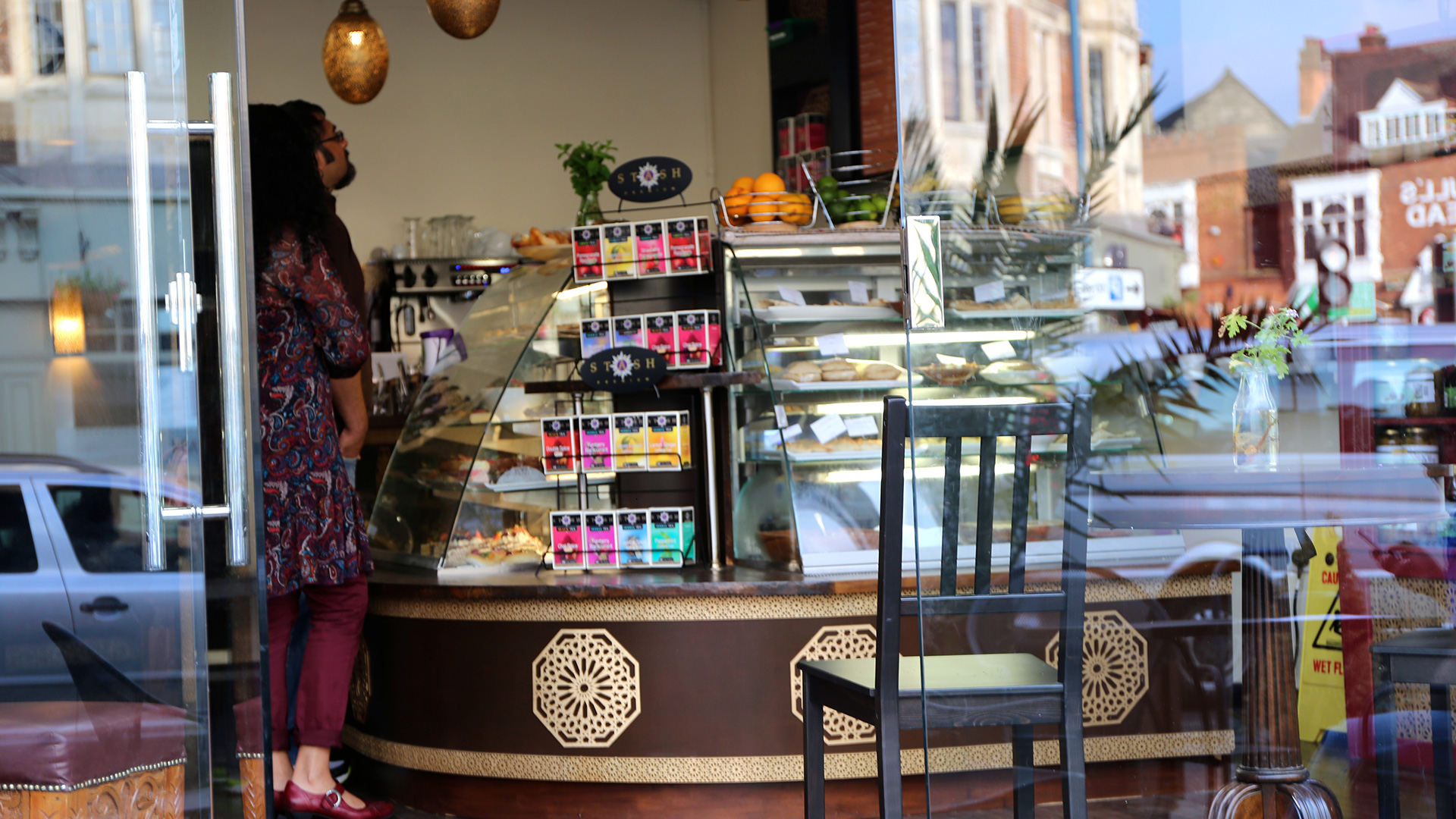 Travel Editor Katie Norris writes an ode to a veggie paradise in her review of Damascena for Food&Drink
Intricate wooden panelling, comfy sofa-seats amongst muted earth tones, and an assortment of baklava in glass cabinets are what greet you in Damascena in Moseley. This is one of three of the Syrian coffee-houses in Birmingham and reflects the coffee-shop aesthetic in its timeless décor, fitting of an eatery that won 'Best Independent Coffee Shop' at the MFDH Awards 2019.
Damascena proudly defines its cuisine as Syrian rather than simply Middle Eastern, filling a space for Middle Eastern food in Birmingham whilst giving their Syrian roots the credit they deserve. This pride has carried over and they believe that the portrayal of other establishments in Birmingham as Syrian is 'something we began to encourage.' In addition to their genuine ethos to educate people on the delights that Syrian food can offer, you'll be glad to learn that this pride is evident in their delicious food too!
In my most recent visit, walking into Damascena lent a homely, familiar feel, only complemented by the warmth of the staff, who were friendly and attentive throughout. To begin, my girlfriend and I ordered their infamous mint tea and were served glasses packed with fresh mint leaves. These had been carefully not overboiled so to avoid the bitterness that sometimes accompanies the traditional Moroccan tea, the inspiration behind this drink. This came with a sugar stick to add extra sweetness and could be refilled at no extra cost.
When it came to ordering food, we were overwhelmed by the number of options, both of us being vegetarians and used to having to pick an underwhelming pasta dish or some sort of vegan bake at most restaurants. One of the benefits of Syrian food is that the veggie and vegan options are not only plentiful but also indulgent. As we were there for lunch, we ordered a 'Fried Halloumi Platter' and an 'Appetiser Mezze' in order to try a bit of everything. Alongside these, Damascena offer a whole breakfast menu, warming fuuls, flatbread wraps, amongst many other tasty dishes. Both of these came at once, and surprisingly for the affordable price the food wasn't scrimped on, truly reflecting Damascena's non-pretentious independent status; we had ourselves a feast.
In the 'Fried Halloumi Platter,' the fried halloumi in the name was truly the star of the platter, with the salty squeaky cheese coated in a light batter which successfully avoided the greasiness that accompanies most battered cheeses. This instead produced the perfect crispiness, pairing nicely with the batata hara potatoes which were divine. These perfectly spiced potatoes were flavourful and moreish and the fact that following the meal I desperately Googled recipes to mimic them at home is a testament to their delectable taste! To balance out these heavier items on the platter, the 'Fried Halloumi Platter' also comes with a rocket salad; the peppery presence of the rocket providing a palate cleanser from the spices on the potatoes, especially through the freshness that the pomegranate, tomatoes and red onion contribute. 
As if this platter wasn't enough to leave us both stunned and stuffed, the 'Appetiser Mezze' was yet to be tackled, not only being a hummus lover's paradise but also completely vegan! Hummus is a winner in any mezze platter, with The Telegraph even naming Britain 'Hummus Capital of Europe,' and Damascena sure knows how to do it right. Each pot of hummus was uniquely different, with the avocado hummus marking a definite change from the regular hummus, unlike the grainy sameness that supermarket hummus offers. These were topped with some fresh oil and came with warmed flatbreads to dip. The standard of these dips was so high that they were only just outshone by the creamy chunky pot of baba ghanuuj – and it can be said that this spread was as delicious to the eye as it was on Instagram. These were surprisingly filling (also coming with the delish batata hara potatoes to our delight), and the vine leaves worked similarly to the salad on the halloumi platter, acting as a variance to the creamy dips.
Well and truly stuffed at an average of a tenner each, we were not only digesting the food but also the fact that this would become a staple in our lives due to its affordability and the combination of delicious food and cosy surroundings. The authenticity that Damascena offers cannot be surpassed and is evident in their desire to serve food with proud authentic roots and service that complements this.