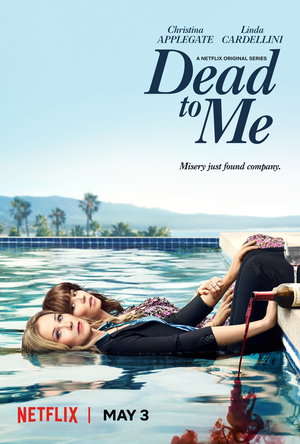 Deputy Editor Kat Smith checks out Netflix's latest 'Traumedy' and applauds its portrayal of female friendship
As the perfect fusion of trauma and comedy, Netflix's Dead to Me has rightfully become a hit on the streaming platform.
The so-called 'traumedy' starts with the almost immediate aftermath of a death. Newly-widowed Jen Harding is set on finding the culprit of her husband's hit-and-run death whilst also trying to come to terms with her loss. After joining a local support group called 'Friends in Heaven', Jen befriends the eccentric Judy who is not entirely who she seems. Their friendship and the pursuit of Ted Harding's killer are the sole focuses of this unique series, with motherhood, relationships and more also getting plenty of airtime.
Driven by stellar performances from Christina Applegate (Anchorman, Bad Moms) and Linda Cardellini (Mad Men, Avengers), the 10-part series explores the grief of loss whilst also managing to be somewhat hilarious. Sounds like an impossible task, but even a brief look at the trailer shows how successful Dead to Me is at rising to the challenge. Applegate and Cardellini are flawless in making you laugh, cry and pretty much everything in between. Their complex, turbulent but ultimately loving friendship is a welcome change in a televisual landscape where women are so often either put at odds with each other or are simply not given enough screentime at all. While other prominent characters, such as James Marsden's Steve and Max Jenkins' Christopher, are male, the power of this show rests firmly with the women.
And the excellence doesn't stop with the acting or the gender roles. With each episode being 30 minutes long, there is so much packed into each instalment; nothing is dragged out for the sake of it, but every moment and every character gets its fair share of screen time. Comedic relief is expertly placed, with Applegate's Jen being the source of most one-liners in spite of her loss. Though your opinion changes by the end, there is no crystal-clear antagonist in the show. Each character is riddled with flaws (except for the delightful pensioner Abe), yet it's hard to dislike anyone.
The story unfurls in a natural yet engaging way, all to the credit of creator Liz Feldman. Occasional flashbacks that grow in detail is not a new story-telling technique, but Feldman uses them in a way that adds to the narrative as opposed to diluting it. We learn that we do not know everything we think we do about Jen and Ted's relationship, about Judy or about Jen herself. It's a breath of fresh air that the ending of Dead to Me leaves us a cliffhanger which is shocking but not surprising, and none of the twists in the show feel far-fetched or ludicrous. It also makes a second series feel like an organic next-step rather than gratuitously milking the premise for all it is worth.
It is hard to sympathise with the negative reviews garnered by the series, such as the Guardian giving it a mere 2*s and Vulture criticising its use of predictable TV tropes. But, with an 87% rating on Rotten Tomatoes and being cited as 'the Best Netflix Show You're Not Watching Yet' by Esquire, it's clear that Feldman's show is worth a watch. Dead to Me is not only a masterclass in mixing trauma with comedy but also at navigating female friendships, creating complex yet likable characters and taking viewers on a journey that feels real enough to convince. Given the popularity of the first, a second season is hopefully in the pipeline. Unlike some TV shows (Game of Thrones, I'm looking at you), if Dead to Me gives us a few more seasons then I'm certain we're in for a treat.