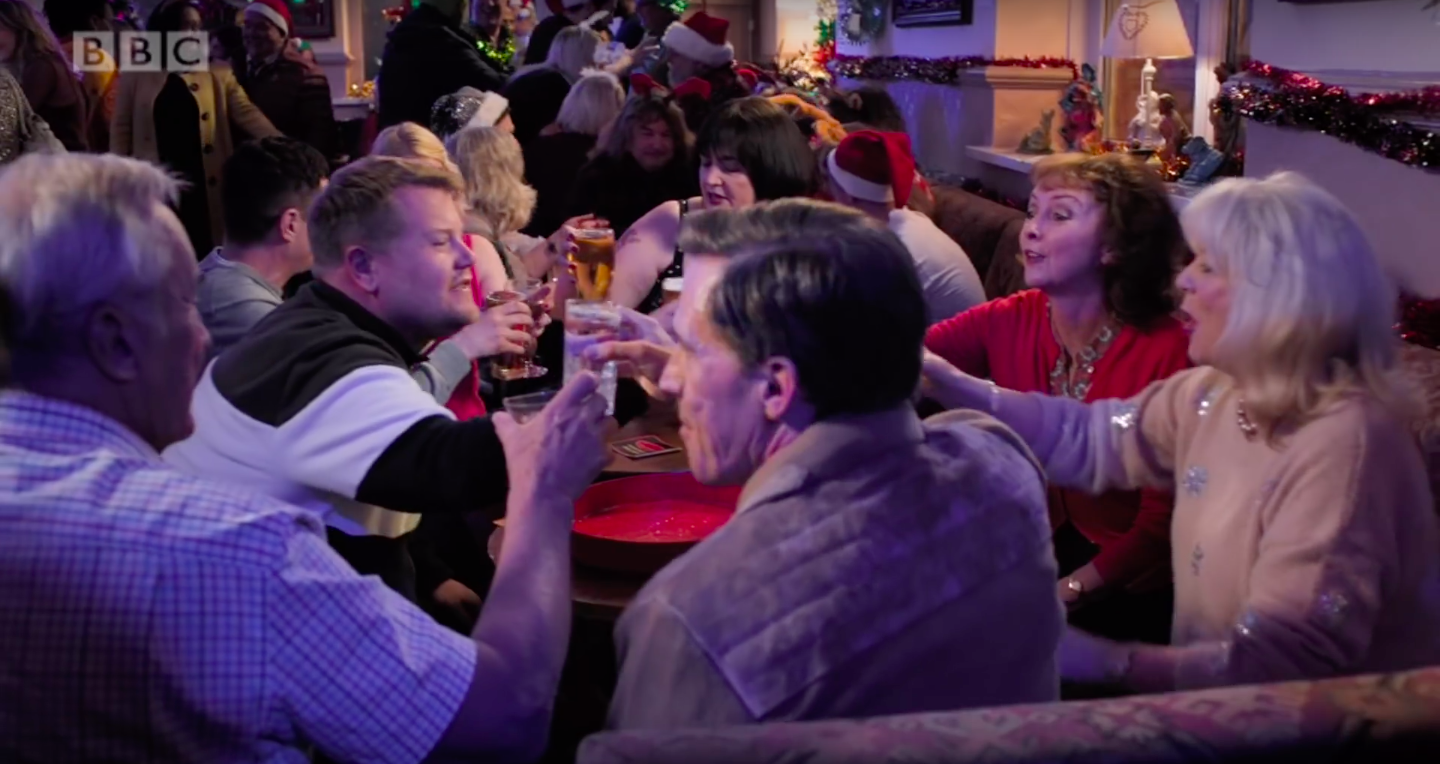 The highly-anticipated Gavin and Stacey Christmas Special was tidy and it was well lush to revisit some of British TV's most beloved characters, reviews Ella Chadwick
When Gavin and Stacey's pilot was written 13 years ago by James Corden and Ruth Jones, who could've known that a sitcom about a boy from Essex marrying a girl from Barry would be such a hit? Furthermore, who could've predicted that the series would be so popular with the generation who were children when the series first aired. Lastly, who could've guessed that almost ten years after the last episode aired, a one-off Christmas special would be watched by a quarter of the British population?
Since the Christmas special was announced in May, expectations have been through the roof. For this episode to work, Corden and Jones needed to achieve three things. Number one, we needed to be updated on what the Shipmans and Wests had been up to for the last ten years. Number two, the plot needed to be cohesive and entertaining. Number three, it needed to keep Gavin and Stacey at the levels of comedic magic that have made it so beloved over the years. 
So, did they succeed?
To put it simply, yes. 
From the opening sequence, it was clear that Gavin and Stacey still held the same magic that always made the show so special. Watching Gavin (Matthew Horne) and Stacey (Joanna Page) chat on the phone as they always have feels like being embraced into a warm and familiar hug. Considering the gap between the finale of the third series in 2010 and the Christmas special, some would expect a big reveal or a plot twist in this episode. However, Corden and Jones go back to basics in this episode, basing the plot on the Shipmans visiting Barry for the festive season. It is this simple realism that has always made Gavin and Stacey work, and it helps the comedic moments land even funnier. 
In an age of endless reboots and remakes, it would be easy for Jones and Corden to fall into the nostalgia trap. Most sitcom writers would fall back into what they know when they write a Christmas Special. They could've written a by the numbers plot, thrown in a couple of memorable catchphrases and call it a day. That being said, there are a few nice and subtle callbacks to the original series, and of course, Nessa does utter 'What's occurring'. However, the majority of comedic moments can be enjoyed by not only just old fans of the series, but new ones as well. This accessibility of the comedy feels like a gateway to new viewers. This concept is also explored through the new character of Sonya (Laura Aikmen), Smithy's new love interest, who struggles to understand the bizarre world of Gavin and Stacey. It is clear that writers Corden and Jones must've anticipated new viewers, who are represented by Sonya. However, like the ensemble cast of Gavin and Stacey, they are unapologetic for the unique sense of humour that has made the show the cultural icon it is.
It feels as if perhaps Jones and Corden are aiming for a fourth series, as the episode serves as a kind of re-introduction to some of these characters. Unfortunately, this comes with some clunky expositional lines explaining the happening in the last ten years. Despite this, it feels as if by the end of the episode we are caught up with all the characters, which is impressive considering the short hour run time. In addition, the subtle comedic moments that define characters are still present, and time is taken to allow each member of the ensemble to shine.
This Christmas Special truly encapsulated the spirit of Gavin and Stacey, as it provided a sense of familiarity with the promise of excitement to come. Judging by the cliff-hanger, this will not be the last time we visit these characters again.
Rating = 4.5/5