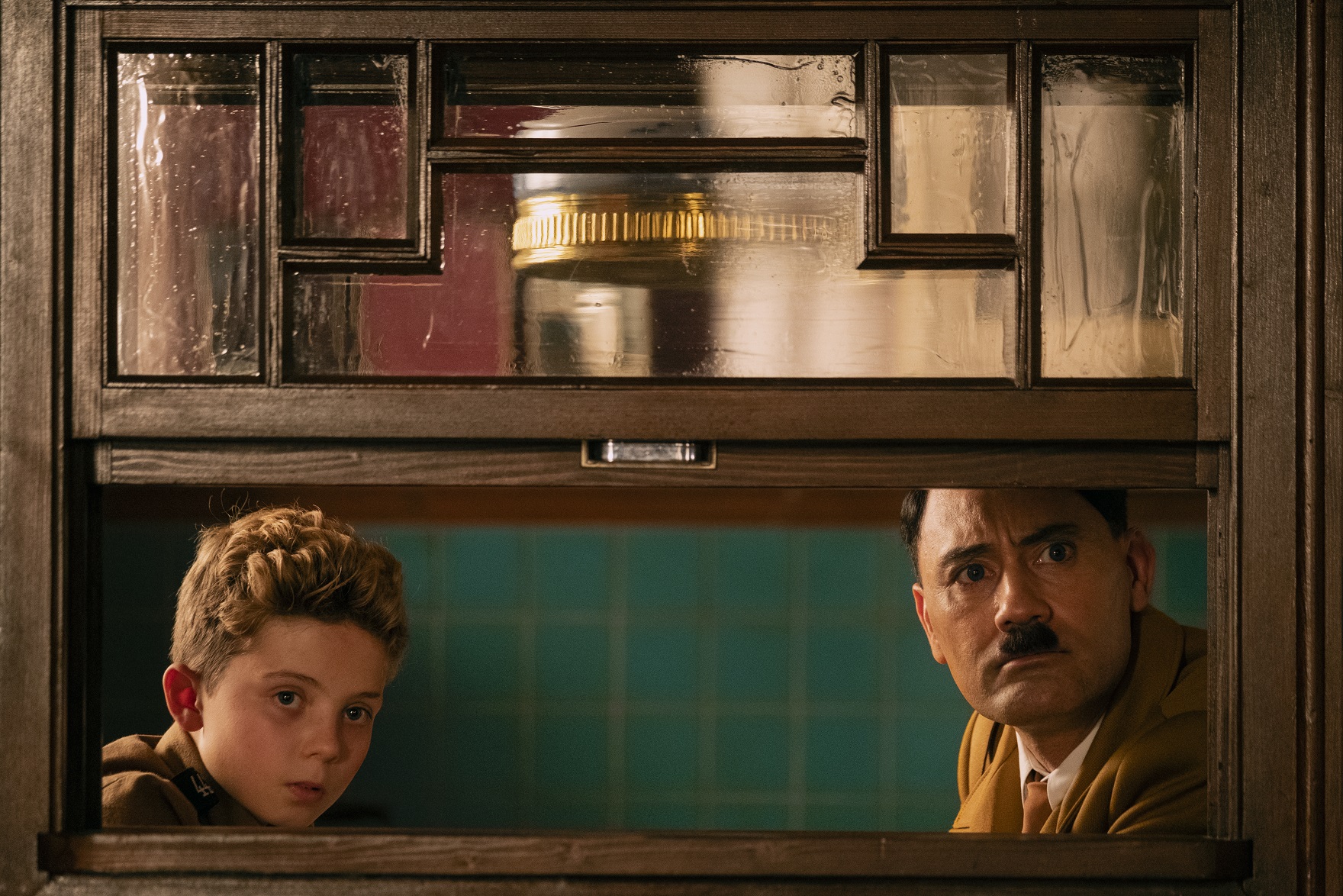 Film Critic Antonio Miguel Aguila is swept away by the heart and humour of Taika Waititi's latest, Jojo Rabbit, hailing the performances of Waititi and newcomer Roman Griffin Davis
Most people will know Taika Waititi from Thor: Ragnarok as the director and the character of Korg. However, the hardcore Waititi fans will know that despite how lovable the film was and how he essentially was a godsend to reviving the dying Thor franchise this was his least meaningful and least 'Waititiesque' film. In Jojo Rabbit you get a real sense of his artistry where serious meaning, laugh out loud comedy, and satirical innocence are all melded together. Adapted from Christine Leunen's novel Caging Skies with references to Moonrise Kingdom splashed with Waititi's unique vision we follow a young German child's blind fanaticism to his imaginary friend Hitler in the context of Nazi Germany. It is none other than the delightful Waititi himself that does white-face as he portrays imagination Hitler in a coming-of-age political satire genuinely like no other. What more do I have to say to convince you to watch this film? It's a film with several Oscar nominations under its belt, and has already won the People's Choice Award at the Toronto Film Festival.
Waititi's style is ridiculously comical and starts the movie with teaching a timid boy how to 'Heil Hitler' properly. My jaw was dropped for most of the first act from his sheer lackadaisical giddiness. One reason to say that this film is one of a kind is simply Taika's personality, but that is not all. It is a well-crafted film that knows when to abide by convention and when to throw it all out the window. Traditional satire mostly falls under the two categories: Juvenalian and Horatian. While in the study of literature there are still discussions held, articles written, and ideas still being developed or formulated, I couldn't help but notice one thing. On both sides sometimes satire gets too wrapped up on its reactionary principles that it may lose meaning. When I sat down to watch Jojo Rabbit I learnt that this does not have to be the case. As the film progresses, Jojo Rabbit slowly loosens its grasp on its satirical premise to settle on a compromise between humour and meaning. Following the protagonist's feelings of self-war alongside conflicting emotions about the actual war, the film's form matches its content. This was not for everyone however. On one hand I loved the fact that Jojo Rabbit flipped on itself and decided to have a clearer purpose of questioning ideology and going against hatred, on the other hand others did not appreciate its change. I shall return to this.
With many hilarious one-liners – 'fuck off Hitler' was one of the best to start off the New Year – the script unleashes an interesting plot with well disguised set-ups and pay-offs. While this is still great, the direction is what stands out more. Slow motion shots capture splendour, awe and terror. The camera filters tension and fear, and the over-saturated colours complement the atmosphere well. The whole film plays off of Waititi. What I especially liked was his childishness, a pure kind lost by many, and in spite of it being blended with serious mature thought it is not exactly distilled. It still stands out but not in a completely mindless way. Amidst war and revolution and anti-Semitism, the film finds a way to embellish its already young, goofy charm with a side-arc of our protagonist having a crush on an older girl. Roman Griffin Davis as Jojo is a terrific find, working with the material in a charming and mature manner. Next to this is of course Waititi's quirky Adolf Hitler, attracting crowds of laughter and fear. One inconsistency to point out is some of the other actors try to emulate a less serious Waititi rather than doing their own styles. Nonetheless, the comedic accents and slapstick were still funny.
What really elevates this film from great to fantastic is the epiphany scene, even if this is dependent on what you think of Waititi's style. I personally love both, yet for some critics they cannot decide whether to scrutinise its conventionality or unconventionality. Even though there is a case to be made with how favourable Waititi's odd style is I'm going to be very blunt and say that some critics are just making excuses as they hate or do not understand satire. Satire always receives a controversial backlash, and I don't know why I'm surprised to see it even with an exception like this. In a review by The Guardian there is an attempted claim that 'Jojo Rabbit fails to attack or even really notice evil, and the moments when people are shown hanged in the streets serve only to point up the gluten-free ahistorical silliness of everything else. There are no insights to be had – and no laughs.' Despite Taika having a unique sense of humour and coming from Jewish heritage, the film's exploration of the indoctrination of the youth hasn't quite convinced some viewers. The only real, glaring problem – one you may have heard of before – is that the film was simply too charming and too funny to take its subject matter seriously enough. For some this takes a bit away from the meaning since it was too easy to focus on the jokes. By the epiphany scene though, the film culminates in a slow-motion war scene that makes its simple message heartfelt. Probably already one of my favourite movie moments of 2020, so watch out for it.
Verdict
I personally adore Waititi's style and the epiphany scene, hence the high score. However, even if you don't want to die for this man you can still have a hell of a time from a very amusing, very worthwhile satire with a lot more substance and art than the director's previous famous work: Thor: Ragnarok. Not his best but my personal favourite. Also make sure you check out his excellent Hunt for the Wilderpeople and What We Do in the Shadows.
9/10
Jojo Rabbit is in cinemas now.
Images courtesy of Twentieth Century Fox Film Corporation. All Rights Reserved.