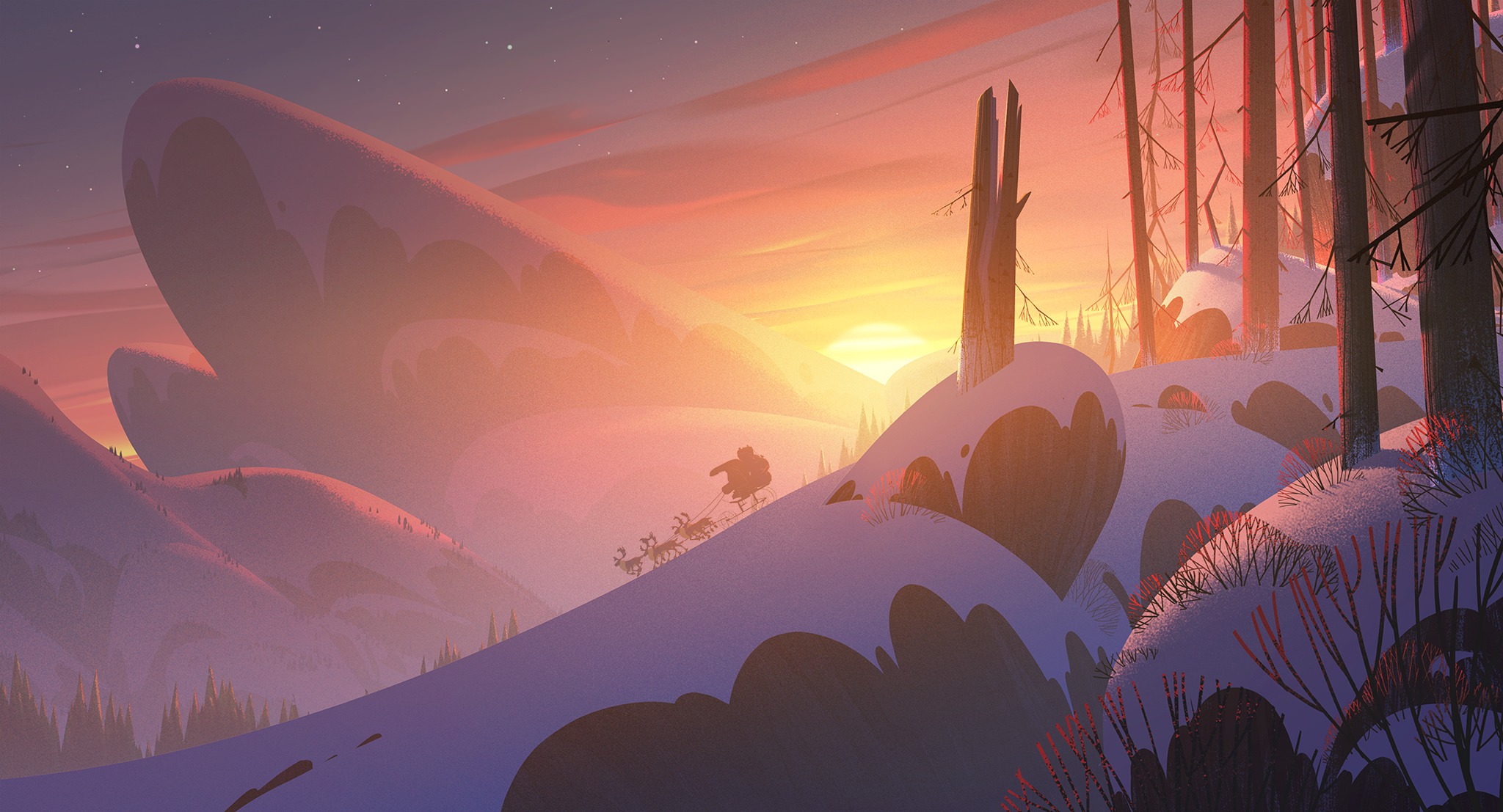 Film Critic Antonio Aguila is mesmerised by the gorgeousness of Netflix animation Klaus, and finds beauty in the simplicity of its plot and characters
For the festive holiday season, Netflix has brought us an animated reimagining of the origin of Christmas as a buddy adventure between a postman and a toy maker, Klaus. And it is surprising! It does what you would expect and joke around the absurdity of Christmas concepts like flying reindeer and painfully climbing through chimneys, although it never gets too hung up on these. There is a lovely balance between the cartoonish and the real in this search for meaning journey.
Initially, I expected Klaus to be a meme film. Instead it is a surprising, impressive and simple film that has no right to be as good as it is. The trailer depicted it to be childishly sensational and thrilling, yet the final product is an example of sophisticated storytelling that reads like a Western take on the Studio Ghibli tone. Somehow Netflix were able to conjure a light-heartedly mesmerising story for how Christmas came about. Equipped with a slice of life vibe wrapped in a winter themed blanket and washed over with a sense of fulfilment, Klaus is sure to surprise you as an unordinary piece of Christmas art.
To begin with, its unconventional animation style is astounding. Some people have a problem with its unconventionality, however I loved the way it looks like European storybook. Its watercolour palette is bathed in sheets of sunshine, white or black, its lining intricate and smooth. Its 2D animation conjures special depth and realness with the use of volumetric lighting and texturing. Characters really move with life, just like a Harry Potter newspaper clipping. A major success of the movie is how its aesthetic can easily oscillate between cartoonish and realistic. Settings are both wonderous and grounded, facial expressions are both realistically profound and artificially spirited. Even the voice acting paired with this is both real and quixotic. All elements complement one another this way. Despite its unique visuals, it sacrifices them for a surprising proportion of the film to be compiled with darkened or blurred scenes with intended effect. And you know what? Its sacrifice was worth it! The choice to go for desired effects instead of overwhelming us with pillow shots was the way to go. In addition, the contrast between the detailed and the misty lets you appreciate the different aspects of Winter from warm log cabins to frosty snow. With there being no noticeable errors with integrated 3D animation and no loss of detail with the first white woods scene, overall, we would do well to hope that more films are animated like this.
Moreover, its cinematography is expert. With a highly calculated storyboard, Klaus is able to pull off great montages, escalating and de-escalating scenes and consistently portray meaning not just through narrative. Though most shots are simple there are impressive uses of techniques such as hyper-zooms, angled shots, pans, dissolves and dolly zooms. Some of the best parts about the the film are how space and sound add to the texture of the screen. Sound effects for the natural environment help add a layer that without would make the magical realist components seem out of place. The combined sound of rustling leaves, breezing wind and blowing especially stood out; if you shut your eyes, you could feel as though you were in the story. This particular aspect definitely felt Ghibli-esque because though the sounds were just of nature, yet they held a magical quality that made listening to them so appealing. Next, the frames of the shots are always eye-catching whether they are single-layered or multi-layered. There is always something to watch. From vast open landscape shots to claustrophobic protrusions in the foreground the way the film plays with the audience's sense of physical space is interesting. Montages vary from fast-paced and frequently cut to even ones shot from a single position. The sheer variance of different types of shots used for different types of function and frequent switching between them gives the film an inventive feel.
Unlike most animations Klaus does not rely on heart to keep you watching. It casually tugs you along with a feeling along the lines of hope, curiosity and satisfaction. To be honest, I can't quite put my finger on it. It has an interesting premise that is better left unspoiled. Its plot may be rather cliché and its ending visible, yet that does not deter the audience away from its enjoyment. It has a quite slow beginning which is integral from a good film jumping to a great film. It is not an outright comedy, but does find pockets of funniness without jokes being forced. There is a beauty to its simplicity. The characters the movie wields are surprising. In the trailer they appear one dimensional, however, we discover that while for the most part they are still simple, they hold a compelling aura. Their arcs are so satisfying to watch and, though they are a little generic, the movie manipulates us into not seeing them that way. Again, it surprises us.
In some parts of the story there is even a shift in focus from these characters. A change in perspective occurs to see how families' lives are changing as a result of Christmas. This lets us stray away but not too far from the story as to embrace many more concepts of Christmas a traditional animation would have let us. On the other hand, some of Klaus' touching storyline comes from a dark place, making it not as appropriate to children as the trailer makes it out to be, but it is nonetheless still somewhat watchable for all ages. Also the background instrumental music is simple and does the job, while the lyrical music is very well selected. In one 'stand up to the bully scene' gangster music is hilariously played along with an animated swagger that got me to laugh out loud – an impressive feat.
Verdict:
Klaus boasts surprisingly sophisticated storytelling and combines this with an undoubtedly lush and always-exceptional aesthetic that is neither over the top or lacklustre, but just right. Perfect as an atypical seasonal film.
8/10
Klaus is now streaming on Netflix.