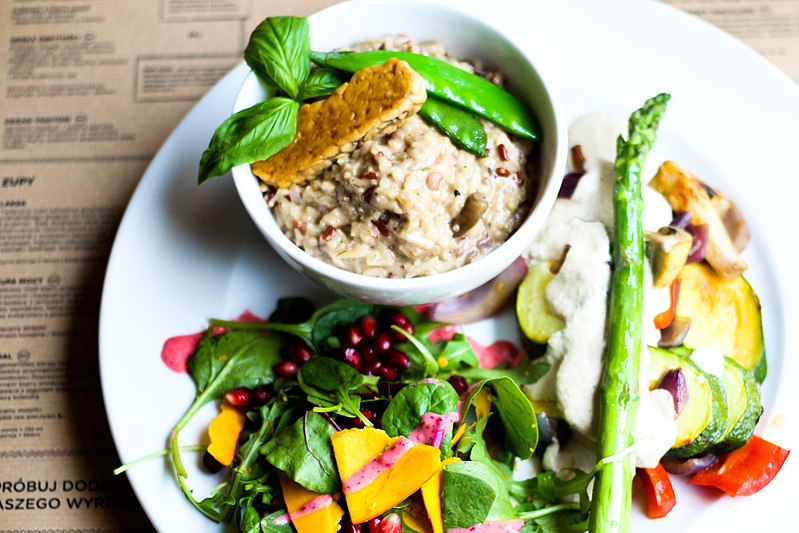 Food&Drink's Charlotte Prentice-Garner reviews Meal-Plan's take on Veganuary
As I get to grips with my first year at university and the new freedom that comes with it, I have been taking the opportunity to think more about what I eat. Currently, I am a converted vegetarian of just four months, but I have also been exploring the prospects of a vegan diet. Whilst I am on the University's Meal Plan, vegetarianism, let alone veganism, can be difficult as there are usually double the amount of meat options available.
However, 2019 has challenged the Meal Plan with the increasingly popular new year resolution, 'Veganuary'– a one-month pledge to eat vegan. This seasonal project has massively improved both the vegetarian and vegan menu alike.
Since returning from the Christmas holidays, Meal Plan has been encouraging students to try vegan dinners. To stimulate this, the variety of veggie and vegan choices has made a dramatic improvement, from the availability of veggie sushi at the Melt, to Infusion offering many different meat substitutes.
The best news for vegans this year has been the introduction of a vegan menu at Brooks Bar on the far end of Campus. From what I have tried so far, this menu is unexpectedly fancy; my favourite dish is the hummus and falafel board, which features three flavours of delicious hummus with a delicate salad- I thoroughly recommend this. The avocado toast also arrives at your table presented to a degree much more chic than your attempt at home! That too comes with yummy beetroot hummus and all looks very pretty (verging on fussy), considering it's a university eatery, not a restaurant in Central. It went down so well that the dish made it to the epitome of food glorification that is Instagram! 
However, Brooks is quite a long way away from those on Meal Plan at the Vale, hence why most of the time I eat at the Infusion canteen. Top picks from Infusion's menu for me are, firstly, the vegan bolognese. It was very moreish and I felt so good eating it because I could see the amount of vegetables and pulses in the sauce. I was certain my meal looked and tasted way better than my flat mates' gammon and chips; undeniably healthier too. My other go-to (which should be noted was available before Veganuary) is the vegan fajitas, but I have also thoroughly enjoyed the Quorn cottage pie, it is definitely a hearty portion- perfect after a long day of trekking around campus.
All this considered, I have tried and tested some not so enjoyable options from the menu. I am not a fan of the vegetable curries, which do feature a lot. It should be noted that, if you are not a big believer in chillies and hot spice, which are a big component of the veggie curries, then the vegetarian options can often whittle down to only tomato pasta (which I am begrudging to get, because I could make this very easily myself at home).
The overall consensus is that I hope these vegan choices are here to stay because they are so refreshing to see and truly encourage healthy eating. It is great to see Veganuary is having a positive impact on the quality of the meal plan. Do get down to campus to try it if you can!