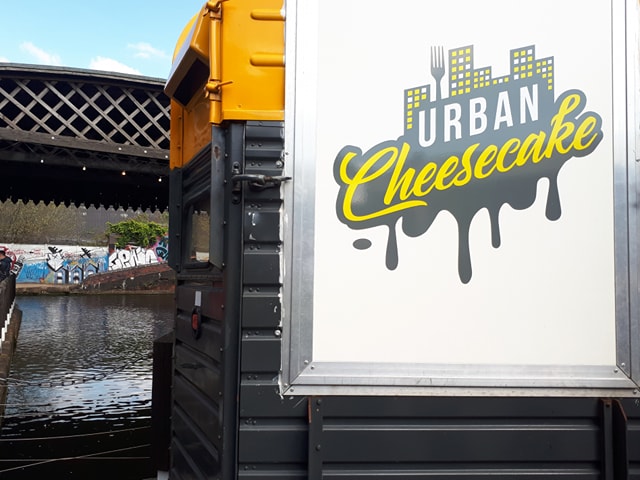 Food & Drink's Sophie Rashley went down to Digbeth to taste all things cheese at Seasonal Market's Cheese Fest 2019
On the 6th April, Digbeth became host to all things CHEESE. Set up by Seasonal Markets, The Cheese Festival was held at the Bond Company, exhibiting tasty cheeses, chutneys, street food, as well as jewellery, artwork and clothing. The Bond Company is a beautiful location; it runs alongside the canal, making it the perfect place to sit down and eat some cheesy goods.
There were stands for Halloumi Fries, Mac n' Cheese, Cheese Toasties, Feta and Halloumi Souvlaki, Cheesecake… basically, it was a cheese-lover's dream. However, I was surprised how few actual cheese sellers there were; the market section was very small and from what I could find, there were only two people selling cheese and one person selling vegan cheese. I would liken it to when Pryzm puts on a 'Beyoncé Night' but only plays five Beyoncé songs. So, it was more like Digbeth Dining Club with a cheese theme, but it was still good fun, and the sellers that were there had really interesting products on offer.
The vegan cheese was incredible, so if you are dairy-free you need to check out Ba-Ha. Their 'Cashew Cream Cheese' was gorgeous, and they had some really intriguing flavours like 'Chilli' and 'Charcoal.' Ba-Ha, like many of the sellers there, are a local company. Events like these are great opportunities to support small local businesses, and chat to the owners about what they do. There were lots of free samples to go around, which was wonderful, and I ended up buying some pickled onion and chive flavoured cheese called 'Ploughman's Choice'. I got this from The Great British Cheese Company for £4.50 – a bit expensive for cheese but I ate so many of their free samples that it probably balanced out.
Other great local businesses that were there included Pip's Hot Sauce, who gave out samples from their full range of hot sauces and helped me find the right level of spice for me, and Punks and Chancers, an ethical clothing brand selling tees and sweatshirts with brummie slogans.
As well as the markets and street food, there were retro games to play like the older version of Mario Kart, and some really kick-ass live music which gave the whole event a really chilled, fun atmosphere. The tickets were maybe slightly pricey – £3.50 for early bird and £5 for regular – especially as you had to pay for everything else inside. But, if you love cheese I would recommend it as a fun day out for a nice, cheese-filled change to a regular Digbeth Dining Club.